Meet Justin Bobby's New Band, BobbyRock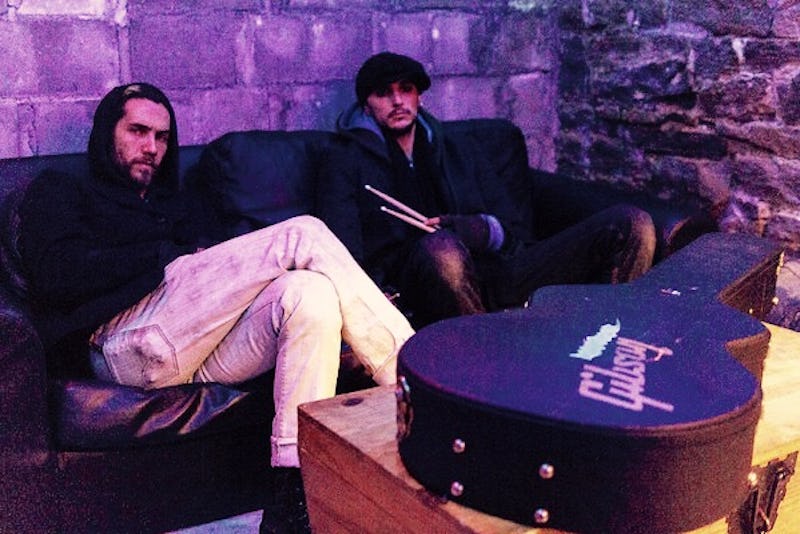 The Hills star Justin Bobby is known for a few things. The first is for toying with Audrina Patridge's heart. The second is for speaking exclusively in metaphors. And the third is having the best hair imaginable. Any skeptic will tell you that all of these things are the work of MTV's tricky editing (well, except for the hair thing, which remains accurate) but that doesn't mean that the image of who Justin Bobby is hasn't followed the former reality star around for most of his adult life. Most people know Justin Bobby (real name: Justin Robert Brescia) as the aloof bad boy out to break hearts. But Brescia's return to the limelight isn't as an enigmatic reality TV star. It's as himself. He's getting loud, and this time, we're going to hear from the real him.
And when I say loud, I mean loud. Brescia's latest venture is BobbyRock, an alternative punk rock band that he started with friend and drummer David Dariani in early 2014. "Music's been there. I started in this band, Ed Stanley, when I was about 19, 20, and stayed with then until I was about 29. Then I stopped to do some traveling. I wanted to get back into it," Brescia tells me. His move to the east coast prompted him to get back into it with a brand-new sound, style, and partner.
"I got to the city and I met [Dariani] and the first night he said, 'let's play'... He was so persistent and passionate, and just loved the music. You can't shut something like that out." Dariani agrees: "Once we played, the musical connection was really strong. We just took it from there, really."
Though the band is based in New York City, Brescia and Dariani aren't recording their tracks in some midtown studio or even in some basement in Brooklyn. "We got this amazing opportunity and found this 200-year-old carriage house [in New Jersey.] It's got everything we need to get the wheels turning and start recording. We're really excited about that." The experience is something most artists don't have until later in their careers, but for Brescia and Dariani, it's the perfect escape — and the perfect way to focus on the music.
So when can we hear Brescia's new stuff? The band will officially debut their EP in the first half of 2015 and plans on making their first promoted appearance at Austin's amazing SXSW festival. Dariani can't wait: "I'm excited to show people the thing that I've wanted to do for pretty much my whole adult life... I'm excited to grab this moment and run with it."
When asked if Brescia is nervous about thrusting himself back into the spotlight after his time on The Hills, Brescia says it's two totally different animals. "I'm excited now, because I have a team with me. Working on something [like a reality show], you're so young, and you don't really know who you're working with, and friends aren't friends, and you have a lot of life to go through. Today, I'm working with family, and everything is OK. And if not, [the people around me] are here."
Fans of The Hills will certainly flock to see Brescia in action, but let's hope that they stay for the sound — which, Brescia and Dariani promise, will be loud. It is a punk band, after all.
The Hills bad boy is officially moving on from his former persona and reality TV, and I'm excited to see what, exactly, the future has in store for BobbyRock. Because, as a wise reality star once said...
Images: Nick Pacelli (2); aplaceinyourmind/tumblr