'Shark Tank's SkinnyShirt Is Perfect for Layering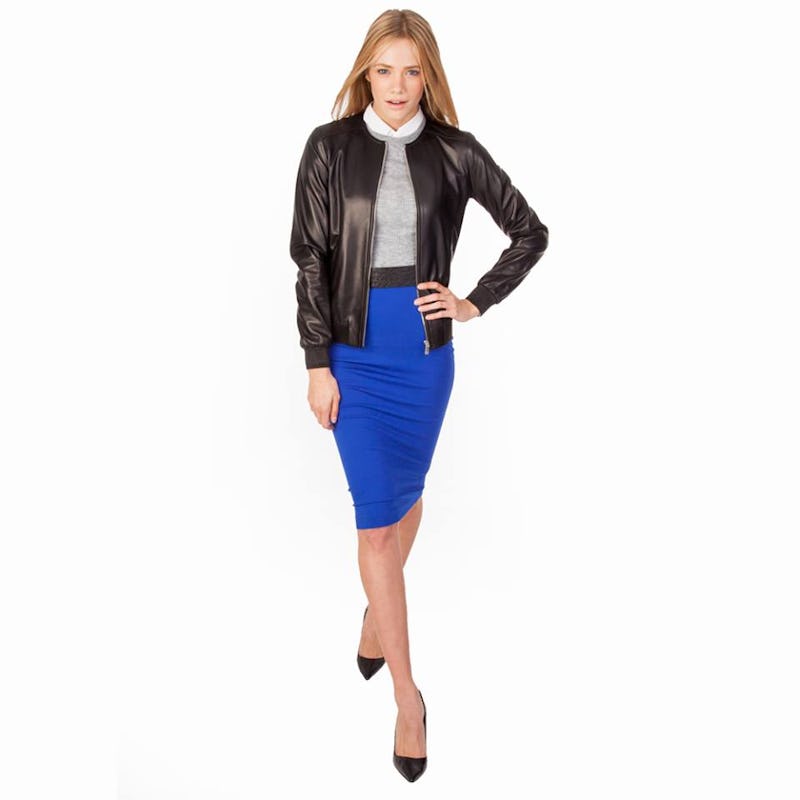 You know that part in The Social Network when Mark Zuckerberg makes that comment about fashion never being finished? Well, that statement is no more true than on Shark Tank , where it seems like entrepreneurs are always trying to get the sharks to invest in some new fashion product at varying degrees of innovation. SkinnyShirt will be the latest one, appearing in the upcoming Jan. 9 episode of the ABC reality show.SkinnyShirt may look like your regular, old button-down you can get anywhere, from J.Crew to Armani. Spoiler alert: It's not, or else why would it be on Shark Tank? Come on, now. You know better than that. There's more to this shirt designed to make you look slimmer than meets the eye.Now you know the sharks never met business attire they didn't like, so they might be all over SkinnyShirt. Although a tight fit is all the rage these days, it might be a little too hip for the sharks to wear themselves. That probably won't keep them from investing in the company. If Shark Tank's resident fashion guru Daymond John was going to be in this episode, I could see him chomping at the bit to invest in SkinnyShirt. Still, it seems like a product perfect for QVC, so it could really be up Lori Greiner's alley. Robert Herjavec, who is actually the best-dressed shark in my opinion, may even nibble at this deal.In case you want to invest in the company by way of buying a shirt, here's where you can snag a SkinnyShirt, plus some other fun facts about the company you might enjoy.
SkinnyShirt Is Not What it Looks Like
You know how button-downs sometimes look so lumpy underneath clothing? That supposedly doesn't happen with a SkinnyShirt. It turns out the key is removing the sleeves and lower two-thirds of the button-down and replacing it with a stretchy knit body that smooths you out, so there are no awkward bunches and bumps when you wear it under a sweater. It's also slimming, sort of like Spanx for the business set.
You Can Buy a SkinnyShirt Now
If you're ready to try a SkinnyShirt on for size, you can do so with the click of a button and some money, of course. SkinnyShirts are currently available online through SkinnyShirt's official website and through these fine retailers across the country. Right now, the designs are exclusive to women, maternity, and teens. Prices range from $49 to $78 per SkinnyShirt, depending on the design.
SkinnyShirt Is Built on Sleepless Nights & Girl Power
When SkinnyShirt founder and CEO Jill Kalimian was trying to come up with a new business venture, she was operating on little to no sleep due to raising four young children at the time. When not taking care of those kids, she would try to come up with an idea for baby gadgets, but one day while looking in her closet for a sleek and stylish shirt-and-sweater combo, the inspiration for SkinnyShirt hit her. Once she had the idea, a network of talented and generous women helped Kalimian get SkinnyShirt off the ground, from product design to shooting a promo video to research. I guess it takes a village to raise a SkinnyShirt.
We Can Expect To See New Designs Soon
If you're the type of person who likes to pop your collar and have a little something something peeking out from your sweater down below (the tails of your shirt, you perv), have no fear. SkinnyShirt will be introducing designs with tails in March. SkinnyShirt is really making it easy for you to be completely dapper no matter how many layers you have on.
It Has Some Famous Fans
It looks like Hoda Kotb, Kelly Ripa, and Kelly Rutherford have all sung their praises for SkinnyShirt in the past. However, in terms of media coverage, it looks like SkinnyShirt exploded on the scene with attention from major national news outlets, such as Good Morning America , InStyle , and Real Simple . However, in recent months, the media attention has come from more regional outlets, at least according to SkinnyShirt's website. I don't know the details of the company's nearly five years in business, but that certainly doesn't seem like a good sign.
It sounds like Kalimian might have some explaining to do to the sharks.
Image: SkinnyShirt/Facebook