Who Does Alissa From 'The Bachelor' Work For?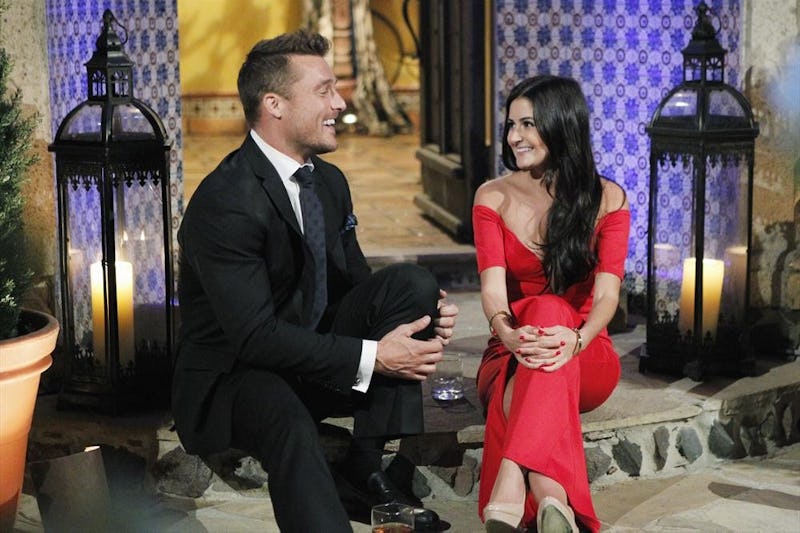 One of the bachelorettes on this season of The Bachelor has kind of a cool job, except she probably won't make it super far on the show because she seems a little young for our sexy farmer. When she's not trying to win the heart of Chris Soules on ABC's The Bachelor, 24-year-old Alissa Giambrone works for Frontier Airlines as a flight attendant. All I can say is, I sincerely hope she doesn't try and use flight attendant comedy to win over the farmer, because no one wants to hear a joke about Soules being able to store things in her overhead bin.
I honestly can't tell you how many times I've thought about applying purely for free flights around the world, but then reality sinks in that flying kind of sucks, and having to do it all day every day with cranky people probably can be rough. Instead, my new brilliant idea is to book all my flights for the next year through Frontier in hopes that Giambrone is my flight attendant.
Because of her job, which according to her LinkedIn page, she has been at for a whopping 10 months, I am thinking that she probably won't make it very long on the show. But to make sure that judgement is a fair one, I've come up with a pro/con list for Alissa based off the Frontier airlines flight attendant application (I linked to it just in case you're at home watching The Bachelor and you're currently funemployed):
Pro: Heavy Lifting
Flight attendants are all required to be able to lift heavy things. According to the app they require the ability of, "Heavy lifting, pushing and/or pulling of objects up to 200 pounds occasionally and/or up to 50 pounds frequently." I am only assuming that it's probably a skill that will translate to the farm.
Con: The Hours
Chris has stated many times throughout Andi's season of The Bachelorette that he wants a big family. Well according to the qualifications, you must have a "Willingness to work flexible hours/schedules including nights, weekends and holidays." Maybe she's cool with that, but Soules probably won't be able to handle being at home with his four to six babies without his wifey.
Pro: Safety First
Maybe it's rude of me to assume that there isn't a hospital close to Arlington, but just to be sure, I googled it anyway. There is a health care center in town, but the closest hospital is roughly 20 miles away. So, in the case of an emergency at least Alissa would have some safety training, right? Flight attendants are supposed to be prepared to save lives and whatnot, so that's good.
Con: Her Location
She can't live in Iowa and keep her job. To be fair, I am assuming that most of the girls here this season can't do their jobs from no-where, Iowa, so by entering into this contest, they have to be willing to quit their jobs for love. According to Frontier, "Our Flight Attendants are currently based Chicago, IL, Trenton, NJ and Denver, CO." She would have no option but to quit if she becomes Chris' lady.
All in all, her location and the responsibilities that come with her job will definitely be the reason Chris sends her home, unless of course she starts up with the plane puns. Those are the worst.
Images: Rick Rowell/ABC; Wifflegif (2)