Fine, We'll Ask Why 'Bach' Girl Nikki Was in Peru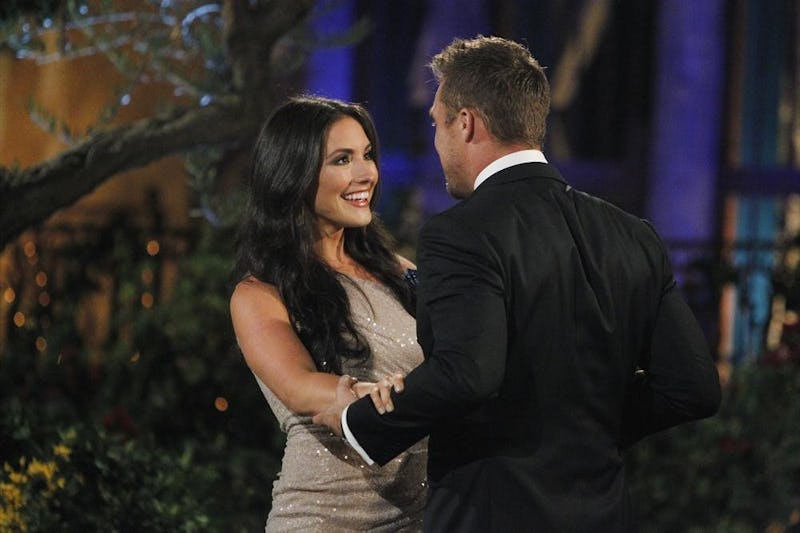 The Bachelor is back and it looks like Chris has a type: brunettes with hearts of gold (who are also willing to relocate to Iowa and stare at his teeth in envy all day while riding side saddle on a tractor). And from first impressions, Nikki the "Former NFL Cheerleader" fits the bill. Chris might be the right guy for her too; her ABC do-you-want-to-marry-a-stranger questionnaire says she's looking "a gentleman with that old-school mentality/manners, is outgoing, fun, funny, witty, playful, engaging, charming." Hey, that's Chris! But can you really trust anyone who lists their current occupation as something with the word the "former" in it? And if Nikki is so unemployed, then why does her Twitter make it seem as though Nikki is a highly employed fitness model who got to take a casual trip to Peru before going on a date with 29 other women, Farmer Chris, and regular Chris (Harrison, that is)?
Well, obviously ABC likes that Nikki is a former NFL cheerleader because they've had so much luck with "former" athletes before — I hope everyone enjoyed this season of VH1's Couples Therapy with Dr. Jenn, featuring former professional soccer player Juan Pablo Galavis and the former like-of-his-life, Nikki Ferrell. But Nikki from Chris' season doesn't want to talk about her past, she wants to tell you and Chris about all the rad time she spent in Machu Pichu. A lot.
Although immediately talking about your travels is a real rookie OKCupid move, Nikki gets a pass on this one for a few reasons: she just came back; it's either this, going all in on the, "I've got to be upfront — I have an eight-year-old" — either that or talking about how your parents secretly sending your dog to a "farm" when you were eight left you with abandonment and trust issues when they told you nine years later that Sparky had actually died, and there was never really a farm at all. Plus, to be fair, Nikki was doing pretty cool stuff in Peru...
Staying Fit
According to her Twitter and website, Nikki does pretty well on the fitness model scene. Not only is she signed with Wilhelmina Models, but she also does trainer work with publications like Women's Health. So, of course, her trip to Peru would be a little bit about being active and keeping fit.
Bucket List-ing
But even though we've established that Nikki does have a job — no thanks to ABC — it appears that she was just in Peru to have a good time, look good doing it... and check a few things off her bucket list. Has she mentioned Machu Picchu? Because she climbed Machu Picchu, guys.
Looking for Love (duh)
Nikki could have sent in only this picture in an unmarked envelope to ABC (with a "PS: I'm a former NFL cheerleader") and gotten the Bachelor gig.
Best of luck on your next adventure, Nikki. I hope there's less spit involved, but I wouldn't count on it.
Image: Rick Rowell/ABC