13 Reasons To Look Forward to January and February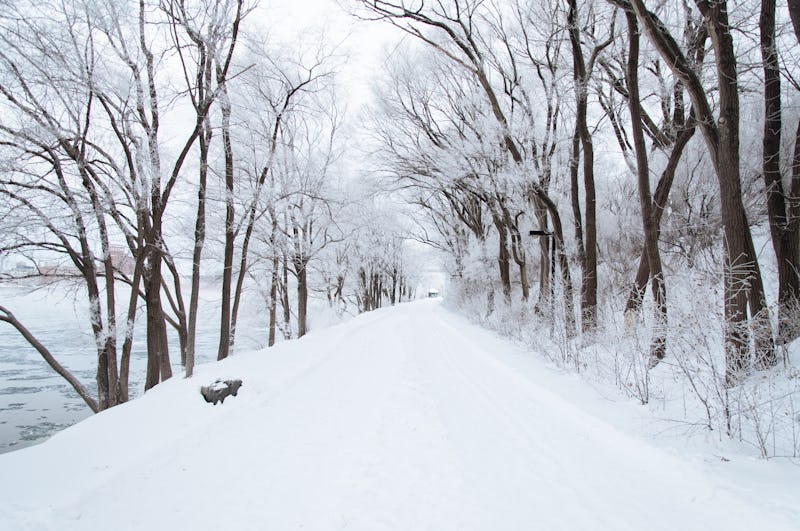 Let's not mince words here: January and February are horrible. The two months join together, Voltron-style, to form an extremely cold, wailing void of howling existential nothingness — and if you can make it through both months without bursting into blotchy-faced public tears at the CVS just because you have not seen the sun in so long, I think you deserve an award. And that's not even touching on the tragic sham that is Valentine's Day, or that other holiday where we all freak out that poor little groundhog who was just looking for a quiet place to poop. January and February are jokes where the punchline is that everything is terrible until maybe mid-March. Maybe.
But while January and February are almost completely awful, they do have some bright spots. February is Black History Month, which often means a lot of cool film screenings and live events celebrating black culture; and there are a few other small slivers of hope scattered through those 59 bleak days, meant to sustain us as we spend the next two to three months wondering if those depression light lamps actually work.
So, in the spirit of helping you hold it together, here are 13 things to look forward to during the bleakness that is January and February. And hey, before you know it, it'll be summer and you'll be complaining about the unbearable heat again! Okay, fine, that's a lie.
There Are New Episodes of Your Favorite TV Shows
Yes, TV, your only real friend, has returned once more, after abandoning you during your time of need in November, leaving you alone with nothing but Grumpy Cat's Worst Christmas Ever to sustain you. But January and February will see the return of the TV shows that give your life structure and meaning, like Archer (1/8), Portlandia (1/8), Girls (1/11), Parks and Recreation (1/13), It's Always Sunny in Philadelphia (1/14), Broad City (1/14), and The Walking Dead (2/8). The winter season also has a few highly-anticipated new shows premiereing, like the Breaking Bad prequel Better Call Saul (2/8), which had better be really good because if it isn't, I genuinely don't have an emotional contingency plan.
You Can Actually See Your Friends In Person Again
Yes, your actual friends! Remember them? Those people that you used to enjoy seeing in person and talking to, back before November? Well, now that you're done traveling every five minutes to see your family, slogging through end-of-the-year work reports, and shopping for tasteful yet cheap holiday gifts, you guys can finally hang out again. In fact, with nothing on the horizon for months except icy winds chilling your tiny black garbage heart, maybe you guys finally have time to start that pub trivia team you're always talking about (you know, "Quiztina Ricci").
Friends Is Streaming On Netflix
I mean, I'm sure you've been knee-deep in this since like 4 A.M. January 1st, but still, Friends on Netflix is going to be the light that carries us through the emotional snowstorm of the next few months. Plus, Mean Girls, To Be Takei, and Wayne's World 2 have also recently joined the Netflix streaming ranks, so at least now you have something new to do when you can't leave the house because the air outside hurts your face-skin.
The Super Bowl Is Coming
One kind of great thing about the winter is that it is a nightmare that we're all stuck in together, and so it brings people closer. And that's how the Super Bowl on February 1st ends up being an occasion even for people who don't care about sports. I mean, if you care about football, great for you! But also, you definitely don't need to care about football in order to enjoy it — show up for the nachos and to make fun of the embarrassing commercials. Also, if you don't like football, you'll have free run of the snack bar while everyone else spends 20 minutes straight raptly watching replay coverage of 30 seconds of actual football.
Katy Perry's Performance at the Super Bowl is Also Coming
Okay, fine, so maybe you don't care about nachos or football. Hey, you hate America, that's fine, no biggie. But you can still get psyched for the halftime show. This year's performer is Katy Perry, who will absolutely, 100 percent wear a bra shaped like members of the Baltimore Ravens or something in that vein. Who would possibly want to miss the spectacle of it all?!
Winter Travel Is Shockingly Cheap
It seems totally counter-intuitive that travel would be cheap in January and February; after all, isn't most of the country freezing cold, eager to break into a new set of annual vacation days, and also eager to put the horror of family Christmas memories behind them via some beachside cocktails? But winter is one of the cheapest times to travel, both internationally and domestically. It's also the best time of year to visit spots that are aimed at, ahem, slightly younger visitors, like The Wizarding World of Harry Potter. Theme parks will be near-desolate during the winter months while kids are in school, so there will be no busybodies around to say all kinds of invasive things to you, like "You're really here without children?" and "We don't allow people who smell like mezcal to ride the Escape from Gringotts roller coaster, ma'am. "
Awards Season Is Happening
Combine your newly revitalized social schedule with the joy of looking at puffy ball gowns, and you've got the winter awards season! From the Golden Globes on January 11th to the Oscars on February 22nd, you've got over a month of cramming in last-second viewings of nominated films, planning awards show viewing parties, and wondering which spunky young ingenue will podium-fall her way into our hearts this year.
You Can Make Fun of All of the Terrible Movies in Theaters
January is notorious as a time when studios dump their crappiest movies into theaters for the viewing pleasures of audiences so desperate for a reason to leave the house, they'll even go see I, Frankenstein (January 2014). But I actually look forward to some of January's transcendentally bad movies. There's nothing worse than showing up with friends to see a movie that seems laughably bad , but turns out to be only boringly bad. But in January, you're pretty much guaranteed to only find films that are so poorly plotted, badly acted, and cheaply shot that you and your friends will be able to spend hours afterwards in a diner, yelling things at each other like "Why was there that subplot where he had a son, and then they never even mentioned it again?! And why did everyone act like it was totally normal at the end when he found all that gold?!"
You Can Finally Get Into Winter Sports
Yeah, you're probably not going to decide to learn to ski because of a blog post. But what about ice skating? You only have to do that for ten minutes, and then you can spend two hours afterwards sipping hot toddies and feeling all self-satisfied about how "outdoorsy" you are. It's shockingly satisfying.
January Is Hiring Season
If you've been trying to get a new job, sending out resumes in November and December probably felt like banging your head against a brick wall; it's notoriously hard to get hired at the end of the year. But January is the start of the biggest hiring season of the year, which lasts through February. So if you're searching for a new gig, now is the perfect time to make connections, hit the job listings hard and find out if LinkedIn actually works (or is just the worst dating website of all time).
It's Online Dating Season, Too
January 4th is the busiest day for online dating in the entire year — and Match.com sees a 25 percent increase in new members between Christmas and Valentine's Day. So if you're already dating online, you now have a larger pool to work with; if you've been kind of dragging your feet about the whole enterprise, there's never going to be a better time to set up a profile and then spend six weeks emailing with a stranger, trying to set up a single date.
We're Still In the Final Dregs of Pumpkin Spice Latte Season
Based on some hard-hitting journalism that I just performed by going to the Starbucks next to my house, there's no firm date when stores stop serving PSLs — each individual store will offer them until they run out of syrup. My barista urged me to tell people to "keep asking for them, even when they're not on the menu any more — they might still have some syrup left." So there you have it. If you want to be transported back to the halcyon days of September, when you thought chilly weather and having to put on a sweater before you left the house was "cute," there's still time.
Tax Refunds
If you have your 2014 financial shizz in order, you don't have to wait until April to file your taxes; you can file them as soon as you're able, and get your tax refund sooner, too. The IRS begins processing tax returns on January 20th, and will reward early filers with an early refund. Then, when it actually is tax season, you can laugh merrily at your friends who are stuck indoors during the very nice weather, scrambling to figure out how they can write off their Hulu Plus subscription. And then you can go outside and enjoy the fact that winter is finally, definitively over.
Images: Ali Inay/Unsplash; Giphy (14)