Best Movies Coming Out In January 2015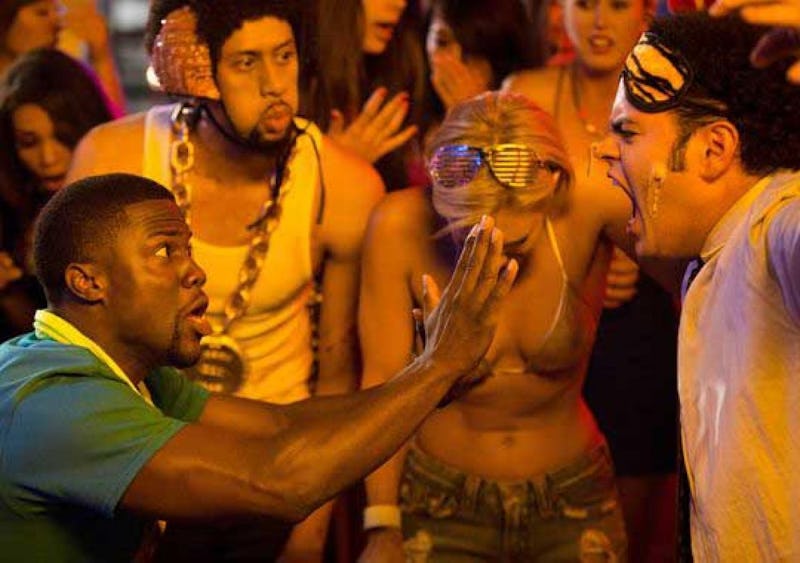 January has plenty of negative qualities: bad weather, few holidays, weighty New Year's resolutions, lots of dating competition, and those troublesome taxes that you need to get started on. But the very worst thing about the first month on the calendar has got to be its cinematic output. Yes, January has the worst movies you're likely to see (at least in the theaters) throughout the year, as studios generally opt to shove all their disreputable properties in at once before anyone has time to notice. January 2015 doesn't look too different from the norm, but there might be a few hidden gems among the lot.
I'm not going to claim that January 2015 is the new October 1994 (there's a deep cut for you), but its string of nine upcoming pictures isn't entirely without charm. Yes, it's got its certified clunkers, but two or three of the movies we'll see release this coming month actually show some promise… I'm saying that off the record, of course. All in all, you might be better off just spending this month with a good book.
That said, though we're so accustomed to January's usual milieu — dull thrillers, classless comedies, and brain-dead family vehicles — maybe it's worth sorting through this month's lineup to see what might actually be a decent time at the theaters. Here's a quick rundown of what's coming out these next few weeks, with all the good (and bad) accounted for.
Taken 3
Release: January 9
What it is: The third installment of the man-on-fatality-heavy-yet-oddly-bloodless-mission movie series that wowed with the 2008 surprise hit, and has since done little to incite interest.
So, it's kind of like: The other Takens. Actually, it's exactly like the other Takens.
Who's involved: Liam Neeson, his Lost daughter, director Olivier Megaton, and writer and series creator Luc Besson.
Projections: Despite Liam Neeson's sustained ability to kick, shoot, and grapple with the best of 'em, a diminished interest in the exploits of Bryan Mills and his impossibly takeable family leaves Chapter III a pessimistic venture.
Blackhat
Release: January 16
What it is: A high-stakes thriller about the American government employing a convict to catch an elusive cyber criminal.
So, kind of like: Any other political thriller ever made, with a dash of Silence of the Lambs for good measure.
Who's involved: Chris Hemsworth, Viola Davis, and Heat director Michael Mann.
Projections: The presence of esteemed director Michael Mann gives some hope, but a premise as bland and colorless as Blackhat's is enough to render even its laughable title unworthy of interest.
The Wedding Ringer
Release: January 16
What it is: A bawdy comedy about a friendless groom-to-be hiring a "professional" to play his best man come wedding time.
So, kind of like: A hybrid of I Love You, Man and Hitch.
Who's involved: Kevin Hart, Josh Gad, and Kaley Cuoco.
Projections: I didn't like I Love You, Man or Hitch, so I can't quite sign off on this one… although Kevin Hart can dole out a few laughs when given worthwhile material, so it's bound to fare above your usual grade of January comedy.
Spare Parts
Release: January 16
What it is: The true story of four high school students, all undocumented immigrants from Mexico, who won first place in a national robotics competition.
So, kind of like: October Sky with sociopolitical undertones regarding immigration.
Who's involved: Jamie Lee Curtis, Marisa Tomei, George Lopez, and Soul Surfer director Sean McNamara.
Projections: While the story has meat, the involvement of the man behind Soul Surfer promises that all material will be relegated to broad emotionality and, perhaps, moralistic manipulation.
The Boy Next Door
Release: January 23
What it is: A sultry thriller about a divorcee who incurs the obsessive wrath of a teenage neighbor following a shared one-night stand.
So, kind of like: Fatal Attraction with a The Graduate element.
Who's involved: Jennifer Lopez. You read that right.
Projections: We might have another laughably ill-conceived Labor Day on our hands.
Mortdecai
Release: January 23
What it is: A screwball comedy about an eccentric socialite on the hunt for a priceless painting also being pursued by a legion of interested parties, including the British government.
So, kind of like: Some combination of The Pink Panther movies with It's a Mad, Mad, Mad, Mad World, and a hint of The Grand Budapest Hotel.
Who's involved: Johnny Depp, Gwyneth Paltrow, Ewan McGregor, Jeff Goldblum, Olivia Munn, Paul Bettany, and director David Koepp (who wrote Jurassic Park, Carlito's Way, Spider-Man, Mission Impossible, and Panic Room, among others).
Projections: Despite the world's general aversion to Johnny Depp, I can't be too down on this flick; the actor is at his best in wacky comedy, and this especially wacky-looking globetrotting spectacle boasts some degree of fun.
Strange Magic
Release: January 23
What it is: An animated fantasy adventure that takes place in a creature-laden enchanted forest.
So, kind of like: FernGully, natch.
Who's involved: George Lucas wrote the original story, adapted to film by writer/director George Rydstrom (a longtime Disney and Pixar sound designer). Evan Rachel Wood, Maya Rudolph, Alan Cumming, Kristin Chenoweth, and Alfred Molina star.
Projections: The imagination of George Lucas holds some promise!
Project Almanac
Release: January 30
What it is: A found-footage sci-fi film about a group of friends tampering in the realm of time travel.
Who's involved: Transparent's Amy Landecker, a bunch of twentysomethings, and Michael Bay as producer.
Projections: They lost me at "found-footage."
Wild Card
Release: January 30
What it is: A remake of Heat — but not the aforementioned Michael Mann's Heat! The Burt Reynolds Heat — in which a Las Vegas gambling addict takes dangerous work to abet his costly hobby.
So, kind of like: Heat.
Who's involved: Jason Statham, Sofia Vergara, Stanley Tucci, Anne Heche, Jason Alexander, Cedric the Entertainer, director Simon West (Con Air), and writer William Goldman (Butch Cassidy and the Sundance Kid and All the President's Men).
Projections: This might be unfair to proclaim, but if you've seen one gritty Jason Statham action-drama, you've seen 'em all. That said, the George Costanza factor is... something.
Images: Screen Gems (2); 20th Century Fox; Universal Pictures (2); Lionsgate (3); Disney; Paramount Pictures