17 Books We Should All Give To Our Moms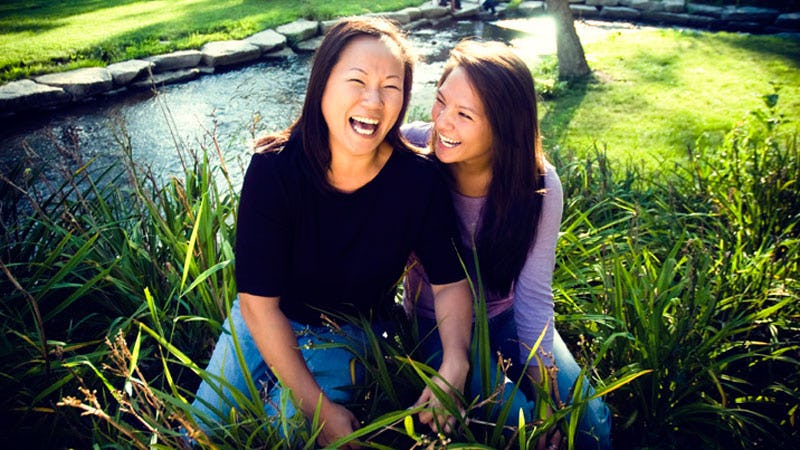 There are some books that are so awesome you just need to share them with someone — and there are some books that are the particular kind of awesome that you need to share with your mom. Because there are some things that only mothers and daughters understand. Plus, being able to talk to your mom about books is pretty great. And with Mother's Day coming up, now might be a great time to get some mother-daughter book bonding going.
Throughout my life, my mom has always encouraged my sister and me to read, and I definitely wouldn't be the book-lover I am today without her. But when it comes to her own relationship with lit, my mom usually doesn't have enough time to read as much as she'd like, which is a shame. But that just means that when I give her a book or recommend one, I like to make sure it's something special — and obviously something that I really think she'd like.
Unsurprisingly, a lot of the time this involves books with strong mother-daughter themes, though not always. Naturally you shouldn't hand your mom a book entitled I Hate My Mother and Wish She Would Stop Calling Me (though my mom did once give me a book about being in your 20 called Don't Worry; It Gets Worse , so maybe you, too, are owed one). And it might not be advisable to give your mom books that have possibly unflattering parallels to your own relationship. Other than that, though, just about any book can theoretically make a good shared read, depending on your mom's taste. But still, there are some books that just scream mom to me.
So if you're looking to share a read with her (or maybe looking for a gift idea!), here are 17 books she might enjoy — and that you probably would, too.
Set in early 20th century Shanghai, The Valley of Amazement is about three generations of women, and, like much of Tan's work, the mother daughter relationships are central to the story. But it's also a compelling and gorgeous work of literary fiction that definitely makes a great gift for all kinds of other reasons.
In Khaled Hosseini's heart wrenching second novel, the author turned his attention to the women of Afghanistan. If your mom enjoys the kind of book that makes you cry, this one might be a good bet.
Young adult isn't just for young adults anymore — thankfully. So if you're looking to give your mom a taste of the YA dystopia world — or just explain what the movies are about — Divergent might be the perfect pick. After all, Tris' relationship with her mother is one of the things that always rang most true for me in the novel.
If you'd like to give your mom something that doesn't have anything to do with mother-daughter relationships, on the other hand — or if your mom is a fan of the classics - could be a great choice. It focuses on New York high society in the 1870s, and is brilliant in its subtle social critique — plus it was the first novel written by a woman to ever win a Pulitzer.
If short stories are more your mom's thing, I recommend Krik? Krak! by Edwidge Danticat. Set in her native Haiti and in the United States, the various stories in the collection are linked together by the connections between the various women who are the focus of each piece, making it an intricate and fascinating book.
Things We Left Unsaid is set in Iran before the Iranian Revolution, but its story of a frustrated suburban housewife could just as easily come from the United States, or the U.K., or anywhere else suburban housewives can be found. The novel, in which the main character grapples with motherhood, marriage, ethnic identity and her feelings for the new neighbor, could make an excellent pick.
In The White Oleander , 12-year-old Astrid finds herself in foster care after her mother is charged with murder. But even after the two are separated, their relationship continues to be a huge part of Astrid's life, and her coming-of-age journey as she grows up bouncing between various homes.
Being a single mother is hard, and if you're looking for a book that explores that aspect of motherhood, Love Me Back is an excellent example. The main character, Marie, is a young mother working at an upscale Dallas steakhouse, and her story is partly based on Tierce's own experiences as a young, single mom.
In Ocean at the End of the Lane, the young protagonist begins to get to know the girl down the street only to slowly have his world turned upside down. This book doesn't dwell much on any mother-daughter relationships — though there are three generations of pretty awesome women featured prominently — but the lyrical language and intriguing premise will make it a big hit with moms who are into literary fantasy.
Maybe your mom isn't into fiction. In that case, try giving her Bad Feminist by Roxane Gay. The essay collection delves into everything from feminism to pop culture to race relations and back again with insight and intelligence as Roxane Gay explores what it is to be a feminist and to be imperfect at the same time. It might be an especially great pick for any moms who were second-wave-ers and want to know what feminism is about nowadays.
Paula by Isabelle Allende
Isabel Allende started writing this memoir after her daughter, Paula Frias Allende, fell into a coma from which she never recovered. It's a dark, emotional book that memoir-loving moms might just appreciate.
The first in a young adult trilogy that, in my opinion, is perfectly suited for adults, A Great and Terrible Beauty is about a lot of different things — magic, power, restrictive gender norms in Victorian England. But the main character's relationship to her mother is one of the most heart-wrenching, and might make a good gift to give your mom if she is YA inclined — or just a fan of historical fiction.
Gone Girl is a suspenseful mystery that anyone can sink their teeth into, and the moms of America are no exception. I personally love recommending it to people because watching them freak out over the various twists is like getting to relive the reading experience all over again. Plus it probably makes for some great, grown-up mother-daughter bonding.
In this gorgeous coming-of-age, the main character Gogol grapples with his identity as a first generation American, which includes his relationship to his parents. It's a meditative, quietly moving novel that to me just seems perfect for moms — though that might just be because my own mom enjoyed it so much.
If your mom is up for a novel that can be described as "a gut punch that has you saying thank you afterwards" then Louise Erdrich's superb novel The Round House might be for her. Naturally, a novel about a boy dealing with the aftermath of his mother being brutally assaulted is not something that everyone enjoys, but if you're looking to give your mom a literary heavy-hitter, it's hard to go wrong with Louise Erdrich.
If your mom is a fan of fantasy and historical fiction, she will probably adore The Golem and the Jinni . Set in 19th century New York, it features two very different supernatural creatures who have inadvertently immigrated to the new world, and the book provides a fantastic story that will have your mom flipping pages and its portrait of a bygone version of New York will keep historical fiction buffs happy, too.
Beloved by Toni Morrison
Toni Morrison's Beloved is very much about the brutality of slavery and how utterly devastating it can be, but at its heart it is also about mothers, and about what mothers will do for their children, even in circumstances that have passed beyond all sense and reason. It's a novel that pulls exactly no punches, but if your mom likes fiction that has a big emotional impact, then she need to read Beloved.
Image: J.K. Califf/flickr