A Refresher on 'Agent Carter's Past (and Future)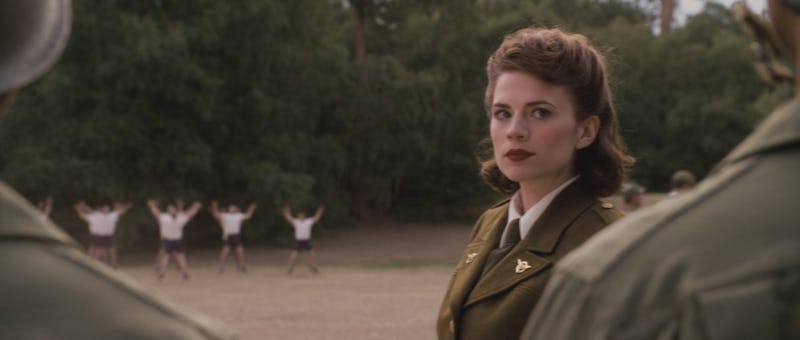 Cheers! The premiere of Marvel Studios' new miniseries is finally here. Are you ready for more of Captain America's spy heroine Agent Carter ? What can I say? Marvel really loves British actress Hayley Atwell as Agent Peggy Carter. She's been in both of the Captain America movies. She has even appeared on multiple episodes of Agents of S.H.I.E.L.D. She has her own short film, and now her own series. She's an international spy. She's a founding member of S.H.I.E.L.D. She also has impeccable 1940s hair and poppin' bold lipstick. Peggy Carter is basically perfection, and I can't wait for this show. Especially because it's about ladies!
The Marvel Cinematic Universe still has a long way to go when it comes to representation, but Agent Carter is a step forward. It will be followed by at least two female-driven projects, Captain Marvel and the Netflix series AKA Jessica Jones starring Krysten Ritter.
Agent Carter premieres Jan. 6 on ABC, with a bonus trailer for the Ant-Man movie. I know that's why you're really tuning in — not! I know I'm being too hard on Ant-Man. Maybe I'll revise my thoughts after the Agent Carter premiere. Heck, Guardians of the Galaxy was the nuttiest concept ever and it was one of the most enjoyable films of 2014.
If you don't have time time to re-watch the Captain America movies or check out the Marvel One-Shot short film, let me remind you who Peggy Carter is and what she's all about in the MCU.
Captain America: The First Avenger
We first meet Peggy Carter when Steve Rogers finally gets into Basic Training at the Strategic Science Reserve, thanks to the watchful eye of Stanley Tucci. The fictional SSR is a secret war and intelligence agency on the side of the Allies. It was formed by the United States before their official involvement in the Second World War. S.H.I.E.L.D. will later swallow it up. While she is tough with the recruits and punches a sexist youth, Peggy takes a liking to Steve Rogers' character and strategic mind long before Chris Evans becomes a super-powered human Dorito.
She escorts him to the Brooklyn facility where he receives the Super Soldier Serum and transforms into Captain America. In the car, she notes that he has no idea how to talk to girls. They talk about dancing, and Peggy relates to his underdog status. It's all very metaphorical.
This is a little less metaphorical. Peggy Carter is doing God's work, basically.
When the facility is attacked by a Hydra agent, Peggy shows her skills in the field. That's something that we didn't see enough of in the movies, but will hopefully be explored in Agent Carter.
She and Steve meet again on his USO Tour. Remember that part of the movie? They shuffle, kick, and step-ball-changed Captain America out of town to prevent any more scientists from studying him and discovering the formula to the Super Soldier serum. In Germany, she and Howard Stark sneak Rogers out to rescue Bucky and the rest of what will become the Howling Commandos from Hydra. There is a hint that Stark and Carter are romantically entangled, but as Iron Man's dad puts it — sometimes fondue is just fondue.
After Steve Rogers' heroic return, he and Agent Carter work more closely together when he's not in the field. She turns down Bucky's flirting in front of Steve. It is totally on between these two! Then he gets seduced by Margaery Tyrell. Noooo! Seriously, a pre-Game of Thrones, pre-Mockingjay Natalie Dormer starts making out with him and he's all "whoa, girl" and kisses her back. Peggy is not exactly pleased.
In the final battle, Peggy accompanies the Howling Commandos and helps Steve chase down the Red Skull. However, she doesn't let Steve take off into the Arctic without kissing him. Good girl! I don't mean for that to come off sounding old-timey and misogynistic, I'm honestly proud of her for making her move.
Then, of course, we get the devastating scene between the two of them talking to each other over the coms as Steve crashes Red Skull's plane into the water and they discuss their plans to go out dancing when it's all over. He vanishes. Peggy is given the Steve Rogers SSR file. Heart. Broken. Their relationship is so sad because it never got to happen! Carpe Diem, y'all.
Marvel One-Shot: Agent Carter
This short film, which inspired the miniseries, takes place after the events of Agent Carter . In it, we see Peggy at the SSR working for a jerk named Agent John Flynn, played by The West Wing and Trophy Wife's Bradley Whitford, who benches her from field assignments. When the boys' club goes out for drinks, leaving the office empty, she takes an assignment and retrieves a weapon from some roguish types.
The next morning, Agent Flynn reprimands her, but is interrupted by a call from Howard Stark. He wants Peggy to leave and run S.H.I.E.L.D. with him. Taking her cue, she exits. Serves you write, Flynn!
Captain America: The Winter Solider
Peggy doesn't appear much in Captain America's sequel, but her presence is is deeply felt. She's now 96 years old and in a nursing home with dementia. Steve goes to visit her. We also see some interview footage of Peggy that was taken 10 or 11 years after the first movie.
Though we may technically know what happens to Peggy in the long-run, that doesn't make the prospect of seeing her pre-S.H.I.E.L.D. years on Agent Carter any less exciting.
Images: Marvel Studios, Giphy (4); howlingsoldier/Tumblr