Chris is Pretty Serious About This 'Bachelor' Lady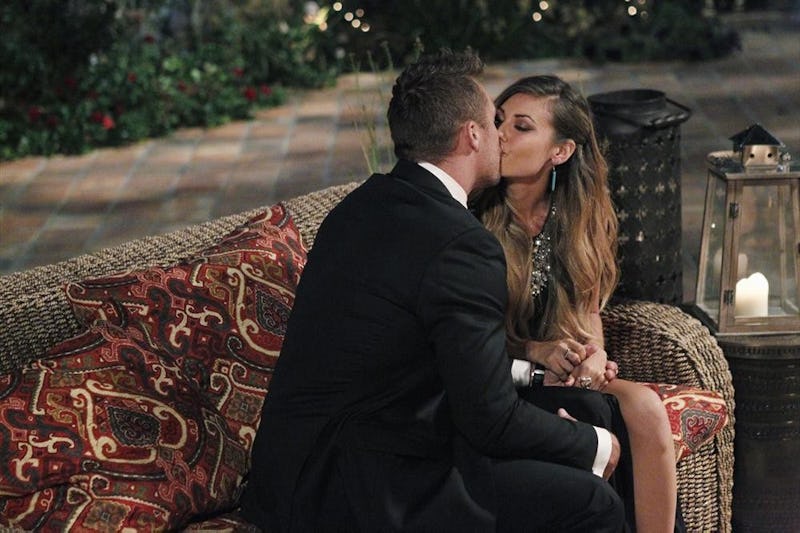 Chris Soules threw in a little extra when he gave Britt the first impression rose on The Bachelor premiere. Instead of just handing over the flower he also kissed her—but it felt totally natural. The two clicked early on when Britt was the first to step out of the limo and handed Chris a sweet note letting him know he could come to her later for a free hug.
Her backstory about the note was utterly adorable. "To me what a wife is, is a safe haven. I want to be the one you come give a hug to," she said sweetly. Then she casually plugged that she's all about small-town living. "A city isn't where I want to raise children. A small town is where it's at," she told him. Chris was, of course, all over that. "She speaks to my heart," he admitted later.
As the two embraced they shared a moment where it was clear neither one of them wanted to let go. "We almost kissed!" Britt said during her confessional afterwards. But don't worry, she didn't have to wait too long for that to actually happen. Impressed by her down-to-earth style and overall attractiveness Chris decided to bestow his first-impression rose on the lady who met him first, and then he smooched her too.
"When I first saw you, I felt something I haven't felt in a long time," he told Britt, handing over the flower. She agreed with him and soon the two were in a liplock, which is pretty unusual for the first episode. But even though it's a little faster than most contestants move, nothing about it seemed very weird.
It was clear the pair had some serious chemistry, and Britt couldn't agree more. "It was honestly like I was kissing someone who is my boyfriend and that I knew for a long time," she confessed. The crowd of past Bachelor favorites could feel the passion as well. "Usually I'd say that was a little fast," former Bachelorette Andi Dorfman said. " But it seemed kind of natural."
That it did. As Britt and Chris walked arm in arm back into the roomful of women it was clear she'd captured Chris' attention and piqued his interest after just one evening. The rest of the women might be in trouble, because, if you ask me, this looks a little like love at first sight.
Images: Rick Rowell/ABC; giphy; ABC