'The Bachelor' Season 19 Outfits Are Already Off to a Fantastic Start, And We Still Have Plenty of Episodes Left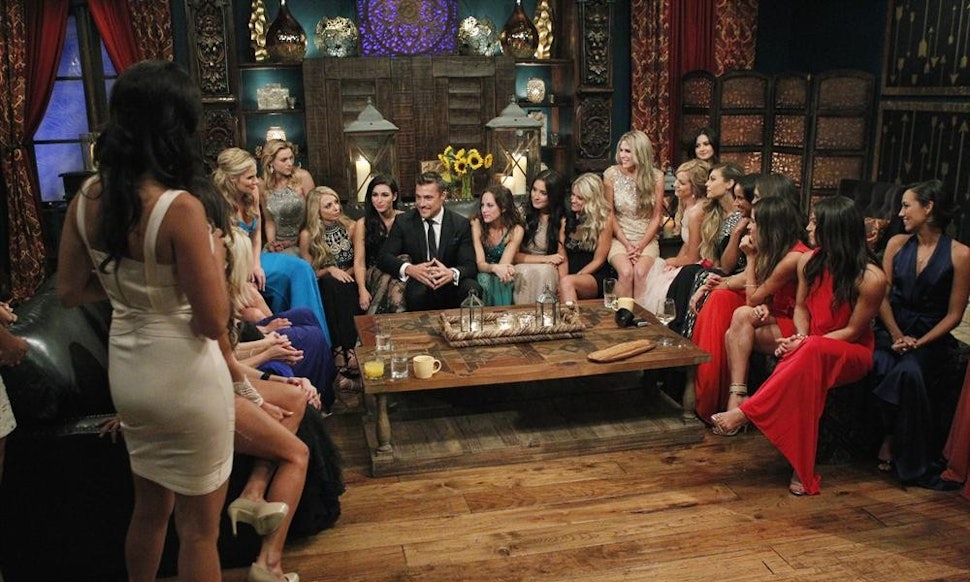 Mondy night kicked off season 19 of The Bachelor and the 30 contestants seemed to know a thing or two about fashion. After watching the women get out of a limo (or off a motorcycle) attempting to make a first impression on Chris Soules, aka The Bachelor, I learned a lot about fashion from the Contestants.
From awful colored dresses to trends I'm so happy still appear to be hip, I gathered the woman who wore outfits that made the most impression on me. And let me be clear, I few of the women in this list I'm rooting for to win Soules' heart. I just think they should have consulted me for a little friendly advice or praise.
Jillian's Red Slit Dress
Jillian, a broadcast journalist with the hair of my dreams, is clearly a fitness fanatic. If you didn't glean that from her introduction, she wore a red dress with a very high slit to show her muscular thighs. Before she went inside, she even let Soules touch her arm muscles. I think she chose the correct dress for what she was trying to prove. Just watch that slit.
Tara's Lack of Dress
There's a lot we can say about contestant Tara from last night's episode, but I can't get past the outfit she wore getting out of the limo. Sporting a plaid shirt, Daisy Duke denim shorts and high-heeled cowboy boots, Tara definitely left an impression. And the best part: it was perfect for farmer Soules. Don't worry, Tara snuck back into the limo after she changed into an LBD.
Tandra's BA Entrance
I'm not even mad. I'm impressed. Tandra rode up to the red carpet on her own motorcycle, then gracefully got off the bike whilst wearing a long, elegant dress. She made it look so easy. Plus, her dress was beautiful.
Mackenzie's Green Dress
At 21-years-old, Mackenzie is the youngest contestant on the show. Still, I was a little disappointed when she stepped out of the limo wearing a green, mermaid dress. In my opinion, she's the cutest contestant and I love that she didn't wear a dress that was too revealing or too tight, but I wish it didn't remind me of Ariel's tail…
Kelsey's Simple Number
Kelsey has a rough past, but I would have never guessed that from her entrance last night. She was pure class when she stepped out of the limo in a long, silky navy blue number. It wasn't the most rememberable, simply because it wasn't the most outrageous, but I'm pretty sure that's exactly what I would have chosen if I was on the show.
Kaitlyn's Dance Attire
I'm kind of cheating here. It wasn't Kaitlyn's dress that caught my attention, but rather the yoga capris she paired it with when she taught Soules to dance. She's definitely going to keep the show interesting.
Carly's Adorable Pink Dress
When she first stepped out of the limo singing, my friends and I were too quick to stereotype. After I got passed the Barbie portable karaoke machine, I immediately "aww!'d" at her adorable pink dress. She proved you are never too old for pink, sheer material, or tea-length dresses. Thank goodness.
Bo's Red Dress
Red was truly the color of the night, which makes sense. It's a bold color. But there was no one I loved it on more than plus-sized model Bo. She rocked the off-the shoulder, V-neck dress with class and just as much confidence as the free-hugging woman.
Ashley I's Sheer Dress
I have a soft spot for my fellow freelance journalist, Ashley I. She's also rumored to be the virgin on the show, but nothing surprised me more than her beautiful sheer, strapless dress she adjusted as soon as she stepped out of the black limo. Not only did she prove that it's always best to overdress (ahem, Tara) but she showed that sheer is not out.
Amanda Channeled T-Swift
Amanda was the first to admit that she's crazy. I was sure to keep that in mind when it was her turn to meet Soules. She apparently channeled a little bit of Taylor Swift and a little bit of Cleopatra to pull off a full Egyptian two-piece, bedazzled dress. Opting to show more of her back than her belly-button, Amanda wouldn't let Soules see her until he got inside.
Whitney's Neon Shoes
Whitney was the first to step out of a limousine and started off my night correctly. The camera first zoomed on her bright, neon yellow shoes then panned up to her simple LBD with cutouts. Not only am I super down with her simple-yet-fun style, but I love that she hasn't completely let the statement neon accessories die out. Way to make an entrance, Whit.