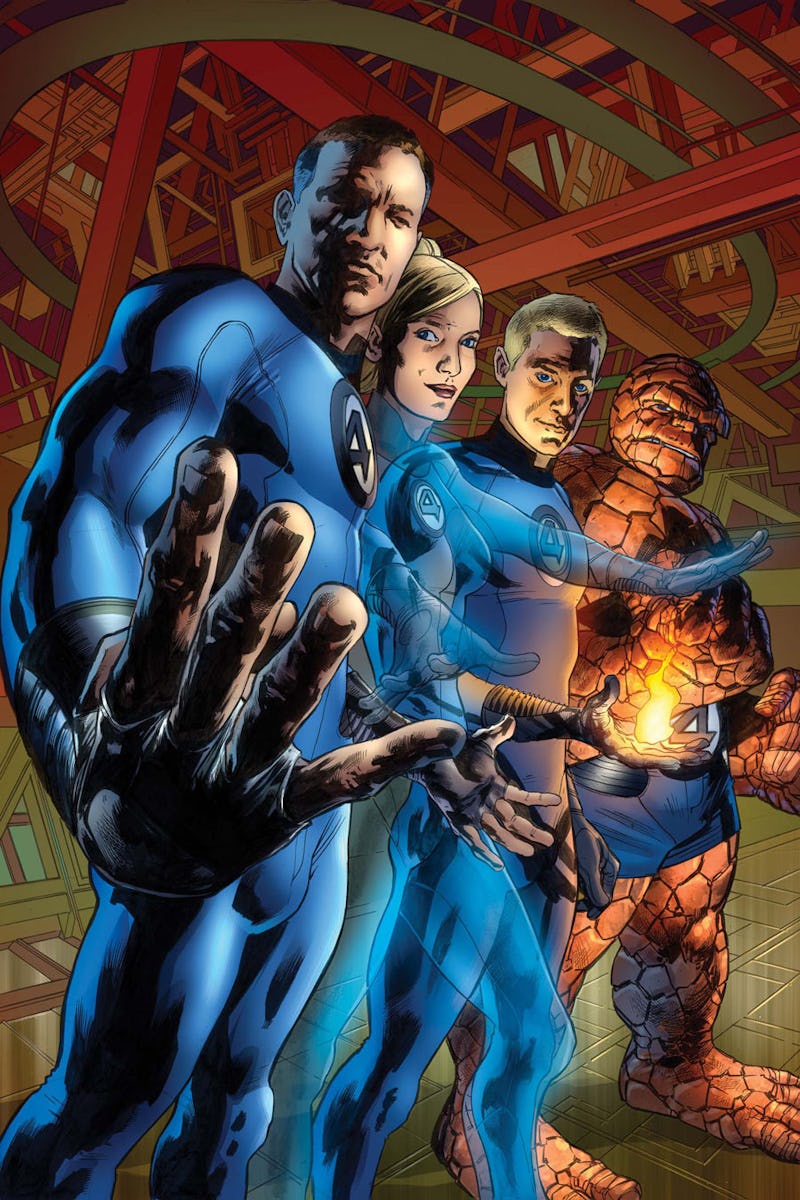 While 2015's cinematic plate has its share of original features to look forward to — the Wachowskis' long-awaited (at least by me) sci-fi epic Jupiter Ascending, Paul Feig and Melissa McCarthy's secret agent comedy Spy, and the Pixar's latest and perhaps most psychologically dense entry Inside Out — but let's be honest: the vast majority of upcoming films are founded in borrowed material. There are handfuls of literary adaptations and legions of sequels hitting theaters this year, but also a good deal of big screen remakes.
You'll find, peppered throughout the coming year, titles all too familiar — properties that have seen time on the big screen, be it successful or otherwise, and which are coming back for another go at the spotlight. More than a dozen films in 2015 will be giving another go to the stories we've known and loved (or shrugged off in hopes that we would never have to deal with them in the same way again). Some with a brand new spin, and some, curiously, in perfect, familiar step with their last silver screen go 'rounds.
So, if you're excited about seeing your old favorite movies take new form, or perhaps paralyzed by the fear of precious properties being ruined forever, peruse this list to find out what to watch/avoid this year!
Wild Card
Source material: Heat, the novel by William Goldman.Big screen predecessors: Heat, the Burt Reynolds movie.Years since last attempt at the property: 29. Key differences: Whereas Reynolds' character was an ex-mercenary, the updated lead is simply a desperate gambling addict. Parties involved: Jason Statham, Sofia Vergara, and Stanley Tucci star. Simon West directs.Degree of redundancy: If you're going to remake a Heat, you've got plenty of more interesting options to choose from: Michael Mann's Heat, Andy Warhol's Heat, the 2006 Russian comedy Heat, the Sandra Bullock/Melissa McCarthy Heat…
Cinderella
Source material: The Charles Perrault fairy tale from the 1600s.Big screen predecessors: There have been many, most prominently the Disney animated classic.Years since last attempt at the property: Technically speaking, just a few months. Into the Woods is, in part, an overt "Cinderella" adaptation and reimagining. Key differences: In this version of the story, Prince Charming is himself a fibber, passing himself off as a palace lackey in order to appear more relatable to the common Cinderella. Parties involved: Lily James, Cate Blanchett, and Helena Bonham Carter star. Kenneth Branagh directs. Degree of redundancy: It seems like an awfully traditional retelling of the same old story, save for a few minor tweaks. What's the point?
The Transporter Legacy
Source material: Luc Besson and Jason Statham's action film The TransporterBig screen predecessors: The Transporter, Transporter 2, Transporter 3Years since last attempt at the property: Seven. Key differences: Few. Parties involved: Ed Skrein plays the Transporter. Camille Dalamarre directs.Degree of redundancy: I think we were all checked out halfway through the trailer for Transporter 2.
Pan
Source material: J.M. Barrie's Peter Pan stories. Big screen predecessors: Along with the famous Disney animated Peter Pan movie, there has been a silent film version of the story (and its long delayed sequel), a live action adaptation of the same story, and the Robin Williams-led retooling Hook.Years since last attempt at the property: If we're strictly talking big screen, nine (the 2003 live action Peter Pan). But how can we gloss over this past December's Peter Pan Live on NBC? Key differences: This time around, we're aligning not only with Peter and the Darlings, but with a young James Hook: pre-evil pirate era. Parties involved: Hugh Jackman, Garrett Hedlund, Rooney Mara, Amanda Seyfried, and Levi Miller star. Joe Wright directs. Degree of redundancy: Eh, the trailer looks giddily campy enough to warrant some interest. And Joe Wright is no slouch.
Poltergeist
Source material: Poltergeist, the modern classic American horror flick.Big screen predecessors: Poltergeist, Poltergeist II: The Other Side, and Poltergeist III.Years since last attempt at the property: 27. Key differences: Yet undisclosed. Seems pretty in step with the original. Parties involved: Sam Rockwell, Rosemarie DeWitt, and Jared Harris star. Degree of redundancy: Again, yet to be seen… but it's probably pretty unnecessary.
Point Break
Source material: Kathryn Bigelow's decade-defining action-thriller of the same name.Big screen predecessors: Just that one.Years since last attempt at the property: 24. Key differences: The absence of early '90s reckless abandon. The absence of Patrick Swayze. The absence of hope. Parties involved: Edgar Ramirez, Luke Bracey, Teresa Palmer, and Ray Winstone star. Degree of redundancy: Guys, don't do this. Just let Point Break be Point Break.
The Fantastic Four
Source material: The long-running Marvel Comics series.Big screen predecessors: Fantastic Four and Fantastic Four: Rise of the Silver Surfer. (Plus an unreleased 1994 Fantastic Four movie.)Years since last attempt at the property: Eight. Key differences: A younger (and more racially diverse, which has prompted some regrettable Internet backlash) cast and a grittier sensibility. Parties involved: Miles Teller, Kate Mara, Michael B. Jordan, and Jamie Bell star. Josh Trank directs. Degree of redundancy: In truth, Fantastic Four needed a remake. The good cinematic name of a worthwhile comics property hangs in the balance.
Victor Frankenstein
Source material: Mary Shelley's novel Frankenstein.Big screen predecessors: Dozens upon dozens, including several early cinema adaptations, three Boris Karloff entries, Kenneth Branagh's Robert De Niro-starring venture, and (of course) Mel Brooks' Young Frankenstein.Years since last attempt at the property: One. Remember I, Frankenstein? You don't? Well, it came out last year. Don't worry, you didn't miss anything.Key differences: This version of the story will be told from Igor's perspective as he toils away under the reign of the maddening doctor.Parties involved: Daniel Radcliffe and James McAvoy star.Degree of redundancy: In theory, a Frankenstein story from Igor's perspective is… interesting. In theory.
The Walk
Source material: The true story of Philippe Petit and his highwire walk between the Twin Towers in 1974.Big screen predecessors: Man on Wire, the universally celebrated documentary.Years since last attempt at the property: Seven. Key differences: Well, this isn't a documentary. As such, I guess it's a little unfair to classify The Walk as a remake, but people really love Man on Wire. Parties involved: Joseph Gordon-Levitt and Ben Kingsley star. Robert Zemeckis directs. Degree of redundancy: We have to champion the fact that it's an altogether new cinematic depiction of a true story… but again, Man on Wire did about as much justice to this story as a movie can be expected to. What are you going for, Zemeckis?
The Jungle Book
Source material: The titular novel by Rudyard Kipling. Big screen predecessors: Yet another Disney animated classic stands out among a few smaller entries. Oddly enough, yet another Jungle Book film is releasing in 2016.Years since last attempt at the property: 18 years since Disney's relatively forgettable live action attempt at the material, but 73 since the animated kingpin.Key differences: The film seems largely in step with the 1942 animated classic, but will introduce a few new songs (in addition to some old). Parties involved: Bill Murray, Scarlett Johansson, Idris Elba, Lupita Nyong'o, Ben Kingsley, Giancarlo Esposito, and Christopher Walken star. Jon Favreau directs.Degree of redundancy: Hearing Bill Murray spout "Bear Necessities" might be worth the new go 'round.
Vacation
Source material: The comedic wonder National Lampoon's Vacation. Big screen predecessors: Vacation, European Vacation, Christmas Vacation, and Vegas Vacation.Years since last attempt at the property: 18.Key differences: Griswald family patriarch Clark has his starring position usurped by a now grown-up son Rusty.Parties involved: Ed Helms, Christina Applegate, Chris Hemsworth, Leslie Mann, Charlie Day, and (yes) Chevy Chase and Beverly D'Angelo star. John Francis Daley and Jonathan Goldstein direct.Degree of redundancy: Eh, who can really be too passionately opposed to this?
Images: Marvel; Warner Bros. Pictures; 20th Century Fox; Disney