Louis' Girlfriend is the Cutest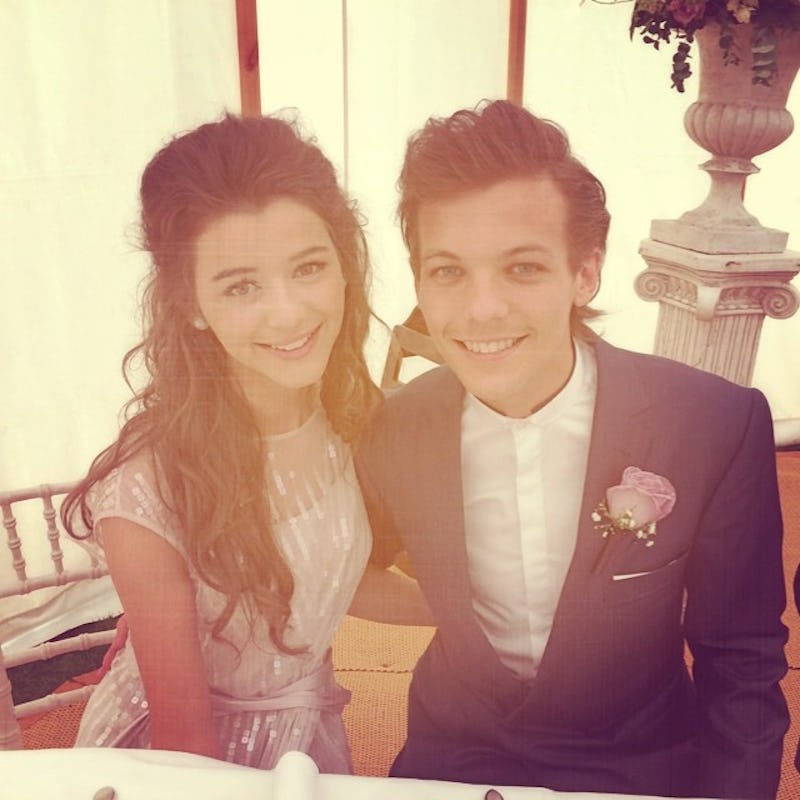 As much as I hate the fact that the members of my favorite boyband (One Direction, obvs) have girlfriends who aren't me, I can make peace with it when they're dating girls as sweet and adorable as Louis Tomlinson's girlfriend, Eleanor Calder. It helps that Tomlinson and Calder met in a pretty cute way, too — Tomlinson's bandmate, Harry Styles, introduced them because she was friends with a girl Styles worked with at a bakery, pre-fame. In 2012, Calder and Tomlinson made their relationship official, and they've been making 1D fans jealous across the country ever since. But for those who are less informed, the fact that Tomlinson has a girlfriend might be brand new information, so let me be of service. Who is Eleanor Calder? You're about to fall in love with her.
Here are the basics: Calder is 22 years old (less than a year younger than Tomlinson) and graduated from Manchester University last July. Oh, and she has over 3 million followers on Twitter, although it's been almost a year since she last tweeted. Calder, you are wasting so much power at your fingertips. Please start tweeting again, or allow me to do it for you.
As for the more personal stuff? Her Instagram features about a zillion adorable pictures of her and Tomlinson, and it's hard to deny that her life looks like a ton of fun.
Calder & Tomlinson Have Coordinating Vans
This is the cutest thing I've ever seen. Also, they were in Vegas, and I've been dying to go. So. Jealous.
She Has Great Taste in Nail Art
Those hearts are so cute, and I love her ring. As someone who has been obsessed with recreating Pinterest manicure looks in my spare time lately, I totally wouldn't be opposed to meeting Calder for manis and 1D gossip.
She's Living My Dream Life
I need invites to One Direction's events, stat. I would use the hell out of that photo booth.
She Pulls Off Overalls Way Better Than I Could Ever Hope To
Also, crop tops. I cannot wear crop tops, because I look ridiculous in them. Similarly, I look ridiculous in overalls, because I'm already short with a young looking face so overalls make me look at least 10 years younger, which in my case would make me 15. And I already have to hand over my ID enough when I try to see R-rated movies. Calder somehow manages to pull off both trends flawlessly. Teach me your ways.
And She and Tomlinson Really Are Cute Together
Dying. I'm dead from cute.
Image: eleanorj92/Instagram