They Can Thank Harry Styles For Their Relationship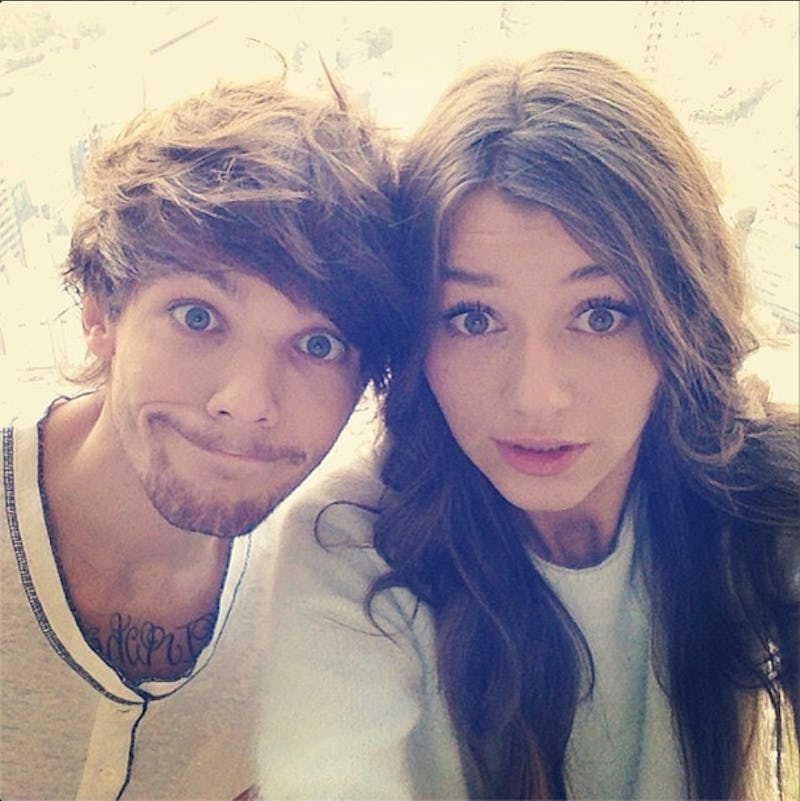 Sorry, ladies — you might feel like One Direction's new single, "Fireproof," is about your imaginary relationship with your Directioner of choice, but there's a lucky lady in Louis Tomlinson's life. One Direction's Louis Tomlinson and his girlfriend, Eleanor Calder, have been social media-official since mid-2012 and they're still going strong no matter what you say. On Sept. 8, Tomlinson's sister, Lottie, took to Twitter to dispel rumors that Tomlinson and Calder had split by calling out all of the haters that are "so bored with their own lives." And, according to Calder's Instagram, Lottie is a pretty reputable source, considering they pose for photos together. So, no, this pair didn't break up, but you'll never guess how Louis Tomlinson and Eleanor Calder met.
Apparently, when he's not dating Kardashians and getting tattoos, Harry Styles plays accidental matchmaker. In an interview with Seventeen magazine, Tomlinson recounted how he and Calder met, "Eleanor was a friend of Harry's. He worked with her friend at a local bakery. One day, Harry met up with his friend, Eleanor came, and we met." First, Harry Styles worked at a bakery?! Second, this is so casually normal and adorable that I don't even know what to make of it. Just look at the super sweet caption on this 2013 photo on Tomlinson's Instagram account:
Sigh. Young love. And they're pretty damn serious about one another. In July 2014, Calder posted this photo on Instagram of Tomlinson and herself at his mother Johannah Poulston's wedding. The couple were, according to Calder's Instagram caption, both a part of the wedding party, as maid of honor and best man.
So, will Tomlinson be the next One Directioner to pop the question? It sure seems like it, considering Calder has the seal of approval from his family and his fellow bandmates. The recent college grad's latest Instagram posts might not feature her boyfriend, but they include selfies with Lottie Tomlinson and Liam Payne's girlfriend, Sophia Smith.
Thank god for that Harry Styles — now if only someone can find him the right girl.
Images: louistomlinsonnew (2), eleanorj92 (3)/Instagram