Hopes, Predictions, and Qualms with the BAFTA Nods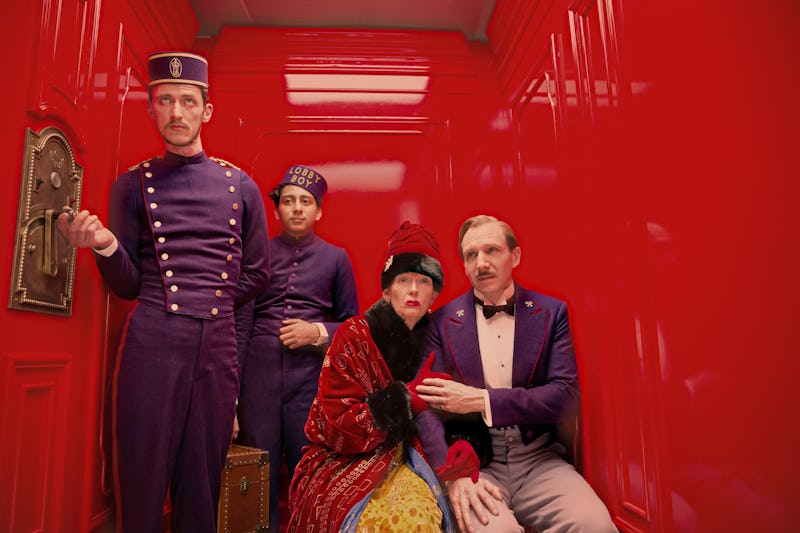 What's the best way to kill time until the Oscar nominations hit the airwaves? Getting mad about a completely separate awards organization's picks for the best of the year. The British Academy of Film and Television has released its selection of nominees from the year 2014, allowing for just that opportunity.
The list is filled with the predicted kingpins (Boyhood and Birdman sweep; The Imitation Game and The Theory of Everything are not far behind), some pleasant surprises (The Grand Budapest and Nightcrawler got more love than expected), and some egregious snubs (where on God's green Earth is Selma ?!). See? A venerable emotional roller coaster already: you go from nonplussed to thrilled to devastated in the span of a single sentence.
Taking a look at some of the biggest categories on BAFTA's nominations list, I've set aside predictions for the big winners (the most "BAFTA friendly" movie, not always the best), hopes and wishes (get ready for a whole lot of Gustave H. appreciation), and the varied qualms (BAFTA will feel thy wrath for overlooked parties and undeserving nominees). Take a look at the list below; it'll at least distract you from Oscar anticipation for another 15 minutes or so.
Best Film
NomineesBirdmanBoyhoodThe Grand Budapest HotelThe Imitation GameThe Theory of Everything
PredictionsBoyhood and Birdman have been trading off rights to the No. 1 slot in most of the major secondary awards organizations. We should in all likelihood see the BAFTA win go to Boyhood, though a win for the Keaton picture is not entirely out of the question.
Hopes and wishesBoyhood is a terrific choice, though I wouldn't be too displeased with a win for The Grand Budapest Hotel either.
QualmsThe inexcusable absence of Selma, which is, if not necessarily the best, easily the most important film of 2014. The troublesome nature of Selma's lack of nomination is doubled when you consider the BAFTA Awards' proclivity to predict the Oscars.
Outstanding British Film
Nominees'71The Imitation GamePaddingtonPrideThe Theory of EverythingUnder the Skin
PredictionsThe Imitation Game, which isn't quite as stuffy as The Theory of Everything, nor nearly as innovative as any of the other contenders.
Hopes and wishesUnder the Skin, the strangest cerebral exercise that film audiences have seen in years (and visually striking to boot).
QualmsI can't think of a grave omission, at least not one I'd prefer to take home the trophy over Under the Skin. What a treat that nutso picture is.
Best Film Not in the English Language
NomineesIdaLeviathanThe LunchboxTrashTwo Days, One Night
PredictionsIda, one of the best and most revered movies of 2014 in any language.
Hopes and wishesIda. See above.
QualmsIt'd be nice to see Borgman on this list, but Ida is the supreme being among non-English language movies in 2014.
Best Leading Actor
NomineesBenedict Cumberbatch, The Imitation GameRalph Fiennes, The Grand Budapest HotelJake Gyllenhaal, NightcrawlerMichael Keaton, BirdmanEddie Redmayne, The Theory of Everything
PredictionsEddie Redmayne, who does an admittedly fine job with very limiting material.
Hopes and wishesRalph Fiennes is thrilling as the comic hero of Grand Budapest, but Jake Gyllenhaal's Nightcrawler shtick — a weird blend of Taxi Driver horror with an Animaniacs-esque lunacy — shouldn't go unheeded.
QualmsAgain, the lack of regard for Selma, whose star David Oyelowo knocks his performance as a pragmatic yet impassioned Martin Luther King Jr. out of the park.
Best Leading Actress
NomineesAmy Adams, Big EyesFelicity Jones, The Theory of EverythingJulianne Moore, Still AliceRosamund Pike, Gone GirlReese Witherspoon, Wild
PredictionsJulianne Moore, most likely, though I wouldn't be surprised by a Felicity Jones win. (Call me cynical.)
Hopes and wishesJulianne Moore deserves the win without question. Her turn as the Alzheimer's disease-afflicted title character of Still Alice will haunt you to tears.
QualmsMarion Cotillard's Two Days, One Night might not deserve the Best Foreign Language Film Award over Ida, but her role therein is a remarkable example of storytelling through graduated nuance. That she's not even on the list here, boxed out by Jones and Amy Adams (who is generally great, but not in Big Eyes), is befuddling.
Best Director
NomineesWes Anderson, The Grand Budapest HotelDamien Chazelle, WhiplashAlejandro González Iñárritu, BirdmanRichard Linklater, BoyhoodJames Marsh, The Theory of Everything
PredictionsBirdman. That quavering looong take is sure to earn Alejandro González Iñárritu some style points.
Hopes and wishesI'm sure I sound like a broken record, but The Grand Budapest Hotel is easily the most sophisticated piece of visual and rhythmic (sorry, Whiplash) artistry that 2014 was lucky enough to see. That said, Richard Linklater puts together an emphatically moving piece of Americana with his immaculately woven-together Boyhood.
QualmsThe same old problems keep popping up: Ava DuVernay, director of Selma, needs and deserves to be represented here. Perhaps less drastic a travesty is the absence of Paul Thomas Anderson, who managed quite a trinket in his oddball private eye film Inherent Vice.
Best Original Screenplay
NomineesBirdmanBoyhoodThe Grand Budapest HotelNightcrawlerWhiplash
PredictionsHere's one that might actually go to The Grand Budapest Hotel! The awards folk usually set aside Screenplay honors for the niche pictures, like so.
Hopes and wishes...no, I wouldn't have any problem with that prediction coming true.
QualmsAs said above, the Screenplay section is the opportunity to go for broke. So why not toss a little love to some of the greatest, albeit most esoteric, scripts from the year? Listen Up Philip, Dear White People, and the glorious Frank each deserves its place in the sun.
Best Adapted Screenplay
NomineesAmerican SniperGone GirlThe Imitation GamePaddingtonThe Theory of Everything
PredictionsI'm afraid to say it, but The Imitation Game will probably beat Gone Girl to the punch come awards time.
Hopes and wishesGone Girl tops all three of its bearless counterparts by a wide mile (especially the dreadful American Sniper). Believe it or not, Paddington is actually winning critics over in hordes... but perhaps we should stick with Gillian Flynn's thrilling adaptation of her own novel for this pick.
QualmsOther than the fact that American Sniper was nominated whatsoever? No sign of Inherent Vice (which was based on a novel) or Obvious Child (on a short story).
Best Supporting Actor
NomineesSteve Carell, FoxcatcherEthan Hawke, BoyhoodEdward Norton, BirdmanMark Ruffalo, FoxcatcherJ.K. Simmons, Whiplash
PredictionsThis is a tough one. Months ago, anyone would have bet on Steve Carell... but actually seeing his movie changed the world's mind on his chances. Now, J.K. Simmons is the horse to bet on.
Hopes and wishesI might not be as high on Birdman as some of my colleagues, but I do enjoy it for some of its merits, the strongest being Edward Norton's affably obnoxious performance.
QualmsThe fact that Carell is still being touted as Foxcatcher's greatest asset when Channing Tatum is by far the best thing it has going (though I suppose there wasn't much room for him in the Best Leading Actor category).
Best Supporting Actress
NomineesPatricia Arquette, BoyhoodKeira Knightley, The Imitation GameRene Russo, NightcrawlerImelda Staunton, PrideEmma Stone, Birdman
PredictionsPatricia Arquette will take it for Boyhood, I'd wager.
Hopes and wishesPatricia Arquette! She's dynamite.
QualmsI'm not terribly surprised by these omissions, but Tilda Swinton in Snowpiercer and Kristen Stewart in Still Alice are probably the two best supporting female performances I saw in 2014... Arquette is an easy No. 3 though.
Best Documentary
Nominees20 Feet from Stardom20,000 Days on EarthCitizenfourFinding Vivian MaierVirunga
PredictionsThe exemplary Citizenfour.
Hopes and wishesThe insuperable Citizenfour.
QualmsThat I'm not currently watching Citizenfour.
Best Animated Film
NomineesBig Hero 6The BoxtrollsThe Lego Movie
PredictionsThe Lego Movie. That flick has quite the following.
Hopes and wishesEh, I suppose it deserves it. Kind of a frantic thing, but a funny one.
QualmsWhere the heck is The Tale of Princess Kaguya isn't just the best animated film of 2014, it's one of the best films period. Its absence here, especially with only three nominees represented, is an offense to storytelling.
Best Original Music
NomineesBirdmanThe Grand Budapest HotelInterstellarThe Theory of EverythingUnder the Skin
PredictionsBirdman's frenetic drumming will be outshone by The Theory of Everything's lilting melodies.
Hopes and wishesThe Grand Budapest Hotel. This isn't just loyalty to the film; if you haven't heard the score, download it. It'll turn your commute to work into a fantasy adventure.
QualmsFrank and We Are the Best, two movies about original bands that write fabulous and catchy tunes, must get their due!
Images: Fox Searchlight Pictures (3); IFC Films (2); A24; Soloban; Universal Pictures; 20th Century Fox; Sony Pictures Classics (2); RADiUS-TWC; Toho; Magnolia