Boko Haram Kills Thousands In Deadly Attack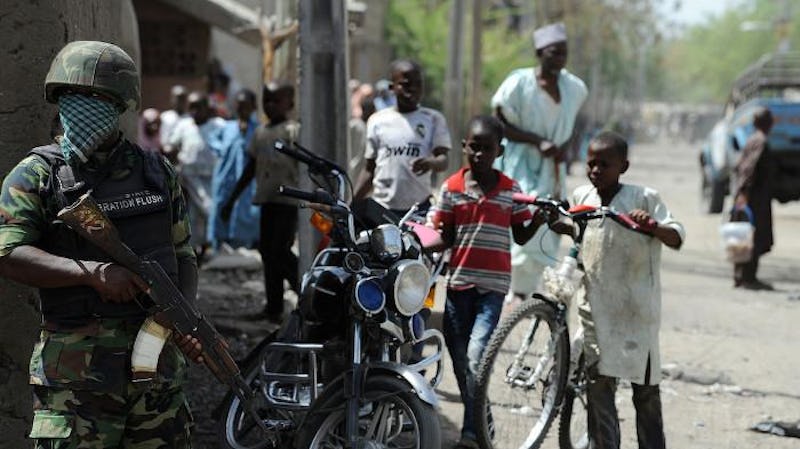 With so much of the world's attention now fixated on the horrifying attack on French satirical newspaper Charlie Hebdo and its aftermath, it's easy to lose sight of how many people around the world are killed through such terroristic means. And according to reports out of West Africa, one of the worst such incidents in recent memory just took place: Boko Haram might have killed thousands in Nigeria, in what Amnesty International is describing as the bloodiest engagement in the Islamic militant group's history.
The thousands-strong Boko Haram has been casting a long shadow over parts of Africa for years. They were the ones behind the kidnapping of 275 Nigerian schoolgirls last year, which drew widespread international condemnation and launched the "Bring Back Our Girls" movement. According to the AP, there are so many bodies littering the area that a local militia has stopped trying to get a firm figure, but it's estimated as many as 2,000 people might have been slain Wednesday in a series of heavily armed attacks in and around the town of Baga. Sky-high death tolls are nothing new for Boko Haram — Amnesty International believes they killed 600 or more people in attacks on Maiduguri in March 2014 — but in sheer lives lost, this is supposedly the worst.
According to The Guardian, the local militia forces left to combat Boko Haram are ill-equipped to deal with the situation, both in terms of active defense of the town as well as managing the dead and injured. The group's spokesperson, Muhammad Abba Gava, detailed the scene.
The human carnage perpetrated by Boko Haram terrorists in Baga was enormous. No one could attend to the corpses and even the seriously injured ones who may have died by now.
Boko Haram's influence in the region has been destabilizing both the country and the region for a long time, having been formed in 2002. Over the course of the past several years, well over a million Nigerians have been displaced by the group's violence and destruction, giving rise to a surge of refugees into neighboring countries. According to Reuters, nearly 2,000 Nigerians crossed the border into Chad over the course of the Baga attack in the past few days, prompting the Chadian government to appeal to the international community for aid.
Nigerian President Goodluck Jonathan hasn't given any official comment on what happened, but that feels like a hard silence to maintain — Boko Haram has reportedly been responsible for some 10,000 deaths over their last five years besieging Nigeria. Government spokesperson Mike Omeri did confirm that operations against the group are ongoing, stating that they've "deployed significant military assets and conducted airstrikes against militant targets."
Image: VICENews/Twitter