12 Books To Share With Your BFF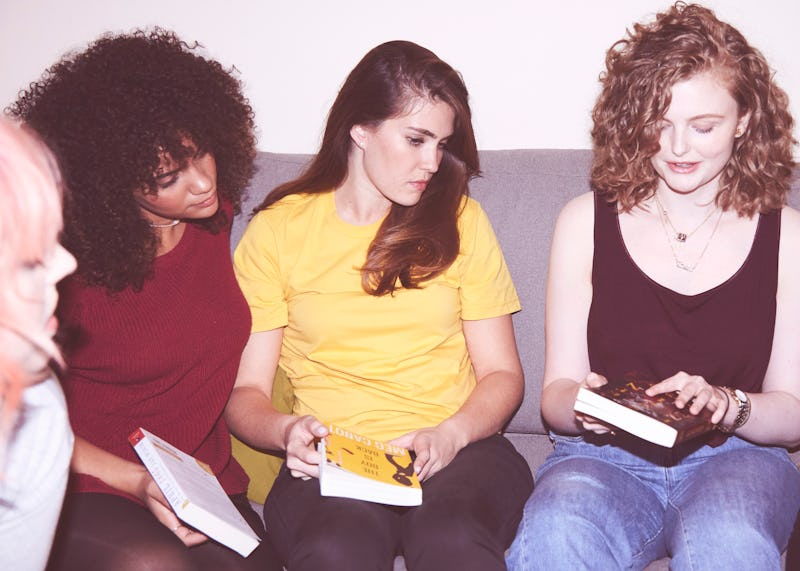 Many people believe that reading and books is a solitary adventure. A way to shut out the world and disappear into a fictional one, getting to know new people within the pages and riding the emotional wave of those characters. However, the beauty of being able to share a book that touched or moved you with someone you love and trust is one of the greatest parts about finding an exceptional book. Lending or gifting a book is a way to bring someone along with you into this new world, with these new characters, and who better to have with you on an adventure than your best friend?
Each of these books centers on a seminal female friendship in the characters' lives. Whether it's a memoir, nonfiction, or literary fiction, each writer shows how friendship between women is often the most powerful and influential relationship in a person's life, often more so than a spouse. It's the friends who were with you when you were children, negotiating the world around you for the first time. And they're the ones who were with you with your first crushes in high school, as you escaped your family into college, and through the jobs and boyfriends and struggles of your 20s. Maybe even through the first steps into marriage or motherhood. But they've always been there.
Whether it's a birthday or just because, these 12 books are perfect choices to read alongside your best friend.
Writers Ann Patchett and Lucy Grealy met in college and studied together at the prestigious Iowa Writers Workshop (you know, the one from Girls). I always believed that women who write together are linked for life, and that was definitely the case with Patchett and Grealy. Truth & Beauty follows the 20 years the two women spent as part of each other's lives, before Grealy tragically passed away from cancer. It's a testament to the kind of friendship that acts as the one thing that holds you up when times are tough, and is far more passionate and complex than any romantic entanglement you may have over the course of your life.
Sula by Toni Morrison
Nel Wright and Sula Peace grew up together in a poor, black neighborhood, and they stuck by each other through bullying and tragedies as children, sharing dreams and hopes for the future. But in that future, the women took two very different paths in life. The result is Toni Morrison's Sula , an aching story that feels completely alive in its characters and will move you long after both you and your friend finish.
Through wrecked marriages, vastly different upbringings, or other tragedies; the friendship between Clare Mann and her college roommate Sally Rose remains deep and strong in Martha Moody's Best Friends . Despite secrets that have been kept for decades, the two women show that the bond between female friends is as unshakable as even family. The story is funny, compelling, sad, tragic, and twisted, just like long-lasting friendships are.
Anchee Min's story follows Pearl S. Buck, the first American woman writer to win the Nobel Prize. Min gives a fictional take inspired by real events of Pearl growing up in China. In Min's story, she meets the fictional Willow Yee and forges a devoted friendship that takes them into adulthood and through the Boxer Rebellion, China's revolution, and the tumultuous time of Maoist China. But in the friendship, Willow and Pearl have their own rocky road to cross, whether it's a series of personal tragedies, love stories, or divisive political issues. But through it all, both women are fiercely passionate, mischievous, and loyal, and you're going to love the both of them whether you agree or disagree with their actions.
The subtitle to Let's Take the Long Way Home is "a memoir of friendship," and it follows closely in vein with Pachett's Truth & Beauty. Writer Gail Caldwell and Caroline Knapp met, like many awesome people do, over their dogs. But it was the bond over struggles with alcoholism (Knapp wrote Drinking: A Love Story ), stories of their love lives, and their lifelong passion for books that kept them side by side through the years. When Knapp is diagnosed with cancer, the Caldwell's honest story hits so hard on what it means to be a loyal and true friend that it will resonate through you and whomever you share it with.
The Lost Girls by Jennifer Baggett, Holly C. Corbett, and Amanda Pressner
Jennifer Baggett, Holly C. Corbett, and Amanda Pressner do what I'm sure a lot of us friend groups only dream of doing: They take a world-wide adventure vacation across four continents. Luckily, they wrote about their trip so we can live vicariously through them. Stuck in a time when everyone is getting their dream job, getting married, or having their first of 2.5 children, the three twentysomething BFFs decide they need to do something. So they pack their bags for an entire year and hit Kenya, Brazil, Vietnam, Australia, and eight other countries to live and learn as the locals do. Along this way, the experiences forge the three girls together in ways that no one else can understand.
Animals by Emma Jane Unsworth
Former (and current!) party girls will find themselves in Animals , which tells the story of two young women who bonded over late nights, drugs, and one-night stands. But what happens to these friendships when one decides to extricate herself from the party girl lifestyle, trading it in for a stand-up guy and an engagement ring? The story of Laura and Tyler will hit home for so many people in their mid-20s and early 30s as they choose whether they want to settle down or still live in the noise and excitement and stories of wild nights and what that means for their friends who choose the opposite.
If your friend doesn't already have a copy of the most acclaimed graphic novels ever, you need to grab one for her right away. It tells the story of two of the best friends Enid and Becky as they grow up and possibly grow apart. (You probably already know it from the movie adaptation starring Thora Birch and Scarlet Johanssen.) Like many high school friends, Enid and Becky know that they'll be best friends forever, and their only life plan currently is that they're moving in together when they graduate. Other than that, they have plenty of time to get into trouble.
I have an undying devotion to Judy Blume's Summer Sisters , as if it's my own good friend. I read it every summer, and it shows as every time I pick it up, some sand falls out, stuck in the spine. And I've already made every one of my friends read it, too. It follows Caitlin (yes, maybe one of the reasons I picked it up was because one of the characters spells her name as I do) and Victoria, aka "Vix," summer after summer from their childhood through their adulthood, culminating in one of the girls' wedding days. Our girl Judy knows how to tell a story of female friendship and all its complications, power, pain, and glory. There are boys in the story (hot ones, too), but it's Caitlin and Vix's relationship that is the heartbeat behind the words.
Chances are, if any contemporary writer writes frankly about a group of female friends, she has probably pulled inspiration in some way from Mary McCarthy's The Group. It was published in 1963, when McCarthy's upfront depictions of sex and contraception were very few and far between, and so it was brutally criticized and shamed by male and female peers, which only boosted its popularity. McCarthy even admitted in a newspaper interview back in 1989 that she believed The Group ruined her life. But if you want to share a book with a friend, The Group. with its portrayal of an eclectic group of eight Vassar graduates, would be a quintessential pick.
Rufi Thorpe's fully alive novel knows the shaky, twisted path childhood friends can follow as they age into adulthood. Mia and Lorrie Ann are challenged by life's toughest obstacles, especially when it comes to family circumstances, and struggle to remain hand-in-hand as best friends throughout. It doesn't idealize a friendship, and it's sure to say that even a friendship can't help against everything but it reminds us that loyalty and remaining true to the one you love is crucial.
Almost Famous Women isn't about friendship, per se, but every woman should have it on her shelf as a source of inspiration, so if you're looking for a book to share with your friend, you can't go wrong here. The book is a collection of stories about mostly forgotten women of history, bringing their incredible stories to light.
Image: Bustle Stock Photo