'Kroll Show' Season 3 Guest Stars Will Make This Final Season Kind of Amazing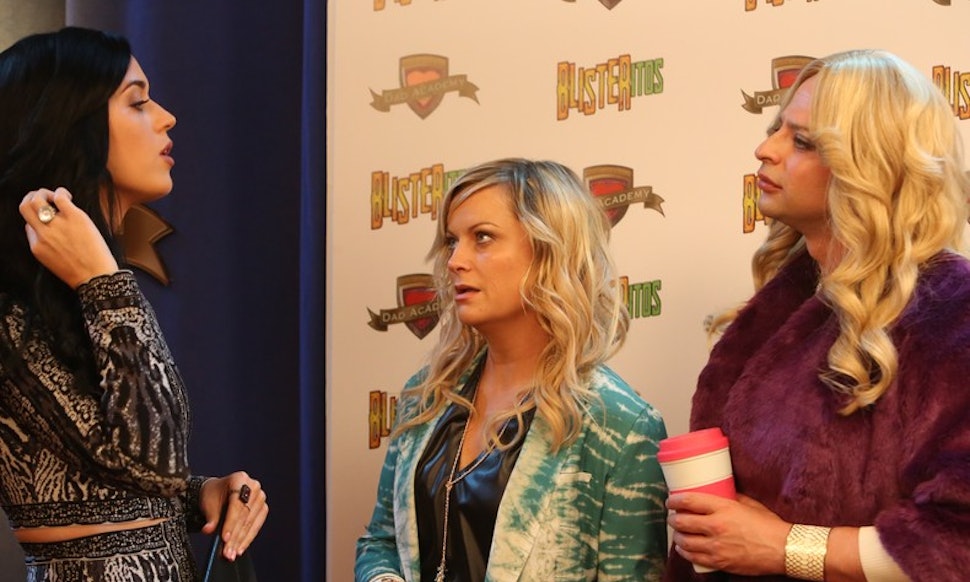 Nick Kroll on Kroll Show plays an outrageously impressive number of characters — but he can't do the show 100 percent on his own (this isn't Eddie Murphy's The Nutty Professor). With Kroll making it official that Comedy Central's Kroll Show will have its third and final season, the guest stars of the final season of Kroll Show will be plentiful. (And there may even be more notable surprise guest stars announced as the season progresses since Season 2 had Katy freakin' Perry.)
Of course, the usual, hysterical suspects of Jon Daly, Jenny Slate, and Samantha Futerman (who plays Tunes in Wheels, Ontario) will return for Season 3, which premieres on Tuesday, Jan. 13. But let's see who else will be joining the wacky world of the Kroll Show (either as a first-time or return guest). Although I really wish Kelsey Grammar would come on to play himself as Doctor Armond's best friend, I won't hold my breath.
(My apologies in advance to Nick Kroll for not featuring his favorite guest star of the season, Chris 'CT' Tamburello from MTV's The Challenge.)
Image: Patrick McElhenney/Comedy Central
Aziz Ansari
Aziz Ansari and Kroll have worked together on Parks and Recreation (Kroll plays The Douche, a radio show host that Ansari's Tom is a fan of). And they both roasted James Franco during his Comedy Central Roast. The combination of them is sure to be amazing on Season 3 of Kroll Show.
Seth Rogen
It won't be Rogen's first time on Kroll Show. He was in the Season 2 finale as the CEO of Blisteritos (a Doritos type snack that caused 400 fatalities due to a disease called "Volcano Head") named Trav. He visited PubLIZity to do damage control and some sparks flew with Liz G. (the one played by Kroll).
Although Trav and Liz looked like they were going on a date by the end of the episode, Rogen will be playing a different character — retired basketball player Bill Walton in a riff on Cheers (named Chairs). Rogen better have romantic tension with Kroll again, who will be returning to his young Larry Bird character. (This Rogen and James Franco interview by Liz G. for The Interview proves the two should always have chemistry.)
Image: Comedy Central
Kristen Schaal
One of my favorite female comedians of all time, Kristen Schaal will be on Season 3 of Kroll Show. I honestly can't believe she hasn't been on it yet, but no matter — better late than ever.
Derek Waters
The co-creator and host of Drunk History, Derek Waters, is joining the Kroll crew. Kroll himself graced Drunk History as young Ronald Reagan in Season 2 (with Lindsay Sloane as his Nancy — who also has been on Kroll Show).
Bill Burr
As Detective Smart, the hilarious Bill Burr has been trying to solve the murder of Doctor Armond's wife Shannon (whom Smart also happens to be obsessed with). At the end of Season 2, Detective Smart and Doctor Armond teamed up in an effort to find her real killer (spoiler alert: it's oh, Armond). Since Burr will be back for Season 3, I'm hoping we see more of this pair's police work.
Image: Danny Feld/Comedy Central
Amy Poehler
Amy Poehler portrays the character Heath (formerly known as Winnie) Shawn — sister to Rich Dicks' Wendy Shawn. Considering Kroll and Poehler are currently dating, I would have been outraged if she didn't return for the last season.
Image: Patrick McElhenney/Comedy Central
Adam Pally
Adam Pally of Happy Endings and The Mindy Project fame (pictured here with Kroll and Tig Notaro) was in Sex in the City for Dudes (alongside Ed Helms and Jason Mantzoukas) in Season 1. And in Season 2, he was in an episode of Wheels, Ontario where Mikey and Tunes visit an American university (Pally's character was much more into Mikey than Mikey was into him). Pally's going for the trifecta by appearing in Season 3 where he will be hitting on Mikey once again (based on the Season 3 trailer).
Jason Mantzoukas
Speaking of Jason Mantzoukas, he is also returning to Kroll Show for Season 3 (and will be kidnapping Bobby Bottleservice's mom for a movie it appears). Mantzoukas has had multiple roles on the show, but one of the most memorable is Eagle Wing — leader of the Gigolo House. Seeing Mantzoukas is no surprise since he's also on The League with Kroll (who plays Ruxin) as Rafi, Ruxin's psychotic brother-in-law.
Image: Jesse Grant/Comedy Central
Chelsea Peretti
Chelsea Peretti plays Farley — the super dysfunctional ex-girlfriend of Bobby Bottleservice. Even though Farley is a woman, she joined Gigolo House after Eagle Wing's approval, much to the dismay of Bobby. Obviously, the spectacular Peretti will be back for Season 3 and it looks like she will be giving a makeover to Slate's awesomely-named lawyer character Ruth Diamond Phillips. Peretti is also credited on IMDb as a writer and supervising producer for the series.
Image: Ron Batzdorff/Comedy Central
Nathan Fielder
Best known for his own Comedy Central show, Nathan for You, Nathan Fielder embraces his Canadian heritage on Kroll Show and better continue to do so in Season 3. He has been in the sketches Show Us Your Songs Toronto as "Magic" Nathan and also in the "Get Out!" PSA reunion. Do yourself a favor and listen to Gene Creemers and "Get Out!" for at least a fourth of an hour a day.
Ron Funches
Ron Funches is just the cuddliest person I have ever seen — and he has one of the best laughs in the world. On Kroll Show, he plays himself as the lawyer of murderer (and pet plastic surgeon) Doctor Armond. He also is an advisor to C-Czar on Dad Academy. I would have entered a deep depression if he hadn't returned for Season 3.
Casey Wilson
Casey Wilson will be a welcome newcomer to the Kroll Universe for Season 3. Based on this tweet from Kroll and the Season 3 trailer, it looks like Wilson's character has befriended Doctor Armond (Kroll said her character was inspired by The Millionaire Matchmaker). Be careful, Casey!
Paul F. Tompkins
Comedian Paul F. Tompkins is a newbie to Kroll Show, but no stranger to Kroll. Tompkins interviewed Kroll about Kroll Show (even discussing that it's not called The Kroll Show) for Man Made's web series Speakeasy in 2013. So, it's only fitting he'll come on the show himself for Season 3.
John Mulaney
Although John Mulaney's own show Mulaney hasn't been getting good reviews, his turn as George St. Geegland (to Kroll's Gil Faizon) in Oh, Hello is outstanding and real uncomfortable. Season 3 would be nothing without the duo's prank show "Too Much Tuna."
Image: Comedy Central
Nathan Fillion
Every nerd's crush, Nathan Fillion, will be making a Kroll Show cameo as a Canadian mountie in Wheels, Ontario (Kroll's spot-on satire of Degrassi). What makes his appearance even better is that Fillion is Canadian and has even dressed up as the Internet joke Captain Canada. It's good to see Canadians going along with Kroll's incessant jokes about their nation.
Lauren Lapkus
Brett Gelman
I will always love Brett Gelman for his role as Christinith's husband Hal in The Other Guys (it's Christinith!!). I'm so excited to see what he'll bring to Kroll Show. Arnold Palmer alert.
Andy Milonakis
Andy Milonakis will return to Season 3 as Roman Armond — the disgruntled son of Doctor Armond (and friend of C-Czar). Turns out that in this season, he'll actually like his dad.
Image: Danny Feld/Comedy Central
Jenny Slate
As I previously mentioned, Jenny Slate is part of the recurring cast and not technically a guest star, but it didn't seem fair not to mention her brilliant work as Liz B., Liz's niece Denise, and Ruth Diamond Phillips.
Image: Greg Gayne/Comedy Central