These Tina & Amy Globes GIFS Just Won't Quit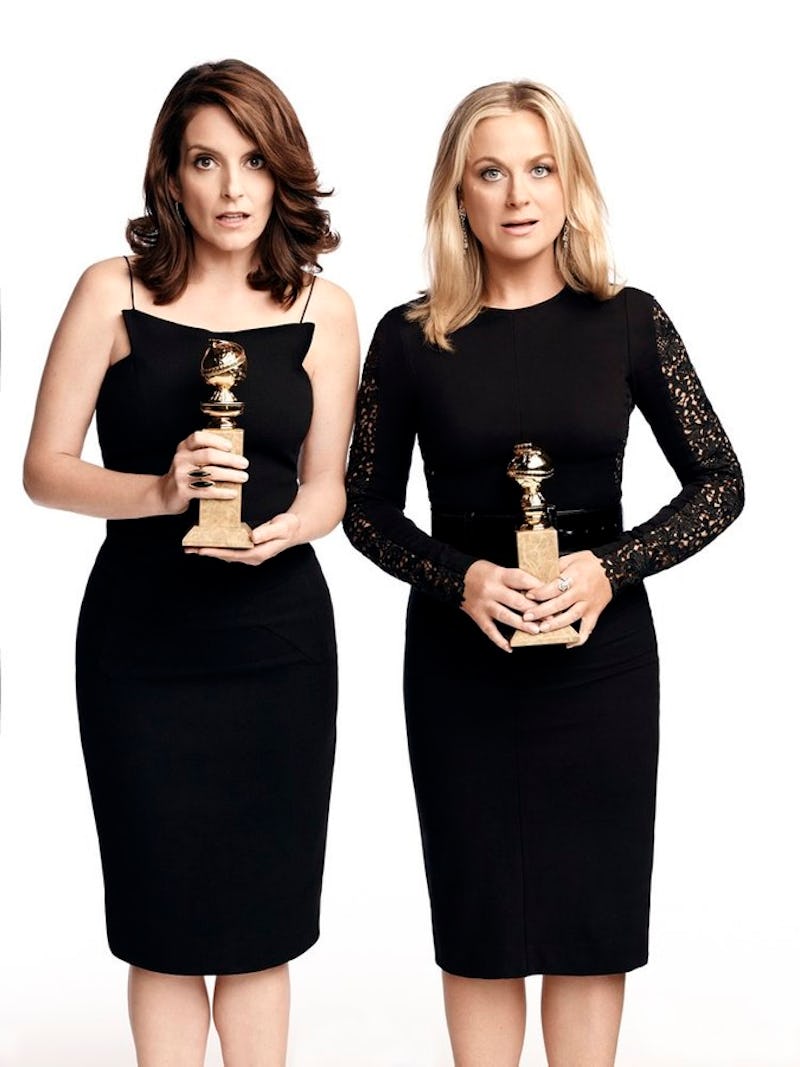 I love all award shows, but my favorite of the 2015 season is the Golden Globes, and all because of Tina Fey and Amy Poehler. Although this is the BFF duo's last year hosting the show, they're definitely going out with a bang. In case you had any doubts, their opening monologue should have convinced you that they are the perfect comedians for the job. My favorite joke of the evening? When they took the opportunity to mock George Clooney for receiving a lifetime achievement award. And that was just the beginning. I wish I could be Poehler and Fey, but for now, I'm fine with being entertained by them as they kick some serious butt at their Golden Globes hosting duties.
And just in case you missed the Globes — or, like me, enjoy reliving them at your convenience — these GIFs sum up Poehler and Fey's hosting duties pretty well. When they aren't making the audience laugh, they're being the most adorable best friends ever. It's clear that no future hosts will compare (unless they're Neil Patrick Harris, who is the king). Are you guys sure you don't want to do this again next year? Please change your minds!
I'm sorry, I can't pay attention to anything they're doing because they are so perfect.
They're describing the Golden Globes, but also our lives.
The biggest lie in history.
Telling it like it is about George and Amal. Bow down!
Yep. They went there. No comment.
Straight up dropping knowledge about Meryl Streep. They acted like this was a joke, but I suspect it's true.
It's okay, Julia Louis-Dreyfus. We're all obsessed with Tina Fey.
Images: Art Streiber/NBC; mtv/Tumblr, bobbymoynihans/Tumblr, mockingday/Tumblr, mosaicskies/Tumblr (2), micdotcom/Tumblr, tinas-fey/Tumblr