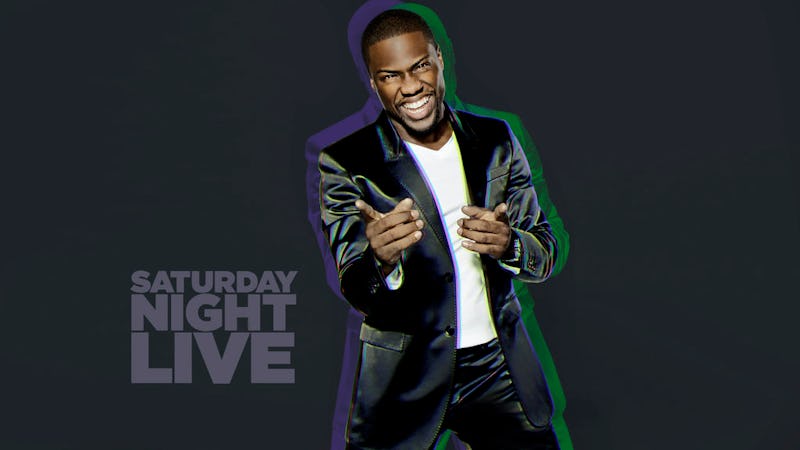 To steal some words from Jean Ralphio from Parks & Recreation, winter hiatuses are the wooooooorst. Why can't TV shows air new episodes over the holidays? Seriously, there is no such thing as a more present audience than young adults who are visiting their parents at home and just want to melt into the couch and watch television. But because we can't have nice things, we are stuck with old reruns. But fear not, your favorite shows are back. I'm talking Saturday Night Live is back on Jan. 17, with host Kevin Hart and musical guest Sia.
First of all, Hart was everywhere in 2014. From Ride Along, to Top Five, to his new movie — the one he'll be promoting on Saturday — The Wedding Ringer, Hart hosting SNL is much deserved after such a busy year. Hart hosted the show in 2013, where he famously played Quvenzhane Wallis as the new Pope. With Wallis' well-recognized role in Annie, we might see another appearance from the 11-year-old (and Wallis, too. JK!) during Hart's episode.
During his visit to SNL in 2013, Hart revealed during his monologue that he had actually auditioned for the show "back in the day", but things didn't go great when he gave three less-than-stellar impressions for the casting team. Take a look at Hart's monologue a couple years back to get an impression of what to expect on Jan. 17:
Hart will be joined by musical guest Sia the first week back. Chances are we won't see Sia in any skits during the episode, or even on stage during performances, since Sia has chosen to not face audiences when she performs.
A week later, Blake Shelton takes to hosting AND musical guest duties for the Jan. 24 show. Yes, you read that right. Mr. Blake Shelton is double dutying it for Saturday Night Live, and it's probably going to be really amazing. This is the first time Shelton will host the show. I don't want to make it a competition between him and Adam Levine, his Voice co-judge, BUT, Levine has never doubled up on host and musical guest duty on the show before... So if we were to keep track, Shelton would be winning the competition.
Here's the TL;DR version of all that:
SNL returns Jan. 17 with host Kevin Hart and musical guest Sia.
Blake Shelton will be the host and musical guest for Jan. 24 show.
Blake Shelton is better than Adam Levine.
Images: Mary Ellen Matthews/NBC; Giphy