Brave Guy Roasts Marshmallow Over Open Volcano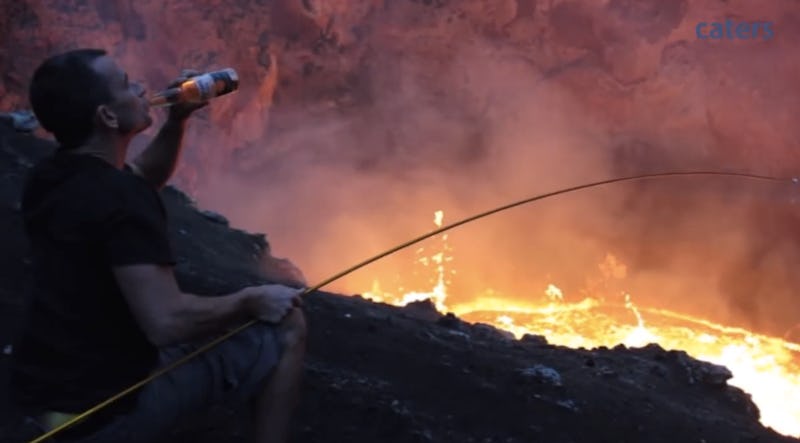 Well, if this isn't new levels of Bon Iver, outdoorsy, daredevil sexy. New Zealanders Simon Turner and Bradley Ambrose hiked to the top of a volcano and busted out a bottle of Corona and a bunch of marshmallows, obvs. Because that's what you do at the top of a volcano? (Honestly, it does make sense when you think about it. Beats the hell out of Instagramming.)
The risky snack happened atop Ambrym, a volcanic island in the isolated recesses of the Pacific Ocean. Despite the scalding pool of lava crashing into the waves just below, the men deemed their rather balmy perch a chill spot to sit and reflect with some snacks and libations. Turner rigged a collapsable tent pole as a pretty ingenious marshmallow-roasting stick, extending it deep out into the lava pool. You couldn't even see the lone marshmallow getting the rotisserie treatment over the violent lake of lava.
OK. I have two major questions for these guys:
How did they hike so far on rocky terrain while wearing flip-flops? Although we don't get much insight into Ambrose's footwear of choice, Turner appears to be maxin' and relaxin' in what my grandmother calls rubber thongs. *shudder*. Perhaps he changed for the relaxation segment of their ascent, but I'm still confused.
Where were the other s'more components? No, really. No chocolate? No graham? It's like someone skipped over The Sandlot course in making the most perfect campfire snack.
Maybe since the roasting took place atop a freaking active volcano instead of in a controlled treehouse candle menagerie, the snack should also be considered in more intense terms—like straight, gooey 'mallow. Either way, I'm going to start pairing Mexican beer with hot marshmallows each time from now on.
Image: YouTube