ABC Is Over Obsessed With Ashley I's Sexual Past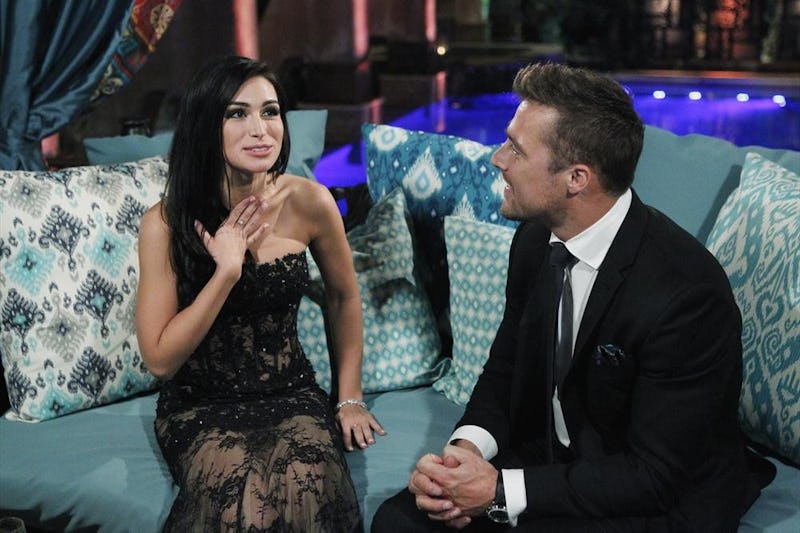 I will admit that I love watching The Bachelor, but actually being on the show is something I would never do. It opens you up to way too much public scrutiny, and my skin is just not that thick. And to go on The Bachelor and announce you're a virgin? That opens you up even more, and that's what one of Chris's remaining 22 women, Ashley Iaconetti, is facing. On Monday night's Bachelor, Ashley admits that she's never had sex, and the reactions she gets from everyone are pretty interesting. And obviously, this raises a big question: Does Ashley end up having tent sex with Chris this season, despite the fact that it would be her first time?
Of course, this question wouldn't even need to be raised if ABC wasn't completely obsessed with the fact that Ashley is a virgin. After all, that crazy extended preview that played at the end of the season premiere put a huge focus on it, even making it seem as though she and Chris sleep together — and can we talk about the fact that words "ASHLEY I. IN VIRGIN TERRITORY" is emblazoned across The Bachelor homepage (below)? Plus, let's not forget how ABC has approached sex on The Bachelor in the past: When Sean Lowe and Catherine Giudici tied the knot, they didn't let us forget for a minute that they were saving sex for marriage. And when Nick Viall mentioned he "made love" with Andi Dorfman on The Bachelorette's After The Final Rose, the internet basically imploded. This show has a weird relationship with chastity, to say the least.
In a sneak peek ABC released ahead of Monday's episode, we see Ashley, a 26-year-old freelance journalist from New Jersey, tell a couple of her new Bachelor roommates that not only has she never had a boyfriend, but she's also never had sex. Fortunately, she's met with support and even awe — Mackenzie even says she's jealous... and a little bummed that she can't also say she's a virgin, because she has a kid. Um, that's a little better than a lot of reactions she could have had, I guess?
Plus, Mackenzie obviously thinks that as soon as Chris finds out, he's instantly going to be interested in taking her virginity — although I don't know how valid that is. At least, I hope it's not quite that valid, because I really like Chris and collecting a woman's virginity is some seriously uncool stuff. It's not like there's a definitive answer available that would confirm or deny whether or not they have sex, because spoilers, duh, but also because who would have that information to give out besides Ashley or Chris? Again, the extended preview definitely hints that they do, but these kind of previews usually sensationalize just about everything. ABC, why you so obsessed with virginity? It's 2015. Can we let this go?
But since the conversation is happening anyway, let's figure out what the chances are that Ashley and Chris actually do end up sleeping together. In my opinion, they're pretty slim, unless Ashley makes it to the fantasy suite dates, which are typically the only time contestants are allowed to be alone with the Bachelor without being surrounded by cameras. According to The Bachelor's creator, Mike Fleiss, the average Bachelor "will end up having sex with three women during the course of the show." Whether or not that applies to Chris or even Ashley is yet to be seen, though.
Although I totally get the obsession with Ashley's virginity, that doesn't mean I like it. Instead, maybe check out her beauty blog, Duchess Kimberly , because it's actually pretty good. The rest will reveal itself — or not — in time.
Image: Rick Rowell/ABC