The Most Pot Smokers Don't Live In Colorado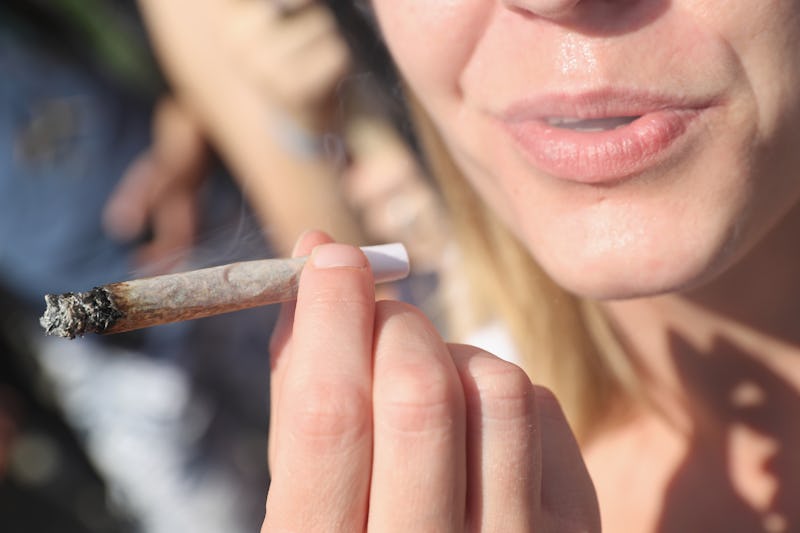 Sean Gallup/Getty Images News/Getty Images
When you think of weed-loving states, you probably think of California or Colorado, both well-known for their marijuana-enthusiast inhabitants and drug reform legislation. But if you were to guess that either of these states had the highest concentration of smokers, then you would be wrong. It turns out that Rhode Island has the highest concentration of weed smokers in the entire country. Yeah, we were surprised too!
Of course, concentration of marijuana users is different than the overall number of weed smokers in the state — it very well could be that there are more smokers in The Golden State, Denver, or even on my NYC block (judging from the smell of it) than in Rhode Island. But as far as concentration goes, Rhode Island leads the nation with 15.76 percent of its population, or one in six people, reporting that they had ingested weed in the past month. Washington D.C. came in a close second, with 15.17 percent of its inhabitants admitting to smoking weed in the last month, followed by fan favorites Colorado at 14.9 percent and Oregon at 13.92 percent.
This information comes to us from the National Survey on Drug Use and Health's recently released 2012-2013 surveys, based on confidential interviews with randomly selected individuals over the age of 12. According to the survey, Rhode Island is also home to the highest concentration of people reporting to have used marijuana in the previous year at 20 percent, and those who disclosed that they had used illegal drugs besides marijuana in the month before being surveyed, at 4.3 percent.
Salon points out that perhaps this shouldn't be a surprise to us, as it looks like Rhode Island will be the first state to legalize marijuana through the legislative process. It's also a tiny state that houses liberal institutions like Brown and Rhode Island School of Design, where students may be more likely to occasionally play "puff puff pass."
So as you are planning your road trip to all 23 states that have legalized medical marijuana, don't forget to swing by Rhode Island — it sounds like it might be your most successful stop.
Images: Sean Gallup/Getty Images; Giphy