Where To Buy Your 'Je Suis Charlie' Button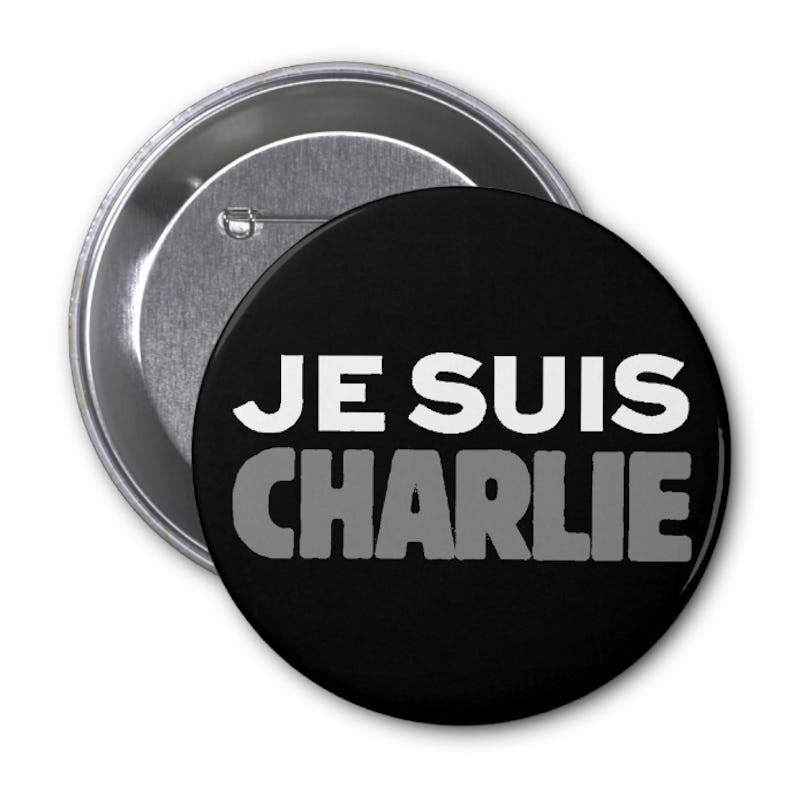 After a terrorist attack on Charlie Hebdo killed 12 people in France, many have taken to showing explicit support for the victims and for the newspaper. The phrase "Je Suis Charlie," which translates to "I am Charlie," quickly began not only trending on Twitter but also became a physical presence. At the Golden Globes, George Clooney and Amal Alamuddin wore "Je Suis Charlie" buttons on the red carpet, as did a number of celebrities. Kevin Séraphin, a French basketball player on the Washington Wizards team, wore a "Je Suis Charlie" t-shirt during warmups before a game against the Chicago Bulls.
The phrase has become a powerful message for those who want to honor the victims by standing with Charlie Hebdo. And though there has been some criticism accusing retailers of trying to profit from a tragedy by selling apparel with the logo, Etsy retailer Danica Harcourt told CNN Money that was never the intent.
Our goal was never to profit from the sale of these t-shirts but to help raise awareness to help support the French population.
There are tons of websites selling "Je Suis Charlie" apparel, and it's a powerful message. If you want to show your support for Charlie Hebdo and its mission, here are a few options.
"Je Suis Charlie" Buttons
Buttons just like the ones Clooney and Alamuddin wore to the Golden Globes are available on Zazzle for $4.
"Je Suis Charlie" Shirts
Shirts with the phrase are available all over eBay and Amazon. Shirts with the classic "Je Suis Charlie" logo are available on eBay for $14, while Amazon has the logo with the pen and fist for $19.
"Je Suis Charlie" Bracelets
If you're looking for a different way to display your support, Etsy has "Je Suis Charlie" jewelry for sale, including this leather bracelet for $8.