Did Rih & Leo Really Exchange Saliva?!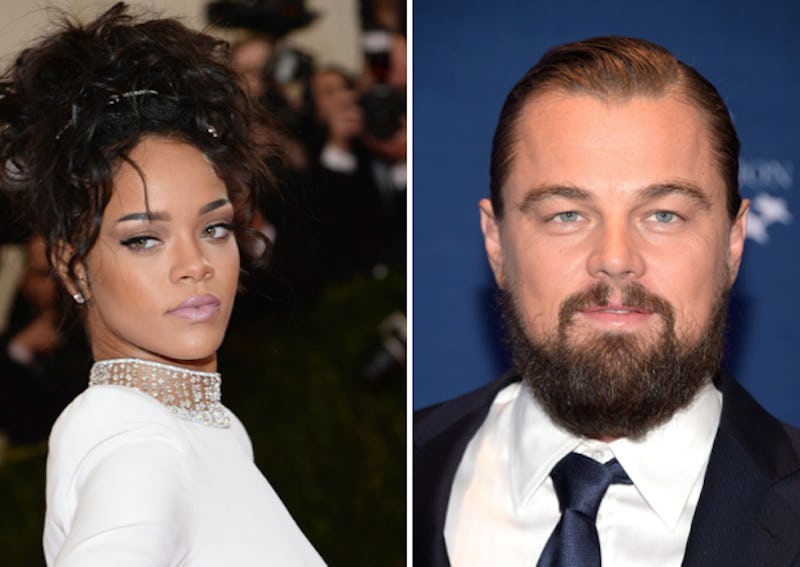 REMAIN CALM, EVERYONE!! Noted fan of bikini girls Leonardo DiCaprio and beautiful stoner goddess Rihanna possibly, maybe, spent the weekend mashing their faces and potentially other parts of their bodies together. On Monday, TMZ reported that Leonardo DiCaprio and Rihanna allegedly hooked up at a Playboy Mansion party over the weekend. In other news, that last sentence sounds like one of the most serendipitously perfect Mad Libs ever written.
On Saturday, DiCaprio and Rihanna both attended designer Nikki Erwin's 30th Birthday party at the Playboy mansion and were supposedly "gettin' super steamy and even swapping spit." Although one of DiCaprio's friends reportedly denied the episode, two people supposedly told TMZ that the Wolf of Wall Street actor and the singer were allegedly macking it. BUT wait! It doesn't end there! A source told TMZ that after the shindig, they proceeded to an after-party where things "got even hotter." If this news is legit, Leo apparently only came up for air to photobomb 50 Cent.
Now, this pair-up seems more plausible that the big ol' malarkey news of DiCaprio and Taylor Swift potentially being a sort of item. Rih and Leo both enjoy partying, boats, and being in various stages of undress. (Though odds are, Rihanna is probably too much of a badass babe for DiCaprio to hang with.) So, I'm not sure if the mere whisper of such a fluid exchange means that we'll have the pleasure of embroidering the Crate & Barrel towels with "Rih-o De Janero" to give them as wedding gifts. But let's unpack this idea anyway! I imagine this totally bananas first date looking something like this...
Leo would be CRAZY nervous about asking her out, and text her a casual "Wanna maybe get a drink sometime? Or whatever..."
She'd be all "Sure, why not?"
He'd ask "Where do you wanna go?" instead of just picking a damn place
To eff with him, she'd answer...
Stumped on ways to realistically make that happen in a cheeky and clever way, Leo would rent a yacht
Which Rih would be cool with, because they could recreate this scene
The booze and goodwill would flow freely, as would the sexual energy
Then, Leo would get get attached too fast, and be all...
To which Rihanna would react with the following polite but cringey expression
'Cause we all know, deep down, Leo is probably a Stage 5 clinger.
Image: Getty Images (2); Giphy (9)