This Instagram Account Is Dead Funny — Literally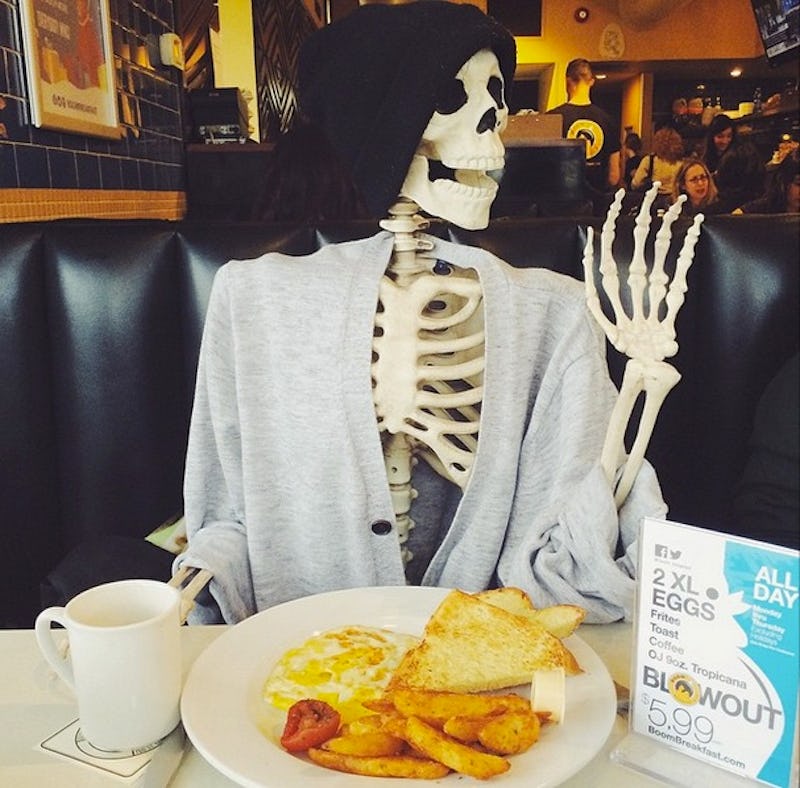 I'm a bit of an Instagram junkie, and although I love following creative, unique accounts with interesting approaches to things like fashion and travel, I also have no shame in saying that I love "basic" users who post pictures of their manicured hands holding Starbucks cups and looking down at their new leopard print flats with a Michael Kors watch on their wrist. (#Sorrynotsorry, but there's something deeply satisfying about images like that, even if they are overdone.) But here's one that's both decidedly basic and gloriously un-basic at the same time: @OMGLiterallyDead, in which Skellie, a skeleton, channels her valley girl spirit.
I'm calling it right now. This is the best parody account since @BrosBeingBasic. My reactions to both were similar: at first, I thought they were totally weird and unsettling. After a bit of scrolling, though, I was double tapping like a madwoman. @OMGLiterallyDead is the kind of humor that feels too odd to be funny at first, but I promise, you'll soon discover it's not.
Here are some of Skellie's best posts since her account hit the social media site in October. Because, hey, if a skeleton goes to brunch and doesn't provide evidence on Instagram, did she really go to brunch?
Images: Instagram/@omgliterallydead