Watch Meryl Streep & Mark Ruffalo Lock Lips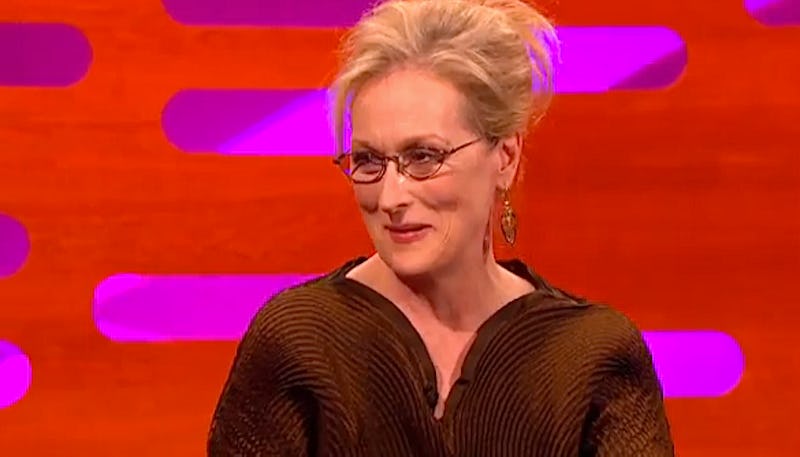 It looks like Amy Poehler isn't the only one who likes it Ruff-alo. During an interview on The Graham Norton Show over the weekend, Meryl Streep planted a kiss on Mark Ruffalo after he basically insinuated that she didn't look any older than the age of 45. (In real life, Streep is actually 65.) So it's no wonder the Hollywood legend felt that such praise deserved a steamy little reward. But, for me, the best part was watching how Ruffalo reacted immediately after receiving his well-deserved smooch. He seriously could not believe his good fortune and instantly began freaking out just as much as any of us would if Streep ever deigned to place her lips on us mere mortals.
However, the Avengers star wasn't the only one experiencing a fangirl moment. Graham's other guest star James McAvoy leaned toward Ruffalo's mouth in an attempted to waft Streep's scent onto himself. (Clearly someone was kicking himself for not thinking to make the compliment first.) But hey, two young, attractive men fighting over her affection? That's just a typical day for Meryl. Though, it should be noted that she too rather enjoyed their little exchange, even admitting that she'd been looking for an excuse to kiss him all night. Suffice to say, it was a pretty epic moment that I'm sure neither of them will soon forget.
Check out the full-blown lip lock below and prepare yourself for a whole lot of swooning:
Images: YouTube [screen grab]