'The Bachelor's Mackenzie Loves Big Noses & Aliens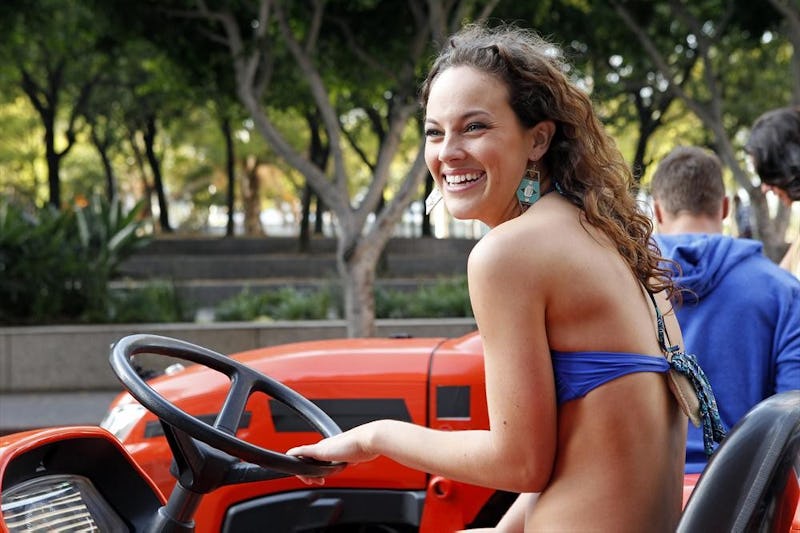 At 21 years old, Mackenzie is a whopping 12 years younger than Chris Soules, and she kind of acts like it. I mean, on her first date with Chris she chatted about his big nose and aliens, but still Mackenzie managed to get a rose on The Bachelor . Although Chris seemed initially wary of her when she declared that his nose was big. That was a good thing, because apparently "a prominent nose" is important to her. (Um, OK?) But things got even weirder when she started talking about aliens and whether or not Chris believed in them.
"The fact that she's talking about aliens on a first date does raise a few red flags for me," Chris said later. He also said she was "a lot of fun" and "cute" in that way Southern people say, "Bless her heart." A.K.A. he's just trying to be nice but he's not that into her alien-questioning, big-nose-loving demeanor.
So how did Mackenzie still walk away with a rose? She played the kid card. She had been talking all day about her desire to tell Chris that she has a one-year-old son named Kale. When she finally admitted that to Chris she was so nervous that you could practically feel his gentlemanly side kick in. "I haven't been on a date in a year because I have a kid," she explained. Chris admired her strength at caring for her son on her own. Then Mackenzie showed him some pictures like all parents do.
I don't think he's really into Mackenzie as a potential wife; after all she's basically a child compared to him. But he couldn't be the jerk who sent the single mom home for no other reason than being a mom. So he forked over the rose and I'm sure he'll send her home another week instead.
But for now Mackenzie's on cloud nine that she spilled her secret and got a rose with the big-nosed man of her dreams.
Image: Rick Rowell/ABC; Screenshot/ABC