Hopefully 'Eye Candy's Lindy Avoids Horror Cliches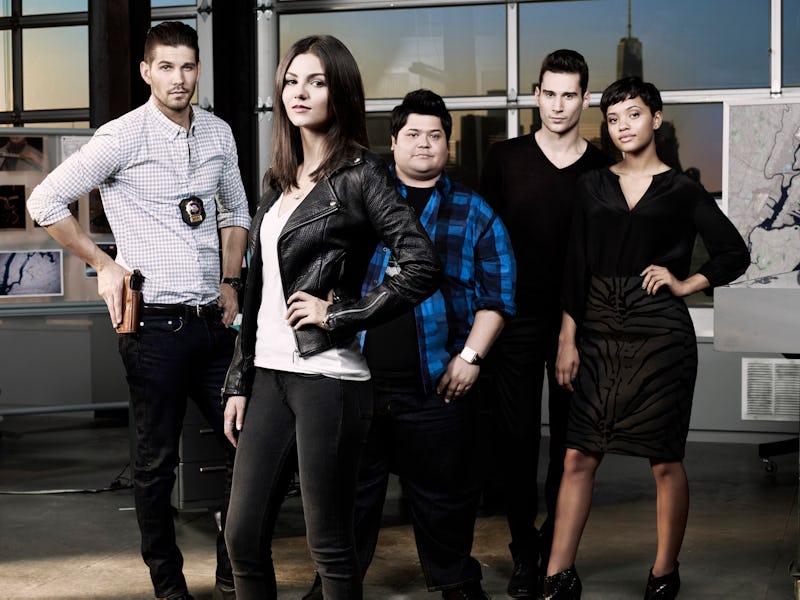 I have to say, when I came across the very first teaser trailer for MTV's newest scripted series Eye Candy , I was so skeptical. I thought it would be another wannabe horror show with a typical damsel in distress upgraded with an online gimmick for modern-day entertainment. But thankfully the pilot episode proved me wrong. When Eye Candy premiered on Monday night, it revealed a fascinatingly intelligent and flawed lead character Lindy, played by former Nickelodeon star Victoria Justice. Lindy has an interesting backstory: Her sister was kidnapped in front of her three years prior and she hasn't stopped looking for clues on how to find her. In the present day, Lindy has a website devoted to helping others find their missing loved ones, and she's finally off parole after getting caught in a mysterious hacking scheme by her cop ex-boyfriend. But when the main storyline of the series began, I started to worry that she might slowly fall into traps of so many horror cliches.
I don't mean that Lindy is starting to make idiotic decisions, but let's take a moment to review what actually happens in the first episode. Lindy's friend convinces her to try out a new dating app that is essentially a creepier version of Tinder despite her protests that she doesn't need a man to live her life. So she goes along with the app, and of course she attracts the most attractive guys, one of whom might be a serial killer and that serial killer seems to be just as much of a computer genius as her, if not so much more.
Lindy also has to deal with the affections of her ex-boyfriend, with whom she reconciles after he vows to protect her from the serial killer stalker. She allows herself to become the damsel in distress who needs the big, strong man to save her. Then in a moment of confusion and too many emotions getting in the way, Lindy makes a computer-related mistake that she should have not made, and that causes her boyfriend Ben to get murdered by her serial killer stalker.
It looks like in upcoming episodes that Lindy will teaming up with Ben's former partner Tommy to help catch this psychopath who is stalking her and killing so many people in New York City, but of course she looks to be falling for one of the suspects and Tommy seems to also be interested in her.
I genuinely hope the series can stay away from the obvious male attraction cliches and the horror cliche where the women somehow loose their intelligence when emotions are heightened and their safety is threatened. From what we've seen of Lindy so far — before the Ben of it all came into play — she's too smart and has seen too many terrible things to let her guard down in the most dangerous of situations, and make mistakes like accidentally confusing her phone with a potential serial killer's phone that she hacked, and later finding the guy murdered in a park.
We need to see a woman who has one clear goal in mind and doesn't get side-stepped or thrown off by men. I'm not saying that Lindy can't have a love interest on the series, this is an MTV series for Pete's sake, she just can't rely on his protection only or ruin her chances of finding the psychotic killer who is stalking her thanks to a man. I have faith that Lindy can be more than her many horror movie counterparts, and I'm excited to see her grow and kick some serial killer butt throughout this series.
Images: MTV; dyingtoconnect/Tumblr