You Know 'Whitney's Bobby Brown From Everywhere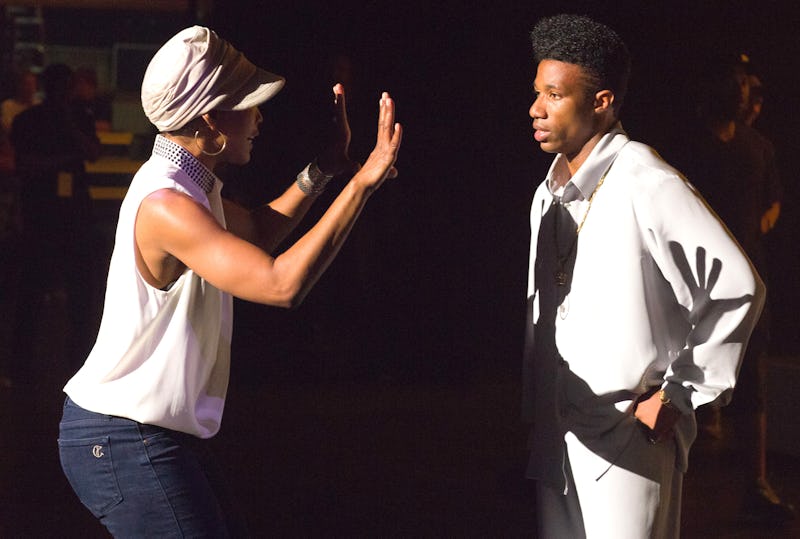 Welcome to 2015 — it's a new year, with a new attitude...and new Lifetime biopics? You got it. I mean, how could we go a few weeks without the network's take on a real-life figure in TV-movie form? Well, you've only had to wait about three weeks, because Lifetime's Whitney , premieres Saturday night. Directed by Angela Bassett, Whitney takes on — you guessed it — the life and struggles of legendary singer Whitney Houston, who died in 2012. The telefilm begins when she meets the man who would become her husband: Bobby Brown, played by actor Arlen Escarpeta, who you'll mostly know from his guest roles on TV shows and small parts in films.
The 33-year-old actor portrays Brown, who is a controversial figure in Houston's life and turbulent marriage. But at the beginning, they were just two young kids in love — Brown first met Houston in 1989 at the Soul Train Music Awards. "He wasn't bad at all," Bassett told ABC News about Houston's husband. "He was charming. He was bright. He was respectful. He was warm. He was nurturing. He was in love with his woman."
So, who is the actor playing Lifetime's version of Brown? Here are some of Escarpeta's credits and where you might recognize him from.
Horror/Thriller Flicks
Escarpeta a lot of experience with scary movies. He's had small parts in the 2009 remake of of Friday the 13th, Final Destination 5, and last year's found footage disaster flick Into the Storm, which opened in August and starred British actor Richard Armitage. Escarpeta also had a small role in the 2002 thriller High Crimes, starring Ashley Judd and Morgan Freeman.
TV Guest Appearances
Since his first on-screen role in 2000, Escarpeta has guest starred in tons of TV shows, including Judging Amy, Boomtown, Boston Public, The Shield, ER, Cold Case, Without a Trace, Law and Order: SVU, The Secret Circle, House, Grimm, The Client List, NCIS: Los Angeles, and Extant, the 2014 CBS summer series starring Halle Berry.
You may remember him most as series regular and cast member Sam Walker on NBC's American Dreams, which ran from 2002 until 2005.
Drama Films
Escarpeta had an ensemble role in the 2010 film Brotherhood, which debuted at the 2010 South by Southwest Film Festival. He also had a part in the football feature film We are Marshall, which starred Matthew McConaughey and David Strathairn, and was directed by McG.
Escarpeta also starred opposite Oliver Platt in the not-so-dramatic film The Ten, a quirky comedic take on the Ten Commandments. Once Whitney premieres and exposes Escarpeta to what is bound to be a large audince, I bet we'll be seeing him even more.
Image: Jack Zeman/Lifetime