9 Under-The-Radar Animated Films You Have To See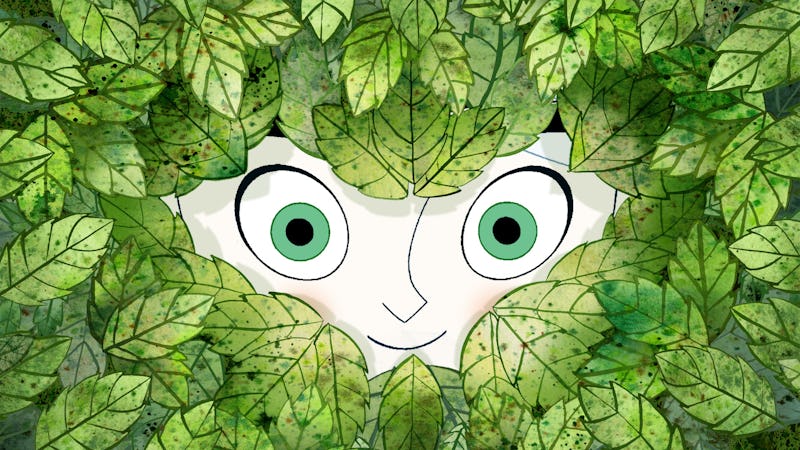 Great animated films aren't exactly hard to find. From Studio Ghibli's award-winning Japanese anime to Pixar and Disney's American-based features (please stop singing "Let It Go," everybody), we're really spoiled when it comes to quality animated storytelling. Part of that seems to be the fact that telling stories via moving, hand-drawn pictures is in the heart of human DNA; images of animated scenes have been around for thousands of years, and we've devoured everything from magic lanterns to flip books over the centuries. And this, arguably, is one of the best ages of animation ever: the genre has had its own Academy Award category since 2001, audiences flock to it, and huge technological advances mean that we're pushing the boundaries on what artists and storytellers can produce on the big screen. But even in this environment, there are some seriously beautiful modern animated films — especially those aimed at adults — that still fly under the radar.
Sometimes it's difficulty of material, or obscure subject matter; elsewhere it's an inherent weirdness that puts the brakes on. Others seemed close to attaining greatness on their release, then slipped away, and are only just coming back to get their rewards. ( The Iron Giant was one of these, but it's now such a massive cult favorite that it couldn't stay under the radar if it wanted to.)
Looking for a new addition to your animated film collection, or just browsing for an unexpected Friday night cinema-fest? Take your pick of our 9 under-the-radar animated gems from 2001 onwards, and find a new adventure.
The Secret Of Kells (2009)
If you've ever been spellbound by an illuminated manuscript — or if you just love very pretty things — this is the film for you. It's an animated fable about the origins of the Book of Kells, one of the world's most beautiful manuscripts, in medieval Ireland, and it's drenched in Irish folklore and history. A young boy in a monastery and a forest spirit (and an irritated cat) must fight to save the ancient, precious book from the invading barbarian forces, and finish its final pages. The real treasure here isn't just the story: it's the animation, which draws on the beauties of medieval illumination for its patterns and shapes.
Streaming on Netflix? Yup!
Waltz With Bashir (2008)
This R-rated 2008 animated beauty, which combines flash, still, and classic animation, will be unlike anything you've ever seen — and don't expect to come out of it humming any songs. It's the true story of Ari Folman, the film's director, who lost his memory after a particularly gruesome night in the 1982 Lebanon War, and is searching for the people who can help him remember his past as a soldier. It's dark, surreal, and completely heartbreaking.
Streaming on Netflix? Not yet.
The Triplets Of Belleville (2003)
This isn't so much under-the-radar as not sufficiently appreciated. It's completely mad and very French: a young boy dreams of becoming the winner of the Tour de France, but is kidnapped by gangsters (of course), and his loving grandmother must come to his rescue. The Triplets of the title are three elderly jazz-singing sisters who join the grandmother's pursuit, while providing elegant backing numbers. The palette is dark and the story sometimes sinister, but there are so many emotional touches that it's a whimsical delight.
Streaming on Netflix? Yup!
Ernest and Celestine (2012)
In a world where bears and mice live in fear of one another, an artistic young mouse and a travelling songwriter bear form a friendship, embark on adventures (like shoplifting), and horrify their respective communities. Sounds sickly-sweet and just for kids, but this French gem wasn't nominated for Best Animated Feature at the 2013 Oscars for nothing. Its hand-drawn, muted watercolor beauty and incredible comic timing make it both adorable and hilarious. (Plus the late, great Lauren Bacall voiced the terrifying Grey One in the English dub.)
Streaming on Netflix? Not yet!
Millennium Actress (2001)
A breathtaking achievement, this Japanese film looks on the surface like an homage to Sunset Boulevard — an aging Japanese actress, a recluse for 30 years, is found by a documentary filmmaker and begins to tell her life story — but really it's the story of Japanese film itself. The actress, Chiyoko Fujiwara, lived through the golden age of Japanese cinema, acting in roles that embodied every era while searching for her lost true love and fighting off mysterious enemies. It's sumptuous and sometimes confusing, and there are many references non-afficionados will miss, but it's also seriously lovely.
Streaming on Netflix? Not yet.
The Pirates! Band Of Misfits (2012)
This ridiculously silly film was based on a series of British adventure books about an abject failure of a pirate captain and his ragtag crew, who are far worse at piracy than Jack Sparrow ever was. The first film (there will be several) includes Charles Darwin mooning over a deeply horrible Queen Victoria, a dodo, a competitive rare animal eating society (which really existed, and of which Darwin was actually part), a showdown on an airship, and some of the best claymation out there. The plot's demented, the humor is very British and there's a lot of swashbuckling, but you don't get to see Queen Victoria in a murderous rage very often.
Streaming on Netflix? Not yet.
Mary and Max (2009)
Definitely not an animated film for kids, this twisted but light-hearted Australian stop motion feature is about the pen-pal friendship between two misfits: Mary, a curious girl growing up in the suburbs of Melbourne, and Max, an obese Jewish New Yorker with Asperger's. It's hardly a sparkling color palette — everything is brown — but the humor is all about being an awkward person in a gross, confusing world. You might know the animator from his Oscar-winning short Harvie Krumpet , which was similarly bizarre, body-focussed, and touching.
Streaming on Netflix? Yup!
My Dog Tulip (2009)
Caution: do not watch if you have an elderly dog. This beautiful British film is a love letter from author J.R Acklery, a self-confessed lonely curmudgeon, to his dog, the huge and completely untrainable Alsatian he adopted late in life and called, inexplicably, Tulip. The first film ever to be hand-drawn entirely on computers, it features lovely English skylines and a highly accurate depiction of mutual man-canine adoration over Tulip's 14 years of life. It's wry and sweet and ultimately very poignant.
Streaming on Netflix? Not yet.
A Cat In Paris (2010)
This French gem, on the other hand, is for cat-lovers, specifically those who know perfectly well that their cat has a secret existence when it's not at home. Dino the cat's double life — beloved house cat by day, assistant cat burglar by night — inevitably gets him in hot water when his young owner Zoe follows him out one evening. Set on Paris's rooftops, it has a dreamy, pastel-drawn look, a fight amongst the spires of Notre Dame, and some truly murderous bad guys (so it's not for very young children).
Streaming on Netflix? Yup!
Image via GKids Films Online.