Watch David Bowie's Many Transformations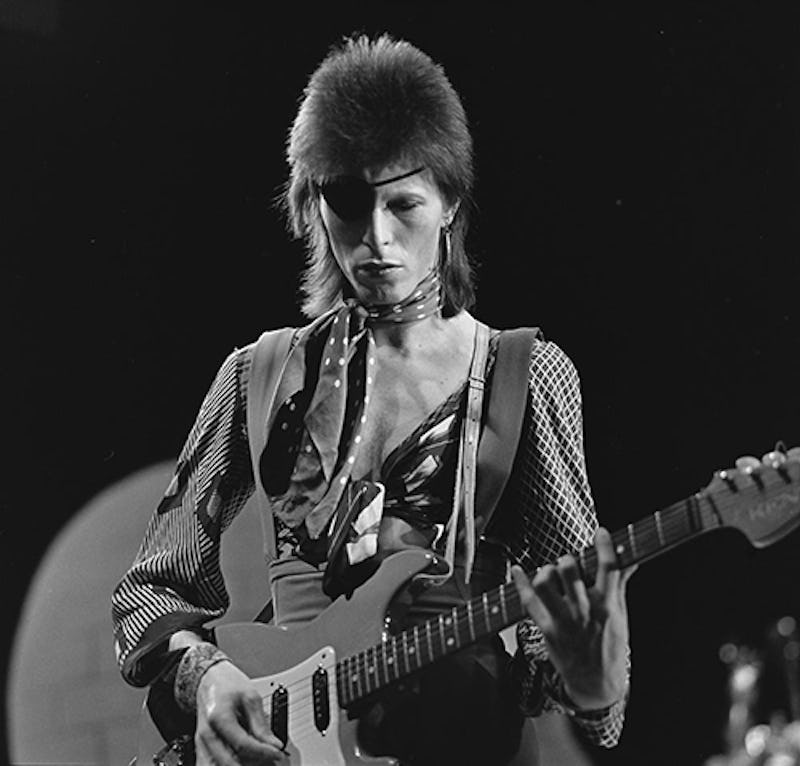 Happy belated birthday, David Bowie, you beautiful, multitalented, extraterrestrial chameleon! Our erstwhile Ziggy Stardust turned 68 last Thursday, and British illustrator Helen Green commemorated the occasion by creating a GIF from her original illustrations, depicting Bowie's many transformations throughout his decades-long career. As I watch Bowie cycle from one persona to another, I find myself wishing there were David Bowie cards that I could collect like baseball cards (only obviously they would be 1 billion times cooler). And then we could all have a David Bowie card-trading party, and collect all our favorites. It's nice to know we still have dreams left to dream.
Here is the most telling personality test of all: Who is your favorite Bowie? I can't decide between Ziggy Stardust and Jareth from Labyrinth. On the one hand, glam rock! And "Moonage Daydream," which is probably my favorite David Bowie song ever. On the other hand, I'm not sure that anything beats Jareth's incredibly tight pants. I imagine that there was a whole generation of children (myself included) whose sexual development was deeply affected by watching the androgynous and beautiful goblin king dancing in those pants.
Anyway, this gif is the greatest. Artist Helen Green has also done a variety of illustrations of other artists, ranging from Lady Gaga to Bob Dylan. You can check them out on her website, where you can also find still images of the ones featured in this amazing GIF.
Images: Wikimedia; Helen Green/Tumblr