Turns Out Cats Have the Same Taste in Books as You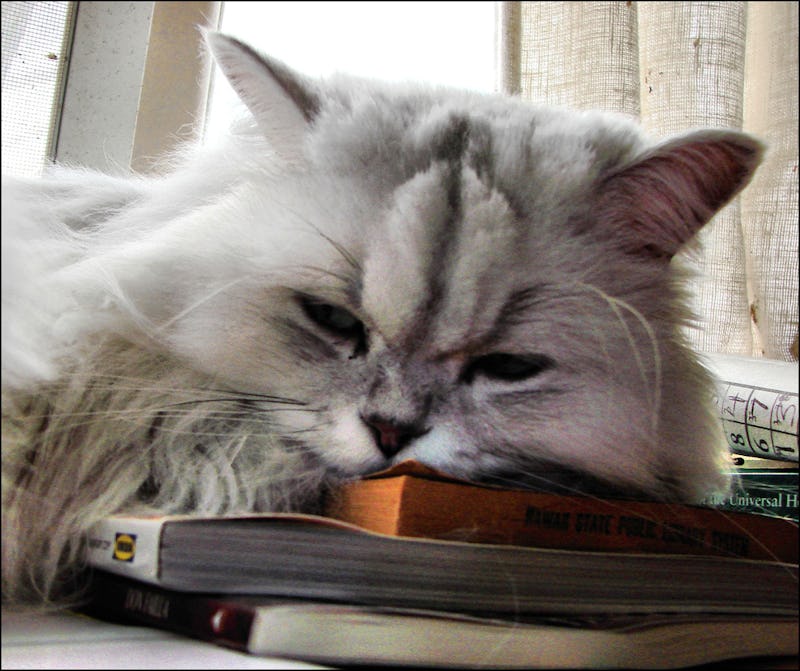 It's not that your book club is bad, exactly. In fact, I'm sure it's wonderful. You meet once a month, drink some wine, and discuss what might actually send you on a journey on the Pacific Crest Trail like Cheryl Strayed in Wild or which short story hits home the most in Lorrie Moore's Bark. But it's just that no matter how great your book club is, it does not compare to the newest book club, and that's because it is not entirely composed of cats. Yes, cats have started their own book club. What else did you think they did while you were gone working all day?
The new cats-only book club has a mission statement: "Where kitties with refined taste, supple fur, and gravy bits breath gather to sprawl on top of great literature." As it turns out, they have a lot of the same taste as us cool human women. And these crazy cats are playing fast and loose with the boundaries of book clubs, including fiction, of course, but art books, too. They're contemplating the concept of the American Dream in Yelena Akhtiorskaya's Panic in a Suitcase, digging into the true notion of art and friendship in Meg Wolitzer's The Interestings, and taking in the mystical paintings of Hilma af Klint.
She was probably up late finishing this one.
Ahh, friend cats reading about friend humans!
As much as I'd love to keep imagining that this is just plain real life that cats have formed a book club, it seems that either there's a major coincidence going on, or Riverhead Books, a division of Penguin, is the genius behind this.
Confirm or deny, we'll be over here slow clapping.
Image: eye of einstein/Facebook