'Broad City' Is Back, Be-otches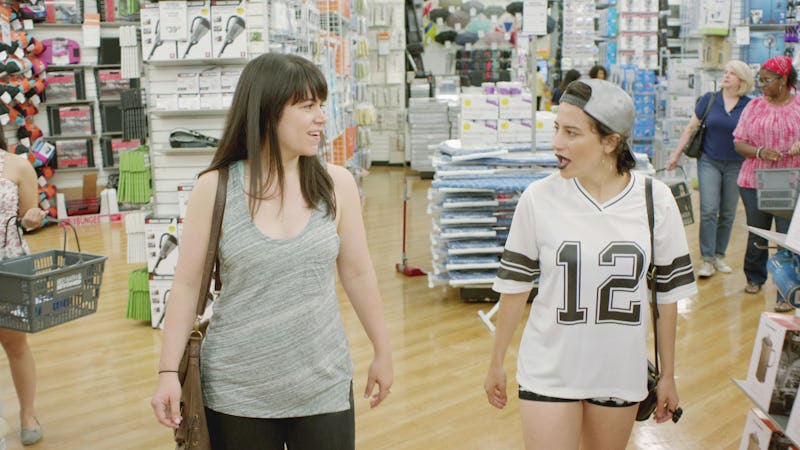 Get hype: We're finally heading back to Broad City. Abbi and Ilana have returned from their waaaaay too long hiatus for the Broad City Season 2 premiere. This season, the web series-turned-Comedy Central show, just as it did last season, is bringing the humor to even the most unfortunate New York City situations. The Manhattanites know the plight of being caught on a subway car with a literal pile of shit as the only other passenger; know that an apartment described as "quaint" means "doesn't have a kitchen;" and, of course, understand that summers in the city without air conditioning are basically the definition of hell on earth — because as great as New York is, well, sometimes it kind of sucks.
Tracking down an air conditioner just so happens to be the one that the girls are contending with in the Season 2 opener (even if most New Yorkers would be thrilled to get out of the frigid January weather) and, as with every problem Abbi and Ilana attempt to solve, the situation gets out of hand realllll fast. After all, what would Broad City be without the titular broads being their hot mess selves? (Pun totally intended.) I don't want to live in a world where Abbi and Ilana have their sh*t together — it makes me feel so much better when I don't.
So what were the most quotable lines from our New York heroines? Here are the quotes from the Season 2 opener that will remind you to smile, even when the R train is 45 minutes late.
Ilana: "All my senses are heightened, even my ethnic ambiguity. I was catcalled today in what I believe was creole."
Abbi, after trying on pants at TopShop: "I'm going to buy these, because they're now a part of my body."
Ilana: "Animated movies are where it's at. They're like visual crack."
Ilana: "All Hollywood media is porn, and all porn is kiddie porn. We live in a rape culture. We just do."
Ilana: "Maybe Lincoln would want an avocado for his birthday? Or like a bag of avocados?"
Abbi: "Maybe your dad should have pulled out."
Ilana: "Who would leave weed in a wall? A weed genius. And she'd leave it there indefinitely in case of emergency."
And then, of course, there's Abbi's glorious(ly horrible) interaction with Drew the cat:
Classic.
Images: Comedy Central/Comedy Central; Giphy (8)