'Hannibal' Season 3 Will Serve Up a New Character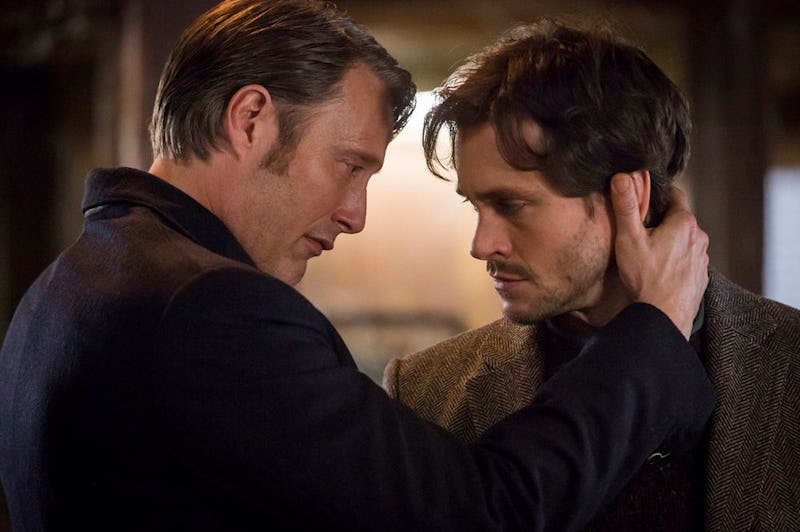 There are a lot of reasons to look forward to the return of NBC's Hannibal , which will kick off its third appetizing season later this spring. For starters, who couldn't use a little more Mads Mikkelsen in their lives (even in the form of a murderous cannibal)? Not to mention that last season left viewers with numerous cliffhangers and several important questions like — where the hell do we go from here? Well, thankfully the network has decided to take pity on us and recently dished out a few details regarding what's in store for Dr. Lecter & Co., which will apparently include a little holy matrimony. That's right, folks — TVLine exclusively reports that Hannibal is in the process of casting Will Graham's wife, Molly!
Described as "a strong, vibrant thirty-something," Will's new lady love will help him to overcome his dark and tortured past, which sounds about as easy (and pleasant) as trying to find your contact lens on a crowded NYC subway. Molly will also have a 12-year-old son named Walter, though it's unclear right now if we'll see the boy as often as his mother. Now I know what you're thinking. "Kelly, how is it even possible for Will to get married so fast?" Well, it actually won't be quite as speedy as you think. In fact, the character isn't even slated to make an appearance until Episode 8, which will leap the show a decent amount of years into the future to when Will is no longer living the bachelor lifestyle.
So for those of you who hate time jumps, I'm sorry for this tremendous upset. However, I implore you to give Hannibal a chance to try and make the change-up work. This show has exceeded all expectations, in my opinion. So I think they've earned the right to be given the benefit of the doubt. What concerns me more is who they'll choose to play Molly? So just in case producers are hitting a bit of a dead end with casting, I've come up with a few suggestions to help whet their appetite. Bon appétit!
Linda Cardellini
I loved her on Mad Men. I loved her on New Girl. So chances are I'd love what she could bring to the Hannibal table. Her spunk and sass would be the perfect yin to Will's all-too-serious yang. Granted, she does have a new show called Bloodlines coming out this spring as well, but surely she can manage to squeeze in a four-episode run for NBC's best thriller, right? Please?
Erika Christensen
Now that the last season of Parenthood is wrapping up (sniff, sniff), I'm going to need another way to see this actress up on my TV screen every week. Much like Julia Braverman, Molly needs to be tough and able to hold her own. And I can't think of a gal that fits the bill.
Rosamund Pike
Granted, the last time she played a wife to someone on-screen (i.e. Gone Girl), things didn't work out too well. But with a show like Hannibal you're going to want someone who's familiar with some murder and bloodshed, so really… it's a match made in heaven? Think about it, writers.
Images: Brooke Palmer/NBC; Ray Mickshaw/FOX; Getty (2)