'Downton Abbey' In Real Life Look So Completely Different, It'll Blow Your Mind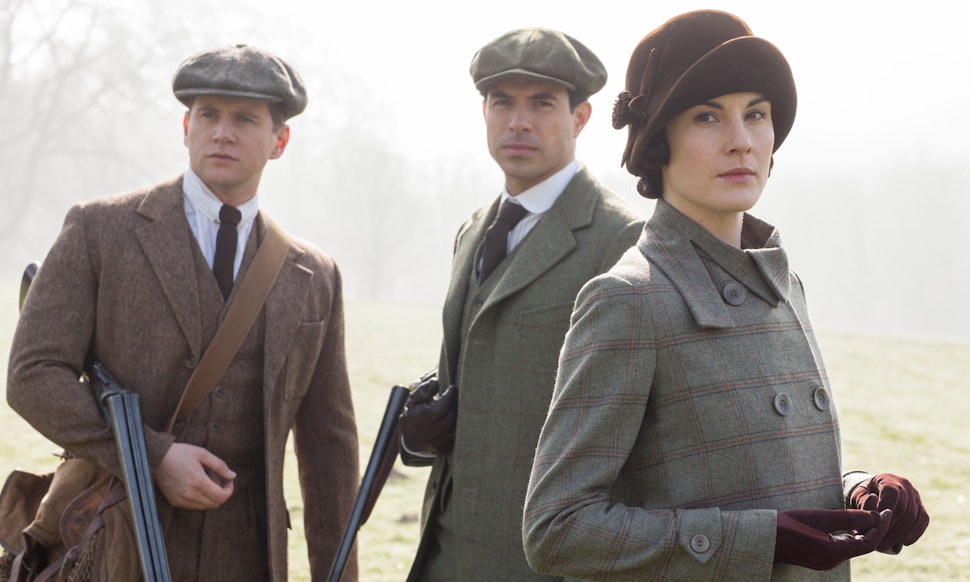 It's easy to get completely wrapped up in the world of Downton Abbey . Before you know what's happening, you're demanding tea in the library and insisting that everyone address you as "Lady," and talking about taking overnight trips to London. However, though we hate to admit it, it's just a TV show — no matter how obsessed we are with it. And, consequently, everyone is no more than just a character on the screen (though we'll still pretend otherwise). We've got to be able to differentiate between the TV show Downton and the real life actors of Downton Abbey, because those are two completely different things. These people aren't really stuck in the 1920s. It's weird to think about Lady Mary probably going home after a long day of shooting and binging Orange is the New Black on Netflix, but I'm going to assume it happens.
Oh sorry, not Lady Mary, but Michelle Dockery. The actors and actresses from Downton are slowly becoming more and more mainstream in the world of entertainment, and seeing them pop up in 2015 garb is often a little jarring. if you really want to see what they look like NOT in period pieces, I've gone ahead and rounded up some of our favorites, so take a gander at what they look like sans the help of a footman.
Image: Nick Briggs/Carnival Films 2014 for MASTERPIECE
Lady Mary & Tony Gillingham
Another day, another suitor for Mary. It looks as if Lord Gillingham has won his way into her heart, and you do have to admit he is kinda dreamy (even though he's NOT Matthew). They measure up pretty well in the world of Downton, but what about our real world?
Image: Nick Briggs/Carnival Film & Television Limited 2014 for MASTERPIECE
Michelle Dockery
If you haven't already caught on, Michelle is stunning whether she's dressed for dinner with Granny or for an award show. She also had a role in the very much not-akin to Downtown movie, Non-Stop with Liam Neeson, which is a kind of a big deal. Even if it's a little jarring to see her wearing clothing that's not of the 1920s flapper variety.
Tom Cullen
We never really see Lord Gillingham with a five o'clock shadow, but we most definitely know it's there. Real life pictures of Tom Cullen prove that fact to us. But don't start pining for this one, like Mary. Cullen is very much off the market. And what lucky lady has snagged this Downton suitor in real life? Oh, none other than TATIANA MASLANY. Well, I approve this pairing 100 percent.
Lady Edith
Since day one of Downton, Lady Edith has been dealing with an intense case of middle child syndrome. Slowly, over the past few seasons, that has really begun to change, and finally she's getting the much deserved attention, love, and support that she deserves (even if she does have a secret illegitimate child). The show also seems to always go out of its way to make her as plain and mousy as possible, when in real life that is not the case.
Image: Nick Briggs/Carnival Film & Television Limited 2014 for MASTERPIECE
Laura Carmichael
You guys, in real life Laura Carmichael is a complete knockout. The beautiful butterfly that Lady Edith could be is completely hidden under all those neutral colors. For the rest of Season 5 Lady Edith needs to continue to — in the immortal words of Rihanna — to shine bright like a diamond.
Tom Branson
Oh, Branson. He might actually be the most repressed character inside Downton, if only because he's still from a completely different world. But man, can he wear a hat like no one else. It's also so wonderful to hear an outspoken character actually speak his mind — even if Lord Grantham hates every second of it.
Image: Nick Briggs/Carnival Film & Television Limited 2014 for MASTERPIECE
Allen Leech
Allen Leech without a hate isn't so bad, either. He's also now got Cumberbatch street cred, considering his role in the The Imitation Game. Still might not be enough to win over Robert, though.
Thomas Barrow
Has there ever been a (mostly) evil character better suited to wear a bowler hat? Probably not. On Downton Barrow is the sly and scheming footman who always seems to know the right buttons to push with everyone else. Is he a villain? Is he a good guy? Often, it's hard to tell. Image: Nick Briggs/Carnival Film & Television Limited 2014 for MASTERPIECE
Rob James-Collier
In real life, Rom James-Collier appears to be nothing short of a sweetheart. He's got two different degrees — one in business and one in marketing — and has a son, too. He also won "Sexiest Male" at the 2007 Inside Soap Awards. Well, when he's not trying to destroy Downton from the inside out, we can kinda see where that sexy vibe comes from.
Cora Crawley
As the matriarch of Downton, Cora often has quite a lot on her hands (even if most of the time it is simply trying to remind Robert that not everything is the end of the world/the end of Downton). Does Cora's easy going happiness translate from screen to the real world?
Image: Nick Briggs/Carnival Film & Television Limited 2014 for MASTERPIECE
Elizabeth McGovern
Here's something you might not know off hand about Elizabeth McGovern — she's got a band. That's right, Elizabeth is the front woman of Sadie and the Hotheads and often teams up with The Nelson Brothers. Also, Lady Mary herself has sung with the band before.
Mrs. Patmore & Daisy
If Downton gives us any sort of spinoff, and if we can't secure one about Carson, we better get one about the Adventures of Mrs. Patmore and Daisy. Though they're not related in any sort of way, these two often have the best mother/daughter relationship on the show.Image: Nick Briggs/Carnival Film & Television Limited 2014 for MASTERPIECE
Sophie McShera & Lesley Nicol (With Joanne Froggatt)
Take away the aprons and the flour, and Sophie McShera and Lesley Nicol look absolutely different — and stunning. (Pictured here alongside newly minted Golden Globe winner, Joanne Froggatt.) I take back my earlier request. Now I want a Downton spinoff about these ladies taking on the world.
Mrs. Hughes
Mrs. Hughes always has a million things to worry about, and often a million secrets to keep, too.
Image: Nick Briggs/Carnival Film & Television Limited 2014 for MASTERPIECE
Phyllis Logan
Would you have ever guessed that this was Mrs. Hughes, sans all the toil and trouble from a day at Downton? While she still might not be as familiar stateside as her other Downton companions, Phyllis has been in just about a million television shows across the pond, dating all the way back to 1980.
And let's be real for a second, outside of Downton Phyllis looks about twenty years younger than she does on the show. I think Mrs. Hughes needs a vacation, and one that's more than simply sticking her toes in the water.
Violet Crawley, Dowager Countess of Grantham
Who's the character with the best advice on Downton? Obviously, the answer here is The Dowager Countess. The second she comes back in Season 5 she has this gem of a quote: "There's nothing simpler than avoiding people you don't like. Avoiding one's friends: that's the real test."
So, does the real life Dowager live up to her sassy TV counterpart?
Image: Nick Briggs/Carnival Film & Television Limited 2014 for MASTERPIECE
Maggie Smith
The answer is: YES. Yes she is fabulous. Yes I want to be just like her when I grow up. Maggie Smith: like a boss. Any questions?