Why Bergamot Oil Is As Good For You As It Smells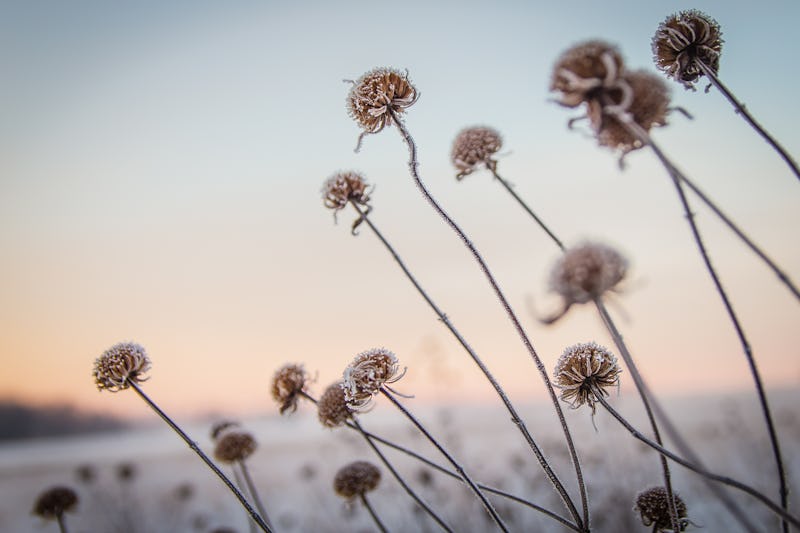 It's always a good idea to read the labels carefully on beauty products. After I squint my eyes enough to make the small writing legible, I read through the list of ingredients to verify that a "natural" product is natural enough for my needs. Although, I'm never just looking for hidden sulfates and petroleum based ingredients, I'm actually looking for beauty secrets. A foreign ingredient on the label of a leave-in conditioner doesn't set off alarm bells, it peaks my curiosity and usually leads to a new item that I can play with in my DIY beauty products. Yes, I am that annoying girl sitting cross-legged in the store aisle with a notebook, Googling answers, and making notes. Fortunately, this habit led me straight into the arms of bergamot, an essential oil with healing properties that are powerful enough to treat our skin and hair.
More and more, I've started recognizing bergamot essential oil in hair products and face washes. Eventually, I couldn't resist purchasing the oil itself. that spicy, citrusy smell was something I absolutely couldn't resist and a few aromatherapy gurus that I happen to have at my disposal, mentioned that bergamot had stimulating and relaxing properties that acted as a natural anti-depressant. Ohhh, you mean this oil could potentially make me look AND feel happy? Say no more.
Bergamot essential oil comes from the bergamot tree, which is native to Europe and South Asia. The tree blossoms oval green leaves and white flowers. The essential oil actually comes from peels of the yellow fruit that the tree naturally produces. Before bergamot began making an appearance in beauty products, it has been largely used for its calming effects on the nervous system.
Just like lavender, clary-sage, and frankincense, this mood stimulant can also stimulate and regenerate skin cells giving life to dull complexions. Bergamot is known for its ability to distribute pigments evenly throughout the skin, leaving an even, toned complexion. Plus, bergamot has powerful antiseptic and antibiotic properties while being able to remove bacteria from our skin and hair. All of those factors just may help you close the door on unwanted acne scars and blemishes.
According to essential oil experts, bergamot is an oil needs to be diluted to avoid skin irritation. This oil does contain phototoxic compounds that can be extremely harmful in direct contact with the sun. Always use a moisturizer when using products that contain bergamot for your hair and skin's sake and you'll be ready to use these recipes below!
1. Hair Sheen
Bergamot can add shine to dreary locks affected by weather, genetics, and hormones. To add a little shine in your life, add a few drops of bergamot to jojoba oil and apply on dry or wet hair. This also acts as a great way to smooth stray hairs into an updo.
2. Restorative Skin Toner
If you are suffering from old acne scars and a faded complexion, this toner should bring some much needed relief. You'll need the following:
3 tablespoons of aloe vera, either extracted directly from the leaf or pure aloe vera juice
3 chamomile tea bags
1 cup of filtered water
1/2 teaspoon of witch hazel
bergamot oil
Boil a pot of filtered water (unless your tap water is soft). While you wait for your water to boil, extract your aloe gel from the leaf and add the witch hazel and four drops of bergamot oil. Add your tea bags to the hot water and allow to steep and cool. Once your tea has reached room temperature, blend all your ingredients together. If you are using aloe juice, you can simply shake your ingredients vigorously in a sealed jar. If you are the aloe straight from the leaf, a blender will be the best way to get the chunks liquefied. This toner should keep for at least two weeks in your refrigerator with the witch hazel acting as a natural preservative.
3. Natural Deodorant
One of the most popular ways to use bergamot is in a natural deodorant. Bergamot actually kills the type of germs and bacteria that cause body odor, and for way less than an OTC stick. You can add bergamot essential oil to any natural deodorant that isn't holding up or you can make your own with one of my homemade natural deodorant recipes. I'm especially fond of using equal parts shea and coconut oil, then one quarter cup each of arrowroot powder and baking soda. Next, I add my essential oils. Currently, I'm using bergamot, clove, lavender, and lemongrass essential oil — just four drops of each goes a long way and keeps me smelling super fresh.
Image: Brett Waley/Flickr; Giphy; Kristin Collins Jackson