8 Ways Smoked Cheese Makes Everything Better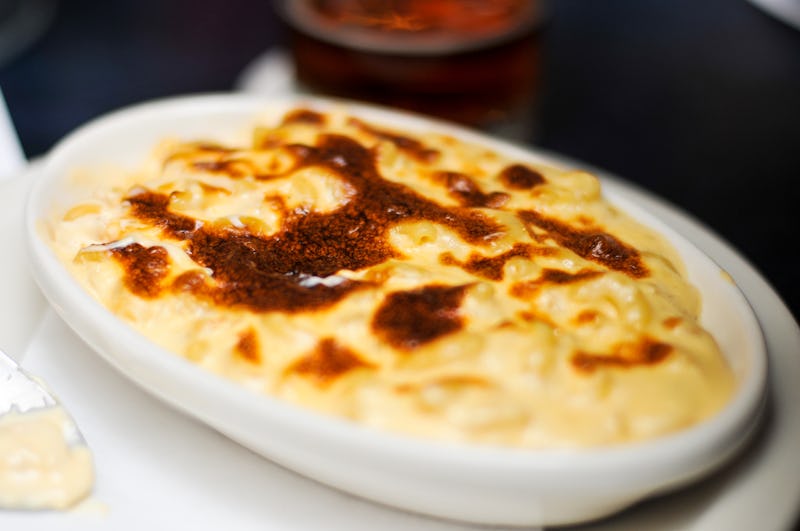 What's not to love about cheese? It's delicious, it's flavorful, it comes in various tastes and textures, and just by adding cheese to recipes you're bound to make them instantly better. Whether you're someone who likes to ride on the sharp, moldy, pungent side (all you fans of cheddar, blue cheese, and gorgonzola raise your hand!), or you prefer sticking to the basics like American, brie, and muenster, there's always enough cheese to keep everyone happy.
Personally, when it comes to cheese, I'm willing to try anything once. Cheese is practically the epitome of my existence, and I'm never going to say "no" to attending a wine and cheese night. But while I may love all cheeses equally, there's one category in particular I feel deserves more recognition — smoked cheese. Smoked cheese is like a whole other, barely touched playing field in the cheese universe. It makes flavors sing unlike any other ingredient, and if you're not cooking with it now, you should be. Applewood, hickory-smoked — just go ahead and take your pick. Because smoked cheese can give food more life, and because, hey, it is cheese after all, here are eight ways to make sure you're using it daily. Get ready for life to taste so much better.
1. If you're a melted cheese aficionado, it brings out (like, REALLY brings out) the flavor in the already-fabulous cheese fondue
Who would ever reject a dish containing simmering, decadent cheese in a pot? Definitely not me, and if it were realistically possible, I'd swim in it and get caught in the palatable abyss. Come on, you know that's your dream, too.
Incorporate some smoked Gouda into the mix, and you've got yourself a hot and bubbly cheese pot with multi-dimensional flavors. With its delicious smoky tang and velvety texture, smoked cheese is really the only way to make your fondue pot even more satisfying (you can thank my mother for coming up with that idea). Looking for a great cheese fondue recipe to try at home? Here's one that pairs smoked Gouda with Porter beer for the best flavor combination around.
2. It helps sandwiches get a complete (and necessary) makeover
Let's just be honest for a second. After a certain point in life, eating sandwiches becomes a little... boring. So why not switch from the usual Swiss, American, and provolone, and go for some applewood-smoked cheddar, brie, or Gouda, to liven up that hoagie a bit? Try using smoked Gouda and roast beef to jazz up your basic grilled cheese sandwich, and then thank me later.
3. Macaroni and cheese lovers rejoice, because this dish just got even better
If you're a die-hard macaroni and cheese fan and can swear by it (like me!), then you're in luck. With smoked cheese as an additional ingredient, this side dish will taste even more epic than it already does. So once again, go ahead, add some smoked Gouda, and prepare to head into a cheese-induced trance.
4. By swapping regular mozzarella with a smokier alternative, pizza will become even more addicting
This one almost seems too obvious to mention. No matter how you like it — deep dish or thin crust, full of veggies or topped with meat — pizza is pretty perfect. Try a pie with some smoked mozzarella and bacon on top, and prepare for a huge treat.
5. Quesadillas will have more flair if you use smoked cheese as one of the star ingredients
A little smoked cheddar is all you need to amp up the taste level of this well-known Mexican dish. You don't need to go too crazy though, since you still want the seasonings and spices to also be present. Feeling inspired? Try these smoked Gouda mushroom quesadillas for a meal your taste buds will remember long after you've devoured every last bite.
6. You'll bask in every single bite even more when consuming savory crepes
Usually crepes tend to be seen as a dessert dish. However, I've had savory crepes on occasion and you know what makes them even more divine? THIS. Try these beer crepes filled with smoked cheese and mushrooms, and get ready to have your mind blown. I don't know about you, but I'm about to make this snack in my kitchen.
7. Cordon Bleu will be more of a delight to eat...
...especially if you aren't a Swiss cheese person at all, such as myself. By switching over to a smoked Gouda or provolone, you'll never be able to look at the meat-wrapped cheese dish with glossy eyes again. Ever. This smoked Gouda Chicken Cordon Bleu looks really yummy, if you ask me.
8. Soups (especially chowder-style) are good for the colder months
When it gets cold, it's soup to the rescue! Potatoes and cheese are an unforgettable match made in heaven, so it only makes sense to enjoy some good-old potato soup with grated smoked cheddar on top. This very well-known potato soup recipe never fails to disappoint, so go ahead and try it now — seriously.
Happy smoked cheese-consuming!
Image: Joshua Bousel/Flickr; Giphy (9)