What Your Favorite Cheese Says About You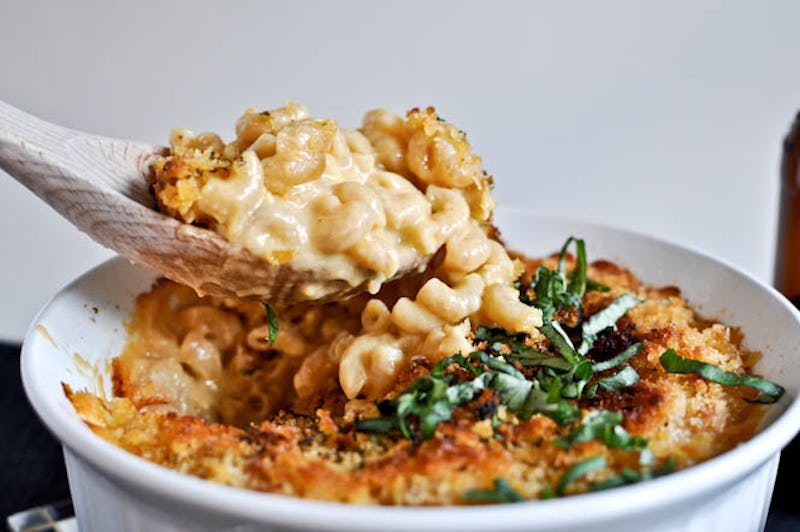 Cheese is more than just a glorious type of food — cheese is a way of life. As a self-professed cheese addict (I can report that I have seven different types in my fridge right now), I truly believe there's no problem a gooey mac 'n' cheese, a melty grilled cheese, a bubbling fondue, or just a good ol' block of cheese can't solve. That's why it's really, really important to know what your favorite type of cheese is. Not only does your preferred cheese give people insight into your personality, as well as your likes and dislikes, but it also pretty accurately represents what kind of love life you have (or don't have).
Are you and your boo as solid as a pound of aged Gouda, or will your relationship crumble like a delicate Feta? Is your sex life as spicy as a slice of pepper jack, or is it as bland as a bowl of cottage cheese? Could it be that you're a Liz Lemon who's still looking for a Criss Chros to share her night cheese with? All can be told by the all-knowing favorite cheese.
So without further curdling, here's what your favorite cheese says about your love life. Instead of taking it with a grain of salt, might we suggest some quince paste?
American
White bread and American cheese is as classic as Jackie O and JFK, and so is your relationship. Red roses, matching outfits, dinner at your favorite restaurant every Saturday — you two know romance, and keep it pretty vanilla. Just don't let yourselves slip into a rut with the same old, same old. Mix it up every now and then and throw some pickled jalapenos on there.
Brie
While it takes time for suitors to melt your heart (just like it takes time to melt Brie stuffed in puff pastry), you show them the wait is well worth it.
Swiss
Your relationship is a lie. Either you're cheating on your partner or they are cheating on you, because no one, and I mean no one, actually says out loud that Swiss is their favorite cheese unless they are trying to hide something.
Halloumi
Halloumi is a sturdy cheese that can stand up to the hot fires of a grill, and you're a steadfast person who can stand up to heartbreak. You're also a hopeless romantic who won't give up on finding your true love.
Cheddar
You don't have a type because you pair perfectly with anyone, whether it's someone who's as sour as a Granny Smith apple or someone who's as hoppy as an IPA.
Blue
You're part of the "perfect" couple who's always in everyone's face, telling all of your single friends why there's nothing better than marriage. Sorry, but people like what they like — and that doesn't always include moldy marriage … um, I mean cheese.
Goat
Those who love goat cheese also love going against the grain (or milk, that is) in life, and in dating. Take a cue from them and say yes to someone you would normally say no to next time.
Mozzarella
You're a casual person who isn't looking for anything serious. Just like mozz can easily go from pizza to caprese salads to bruschetta, you're always up for trying something (or someone) new.
Parmesan
You wear the pants in any relationship and always win the arguments. You can also be a little nutty from time to time, but that's what people love about you.
Farmer's
It takes a special person to make farmer's cheese, and you're the person to do it. You're a hard worker in life and in your relationships, but make sure you don't lose yourself and those who are closest to you along the way.
Gouda
The amount of patience you have is admirable. You don't mind going on dozens, or maybe even hundreds, of Tinder dates — as long as it means you've found the perfect pear to your Gouda. (Had to.)
Seasoned Havarti
You're all over the place and can't decide what you want. Is it a commitment? Is it friends with benefits? Is it Friday nights dedicated to takeout food and Netflix? You won't know until you get to know yourself.
You don't like cheese
You will end up alone.
And remember:
Images: How Sweet It Is; jeepersmedia, dinesarasota, filterforge, stone-soup, bert_m_b, cookbookman, stevendepolo, nebulux, geishaboy500, adactio, grongar, ficken, donnieray/Flickr, cheesefc