How Similar Are 'Empire' & 'King Lear'?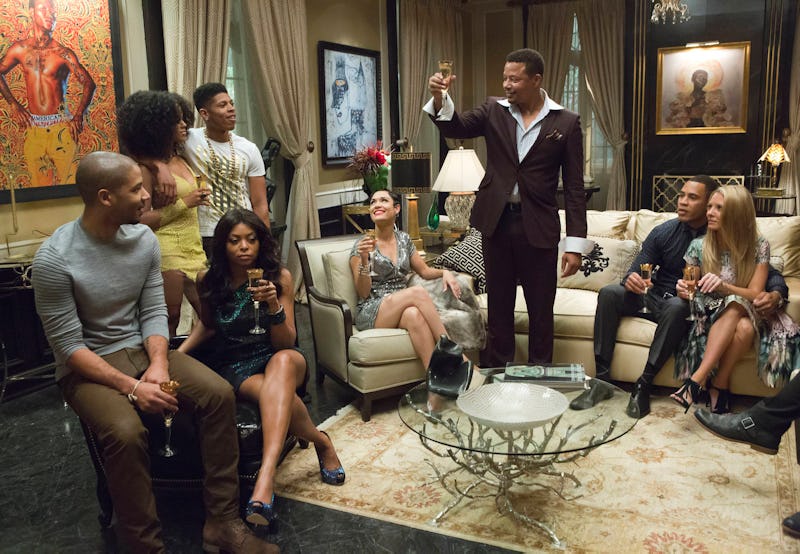 Empire is the unlikeliest broadcast television success story in recent memory. FOX was just coming off an absolutely abysmal fall, with three of its four new shows tanking and getting the ax (Gracepoint, Mulaney, and Red Band Society) — the network's only new hit, Gotham, attracted high ratings but generally mixed reviews. But then came along Empire , a drama supposedly based on Shakespeare's King Lear. However when you look at the show's pedigree, its success should come as no surprise. Empire was creared by Oscar-nominated director Lee Daniels (Precious) and writer Danny Strong (The Hunger Games: Mockingjay — Part 1), starring Academy Award nominees Terrence Howard (Hustle & Flow) and Taraji P. Henson (The Curious Case Of Benjamin Button), with original music written by Timbaland, and a plot borrowed from Shakespeare. Suddenly, BOOM: instant mega-success.
So what does this hit TV show about a hip hop mogul, his ex-con ex-wife, and their three sons have to do with the Bard? Fair question. Since Empire was announced, many people — including the writers themselves — have compared the show to King Lear, one of the playwright's most famous tragedies. That play, first performed in 1607, tells the story of the elderly King of Britain, who decides to divide his kingdom amongst his three daughters based on which of them loves him the most. Of course, this terrible plan soon leads to treachery, murder, and eye-gouging.
You can see the similarities: an aging patriarch, three offspring, a contest to see which of them will win his inheritance. A New York Times article about Empire boldly declared in its headline: " King Lear in a Hip-Hop Realm." In the article, writer Strong himself is quoted as saying that his show is "part Godfather and part King Lear." Even one of the show's characters references Shakespeare's tragedy in the show's pilot: "We King Lear now?" middle son Jamal asks his father after Lucious announces his plan to bequeath his record company to one of his three children. Far be it from me to disagree with Empire's creators and characters, but I find the show to bear more in common with another classic drama that also takes place in old-timey England.
Over at Vulture, Craig D. Lindsey pointed out that, "the text the show really owes its plot to is The Lion In Winter " — and he's absolutely right. That play, which was much more recently published in 1966 by James Goldman, also deals with an aging English king and his three children. But in this case, the children are sons instead of daughters, and matters are complicated by Henry II's estranged wife, Eleanor of Aquitaine. The marriage between Henry and Eleanor has deteriorated to the point where Eleanor has been virtually imprisoned in a tower. She's released after 10 years, just in time to join her family for Christmas, when Henry is deciding which of his three sons will inherit the throne. Henry favors his youngest son, John (just like Lucious favors his youngest, Hakeem), while Eleanor favors the oldest, Richard the Lionheart. (This is a slight departure from Empire, since on the show Cookie favors middle son, Jamal.)
If you're still not convinced that Empire owes more to Lion In Winter than King Lear, consider this: the family's last name is literally Lyon.
So can we predict what's going to happen on Empire based on the ending of Goldman's play? Frustrated by his choice and his wife's constant manipulations, Henry throws all three of his sons in a dungeon and plans to seek a divorce from Eleanor so he can marry his mistress, Alais, and have a new child with her who would become his sole heir. But when Alais points out that this plan would only work if Henry executed his three sons, the king can't bring himself to carry out the sentence. He releases them all and the eldest, Richard, inherits the throne.
I predict that, by season's end, it will be revealed that Lucious's girlfriend Anika is pregnant, further complicating the sick mogul's legacy. Anika will want Lucious' fortune to pass to her own child, but Cookie will continue vouching for her favorite, Jamal. But who will end up inheriting Empire Records? If the show follows the play, it could be either Andre (the eldest) or Jamal (whom their mother favors). Either way, things don't look too good for youngest brother Hakeem.
Images: Chuck Hodes/FOX (3)