Oreo's New Flavor Is BRILLIANT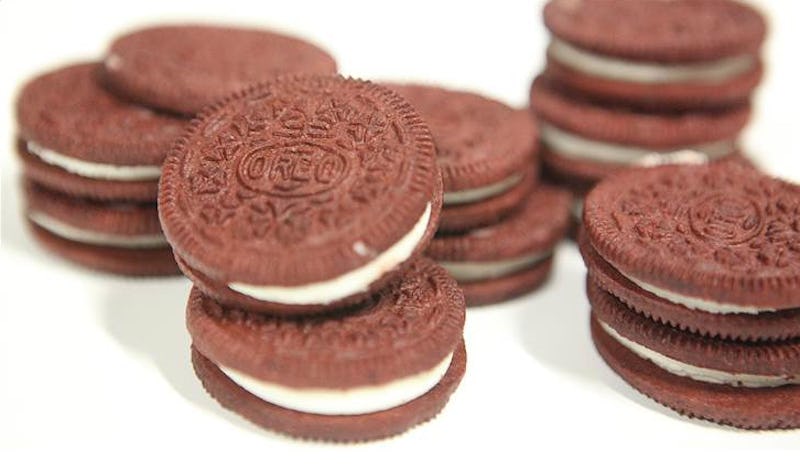 Holiday foods can be a hit or miss; Thanksgiving flavored kettle chips are a hard pass, while I could drink Christmas' peppermint cocoa every day of the year. But today, I'm happy to tell you about a holiday-inspired food that might just bring you tears of joy; introducing red velvet Oreos, released just in time for Valentines Day.
Speculation about this particular Oreo flavor began last October when a tweet was posted with a picture of the red velvet Oreo packaging, and then swiftly deleted. Some dismissed the rouge tweet as a hoax, and not uncommon in a world that was tricked to believe in butterbeer and fried chicken flavored Oreos. Only today has Nabisco confirmed their plan to roll out the limited edition red velvet Oreos on February 2. Representatives of the brand claim that they denied the existence of this spectacular cupcake-cookie mash up in October because they were still finalizing plans and knew that the flavor wouldn't be released for months. In fact, Janda Lukin, senior director of Oreo North America, told the Chicago Tribune that Nabisco has been working on the new cookie for about a year.
The new Oreo flavor will feature a red cookie outside a cream cheese frosting-flavored center. Early reviews of the cookie claim that while the cookie part of the Oreo tastes pretty much the same, the new icing is fantastically fluffy and sweet…yum! With the news and reviews of red velvet Oreos officially out, fans have taken to Twitter to express their excited over the new cookie.
If you simply can't wait to get your hands on these cookies, Oreo is giving away over 20,000 free samples to people who sign up for a first taste. Click here to sign up before January 22, and be sure to send me some over at Bustle offices if your name gets chosen…hey, you wouldn't have known about the contest if it wasn't for me!
Image: HSLS/Twitter