5 Typewriters That Are Fit For The 21st Century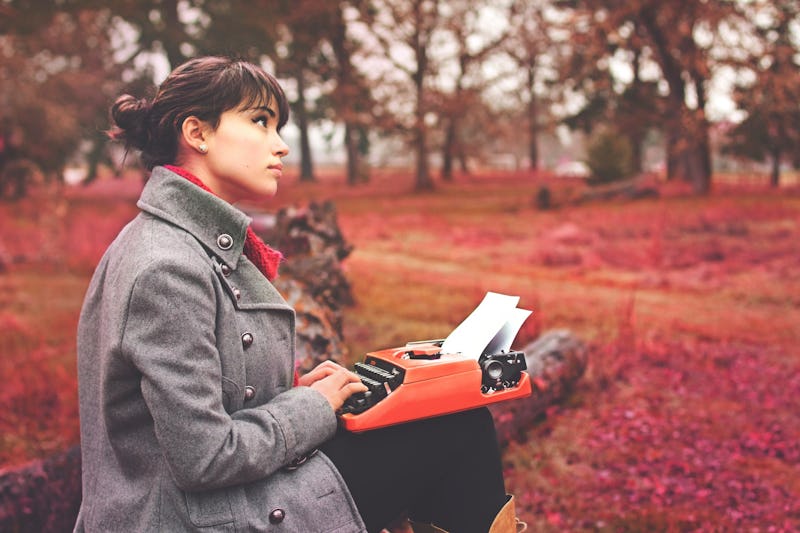 Ray Bradbury once said, "the great fun in my life has been getting up every morning and rushing to the typewriter because some new idea has hit me." And he wasn't exaggerating. Bradbury wrote the first draft of Fahrenheit 451 on a rented typewriter in the basement of the UCLA library. He paid 10 cents for every 30 minutes of typing time, which took him nine days, or $9.80 in dimes. Less than 10 bucks to go down in literary history? Sign me up, please.
While Bradbury's rented typewriter enabled him to write a scary-good classic, my writing ideas frequently evaporate between the time I make my coffee and the time I sit down at my laptop. Inevitably, I'm swept away by emails, news, social media, and so on. Maybe all of these Internet black holes are causing the humble typewriter to make such a comeback. Think about it: without WiFi, Gchat, and a Delete key standing in your way, wouldn't you be a lot more productive?
From the purposeful clatter of the keys to the instant gratification of seeing new pages accumulate, typewriters exude productivity. They want you to finish that novel/screenplay/heartfelt letter you've been meaning to write. But before you run off to eBay or Etsy, what if there were a way to combine the best aspects of typewriters with your modern tech standbys? Lucky for all of us, the five typewriter apps below do just that.
Hanx Writer
Tom Hanks has always been an outspoken fan of typewriters. His love runs so deep, in fact, that Hanks created a free typewriter app last year, and it's pretty great. Hanx Writer turns your iPad screen into an approximation of a keyboard, replete with satisfying keystroke sounds and old timey fonts. Because this is 2015, you can save, share, and print your documents. You can also use the Delete key, if you must.
Hemingwrite
Channel your inner Hemingway with this Kickstarter-funded design, which combines a mechanical keyboard with an e-ink display and cloud backup. If only Colin Firth had used a Hemingwrite in Love Actually, he wouldn't have lost his manuscript in the lake. Actually, I love that scene. But let's be real, which are you more likely to bring to a coffee shop or park bench: that typewriter you can barely carry or this sleek retro upgrade?
Typing Writer
Created by author and Rumpus founder Stephen Elliot, Typing Writer is a surprisingly useful app for aspiring writers. Cool features include preloaded first drafts from successful authors, an encouraging bell that dings when you complete a new line, and a White Out tool that smudges over mistakes. Download this one to remind yourself that half the fun of writing is making a big beautiful mess of a first draft.
Qwerkywriter
Another Kickstarter success story, the Qwerkywriter is a modern USB keyboard modeled after a vintage typewriter. Use it in place of your boring old desktop keyboard or pair it with a tablet. Its chrome-accented keys brings classiness back to writing, and the overall design is also just really nice on the eyes. Currently available for pre-order, the Qwerkywriter will satisfy your typewriter nostalgia while leaving the hassle of needing to tinker with ink ribbons and ancient keys in the 20th century.
USB Typewriter
The USB Typewriter allows DIY fans to breath new life into old typewriters with an easy to install USB connectivity kit. All you need is a glue gun, sandpaper, and a screwdriver. Oh, and that awesome typewriter you scored at the flea market but haven't actually used yet. If versatility is what you're looking for, this is your best bet: use it as a desktop keyboard, paired with a tablet, or as a traditional ink and paper typewriter with your words backed up on your computer. Did someone say DIY party?
Images: Christian Gonzalez, Maria Elena, Pierre Lecourt/flickr; Giphy; The Rumpus; Qwerkywriter/Kickstarter; USB Typewriter