11 Books on Inspiring Women To Motivate You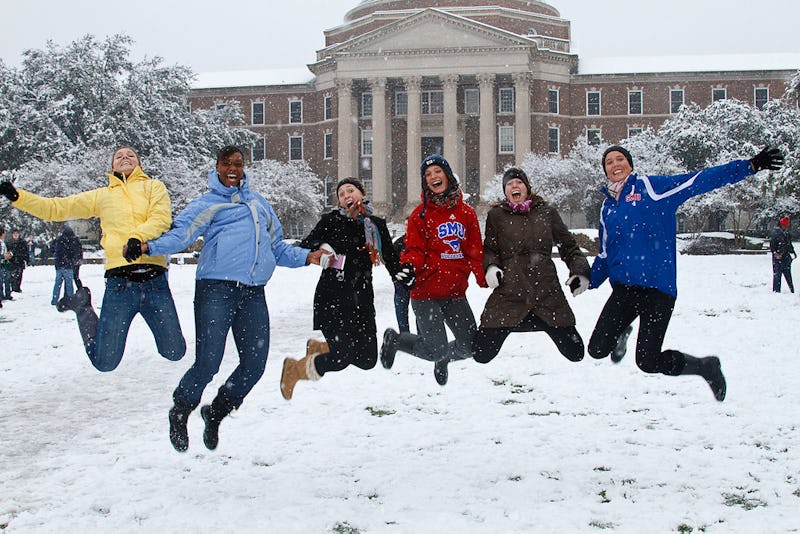 It can be kind of hard to get into a new year. There's actually little that's technically "new" about it. School continues just as before, and January can be a pretty quiet month. It's one of low funds and, depending on where you live, low levels of sunlight and a high chance of snow. That turn of phrase, "new year, new you" can feel more than a little stale by this time in the month, no matter how ambitious your resolutions were.
But, come on! We're only 20-some-odd days in to the year. Remember: the "new start" doesn't arrive spontaneously — you have to make it happen. We all need a mental power-up from time to time, and to do that there's nothing better than reading about women who've done amazing things. They've done it — there's no reason you can't, too.
When getting off your ass and taking the world by storm, preparation is key. Grab some snacks and settle down with some literary reinforcements. This is your superhero training montage moment, and it's time to be inspired. If you too have an ambition on the back burner like one of the women below — whatever it is — take a page out of her book. You never know where it might lead.
Three Eight Charlie by Jerrie Mock
The first woman to fly around the world solo, this Jerrie Mock's memoir of her 1964 trip. She navigates a world that's pretty universally sexist — 'flying housewife' headlines abound. It's eye-opening to see how little has changed regaring sexist reporting of women's achievements (I'm still not over those photos of Heidi Klum's nip slip — her family was caught in a freakin' riptide). We're still fighting the same fight today. Give this a read, applaud Jerrie, and get ready to do battle.
The Collected Works of Lorna Moon by Lorna Moon
To rural girls seeking big city fame — it can happen for you. For Lorna Moon, all it took was a letter to Cecil B. DeMille breaking down what was wrong with one of his films. I'm not saying this is a surefire route "in" today, but going out on a limb like that can be worth it — especially when it gets you a job as a screenwriter in '20s Hollywood. Her fiction is ideal if you're looking for razor-sharp portraits of rural life that offended those it was based on so much, it took 70 years for the town to forgive and forget.
Rethinking Normal by Katie Rain Hill
Hill is a phenomenal woman — she was the first openly transgender student to graduate high school in Oklahoma. Her memoir covers her darker days of dysphoria and depression, but what really stands out is her determination. She refuses to let bullies get to her, and is adamant she'll stand up, share her story, and be there for other transgender teens, too.
The Girls of Atomic City by Denise Kiernan
This is how history should be written — in rich and engaging prose. Kiernan takes untold and undervalued stories of Manhattan Project employees and exposes the racism, sexism, and horrifying medical experiments usually omitted by other accounts. She also gives each key character a detailed back story — something we don't always see in history books.
Liberty Silk by Kate Beaufoy
All three of the women central to this book are after the same thing: full, exciting lives. How they realize their ambitions depends on the decade they live in, and various difficult decisions pop up along the way. Essentially, this is women battling with the patriarchy through the 1900s, moving in the space between what they wanted and what was acceptable for women. Fun fact: the book's filled with real items from Beaufoy's family history.
A Room of One's Own by Virginia Woolf
Need help getting past writers' block? This short essay is sure to infuriate and inspire in equal measure. Woolf's old-school research is the precursor to stats online today that tell us literature has a diversity problem — how things change (or, erm, don't).
The Gallery of Vanished Husbands by Natasha Solomons
Juliet's been waiting for a fresh start for a long time. An impulsive choice to have her portrait painted leads her down a path that allows her to reclaim an identity and find happiness. It's not without its challenges — she has a marriage, children, and her parents' and Jewish community's expectations to consider — but she's a determined woman. If you too are feeling a little stuck, pick this up and channel yourself some Juliet.
Is Everyone Hanging Out Without Me? by Mindy Kaling
The path to fame ne'er did run smooth. In her trademark sharp, witty style, Kaling takes us behind the scenes of her journey, and shows what comes before success and the super-relatable TV show. This is the book to keep close for the moments where you question what you're doing with your life — the kind you can open at any page, and expect a dose of wisdom (i.e. essential reading for anyone in high school or approaching post-college panic.
How to Build a Girl by Caitlin Moran
This touches perfectly on how we use pop culture to create identities for ourselves — just not always so literally as to become Dolly Wilde. Though she's probably a bit younger than you, there's a lot to learn from Joanna Morrigan. The situations she gets into would be more embarrassing if she didn't lack self-consciousness. As it stands, they're just amusing, non-shameful learning experiences, which are very useful to have.
Clothes Clothes Clothes Music Music Music Boys Boys Boys by Viv Albertine
Fans of early punk music will wish for Albertine's coolness as she hangs out with some of the scene's most iconic names like it's no big deal, and then becomes an icon herself. Honesty is the order of the day — she doesn't hang back on describing everything from failed blowjobs to her battle with cervical cancer. Albertine didn't see herself reflected in a scene she was passionate about, but went ahead and pushed in anyway. May her boldness encourage you, dear reader, to do the same.
The Prime of Miss Jean Brodie by Muriel Spark
If Jean Brodie were in an SNL sketch, she'd probably be Kristen Wiig in "Red Flag." This book is here to remind you that sometimes, a little scepticism is good — even your awesome feminist-seeming teacher can have issues. Like, she seems to think fascism is cool. Definite red flag. After reading this, the thing you might be inspired to do above all is check your egoistic teacher (or other suitable authority figure) isn't trying to manipulate you.
Images: Ian Aberle/flickr; Giphy