Vanessa Has a Major Crush on an 'Idol' Judge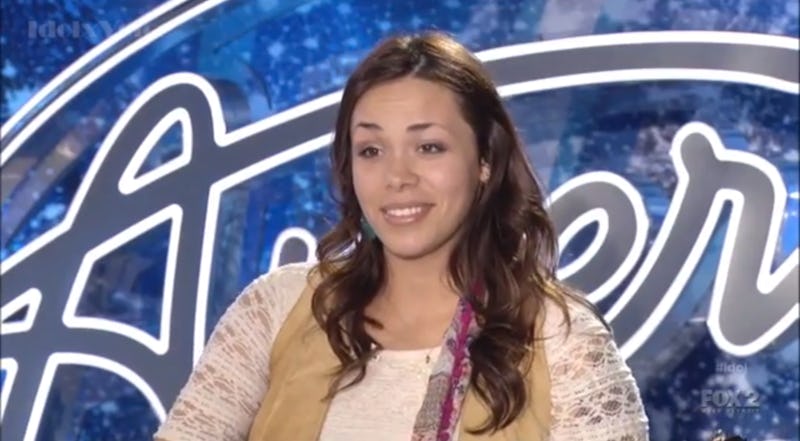 Want to know the formula to getting a ticket to American Idol's Hollywood week? Have a touching backstory, a personalized compliment for each judge, and an okay voice. Vanessa Andrea had just that — except her voice was extraordinary AND she played the guitar. Seriously, this girl is Idol gold. The 25-year-old country/rock singer wowed the judges with her version of "Some Kind of Wonderful," but only after buttering them up with some pretty sweet comments and a love confession.
We all have that one celebrity crush that we would jump (in the most legal way possible) if we ever saw in real life, right? Well Andrea's major celebrity crush is country crooner and Idol judge, Keith Urban — and she made it no secret. She admitted that she dreamed he would be in her hotel — a Holiday Inn — the morning of auditions and even screamed "I like your butt!" as he was entering the building. Urban was quite the gentleman when listening to her gush, and awarded her with a golden ticket instead of a restraining order. He even called her husband, who's in the Air Force, to announce the news. If I ever met Channing Tatum on the street, I hope he would do as much for me. Though I'm sure I'd fall more towards the restraining order side...
But what was even better than her adorable love confessions to Keith was Andrea's talent. The judges were a little concerned when she was using her scarf as a guitar strap but hey, a girl's gotta do what a girl's gotta do. She wowed them — and me — with her country twang and gritty classic rock sound. They agreed that her song of choice, "Some Kind of Wonderful," was the perfect choice for her since both the lyrics and the melody suited her well. Hopefully she makes it on to the Top 24, because I'd love to hear her hit on Keith for another few weeks.
Image: Youtube: IdolxVoice