Jayde Shares Her 'Preachers' Daughters' Evolution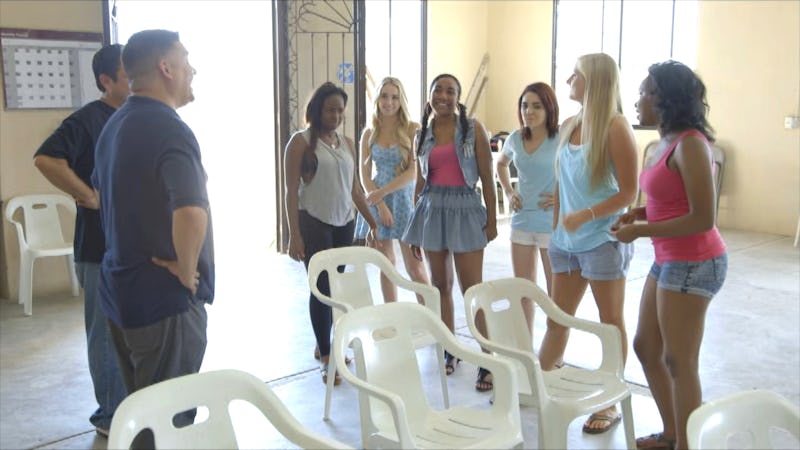 Traveling to a new country and working manually to help those in need would probably change a lot of people in a spiritual, or at least, internal way. For some of the cast members of Preachers' Daughters, strengthened faith was just one of the results of the six-week mission trip we'll see when Season 3 premieres on Jan. 23 at 10 p.m. In addition to seeing her faith grow, Preachers' Daughters' Jayde Gomez also grew as a young adult. "[The trip] helped me grow to the person I am today," Jade tells me in an interview.
Before moving into the house with eight girls in Cabo, Jayde thought that her trip to Mexico would be all business. "I pictured a lot of mission work," she says. "I definitely didn't picture as much going out as there was. I just pictured mission work." Jayde tells me her personal goal for the trip was to spread "Jesus' love to the city of Cabo San Lucas," she never thought that her time there would also help her become the Jayde she is today.
"I had never been to a club before. This was my first time experiencing that life, so it was different, but I feel like I adjusted pretty well," Jayde explains about any difficulties that came with moving to Mexico for six weeks. Quickly, the 20-year-old became eager to explore Cabo's nightlife."I feel like I was the only one who always wanted to go out," Jayde says. "I just wanted to take advantage of the opportunity because whenever I'm given a chance like that, I just take full advantage of it...I just want to go have fun."
When I ask Jayde who she might have misjudged early in the season, or someone who surprised her by the end, her honest answer proves just how much she's grown. "I was surprised with myself," she tells me. "Because I definitely broke out of my shell more than I thought I would."
Throughout the time in Mexico, Jayde — and the other young women she takes the journey with — face many issues that propelled Jayde to adulthood. "I learned how to be on my own without my parents protecting me," she says of her mother and preacher father (according to Lifetime's website, Jayde's parents are very strict, they even check her text messages). It sounds like amidst all the mission work and partying, we'll get to see some real transformation on Preachers' Daughters this season.
Image: Lifetime