'Game Of Thrones' Has Tough SAG Awards Competition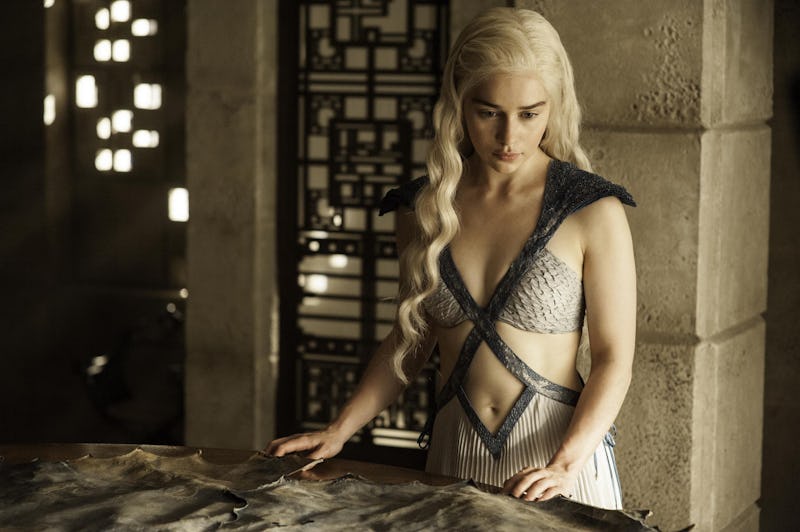 I've decided that Game of Thrones Season 4 was hands-down the best thing I watched on television in 2014. However, despite my own personal feelings, I don't think Game of Thrones will win the SAG Award for Outstanding Ensemble in a Drama Series this year. If anyone should take home the award for the fourth season, it's Peter Dinklage, for that brilliant, dramatic speech at the end of the season and the other stuff he does… I won't spoil it for those who aren't completely caught up, though You should probably take the time to do that. It has been almost a year — just sayin'. Unfortunately, Game of Thrones has some serious competition this year, as it is up against Boardwalk Empire, Downton Abbey, Homeland, and House of Cards.
In case you don't know too much about the SAG Awards, it's basically an awards show where actors honor actors, hence the "Screen Actors Guild." There are no movie critics voting on these awards (unless they're in SAG), just fellow SAG members. In short, it is basically a Hollywood popularity contest. That's a really short description, but now that you have an idea of who is voting in these categories, I can tell you why Game of Thrones probably won't win the 2015 TV Drama Ensemble award.
An Ending Series
In 2014, the world said goodbye to Boardwalk Empire, which was a very popular show. There is a very good chance that SAG will vote for Boardwalk Empire this year, since it's the last chance they have to honor it.
Past Winners
Boardwalk Empire has won two times before in 2012 and 2011, but hasn't won since. Also on the list of past winners is Downton Abbey, who took the award home in 2013. I will say this and I hate saying it because I never talk ill of Game of Thrones, but this wasn't the strongest season of the show and it's been nominated every year. If the red wedding didn't bring home the SAG Award, the purple wedding probably won't either.
Bigger Hype
House of Cards is all the rage this year, honestly. Kevin Spacey finally winning a Golden Globe may have been a sign that he'll soon have more trophies to bring home.
Famous Cast
At this point, yes, everyone on Game Of Thrones is very recognizable, but the other nominated shows carry people like Steve Buscemi and Maggie Smith. House of Cards has Kevin Spacey and Robin Wright. Even Homeland has Claire Daines and my favorite, Mandy Patinkin. They have a lot more leverage because their casts contain more star-power.
Despite all that, I really hope I'm wrong, because Game of Thrones deserves to win everything it's eligible for.
Images: Helen Sloan/HBO; WiffleGif (3)