Adam's Famous Uncle Helped Him Get to 'Idol'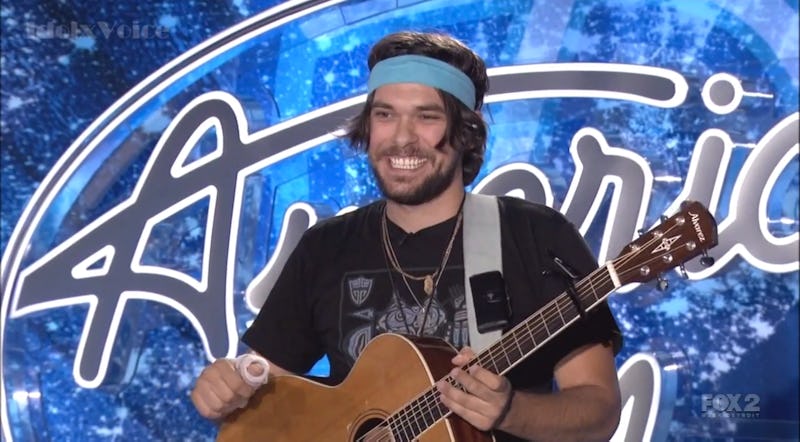 When it comes to reality singing competitions, it's pretty helpful if you have a personal connection — especially if that connection is a music legend. Adam Lasher had that to his advantage, but it was his own talent that sealed the deal and earned him a ticket to Hollywood. The judges were blown away by Lasher's cool personality and sick guitar playing skills — seriously, he played with a cast on his thumb. Sure, Lasher's talent is pretty cool, but what's even cooler is his family connection — the 27-year-old singer/songwriter is the nephew of Carlos Santana. Lasher's uncle is the one and only Carlos Santana.
The family connection is pretty cool, but it helped him more than you think. Lasher got music lessons from his Uncle Carlos, which definitely explains the killer guitar handling skills. The judges dwelled on it less than you think — seriously, did they even talk about it at all? — and focused instead on his connection to another celebrity — Jimmy Fallon. Uhh, what? I guess I can see the resemblance between Lasher and Fallon a tiny bit, but not as much as I notice the resemblance between Lasher and his uncle. Seriously, how could they miss that?
Oh, and one more thing before we move on to how talented this kid is. How cool is he for rocking his "robotic pancreas" next to his guitar pick necklace? Though his diabetes does not define him, it's awesome to see him accepting and owning his disease on national television, and hopefully it will inspire others to accept their diseases, as well.
But all cool family relations and robotic organs aside, Lasher is a talented performer in his own right. He was able to separate himself from the shadow of a famous uncle and establish himself as his own artist. His original song "These Shoes" proved that he can both write and perform, a skill that few have. Hopefully his uncle's fame won't get in his way, because Lasher and his robotic pancreas deserve to be their own household name — and I hope to see them long after Hollywood week.
Image: Youtube - IdolxVoice