'Millionaire Matchmaker' Got a Taste of Miami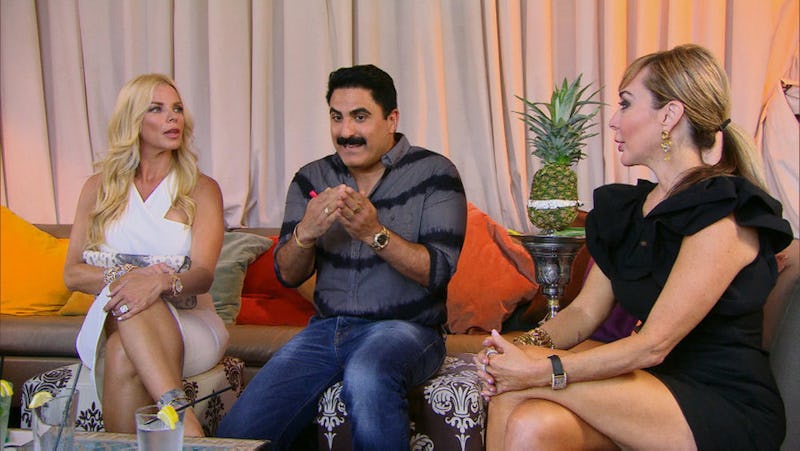 Man, for a network built on the back of the phrase "housewives," there are not a lot of successful couples on the Bravo right now. The Millionaire Matchmaker set up Marysol Patton of The Real Housewives of Miami, yet another Bravolebrity who's been featured on the show this season. And just like Sonja Morgan, Marysol went through an onscreen divorce and hasn't has a very serious relationship since, instead choosing to focus on her career and friendships. She even brought along Alexia, also from Real Housewives of Miami, and surprisingly, Reza from Shahs of Sunset, who I guess has left his Los Angeles condo to get down in Miami with the RHOM.
But if you've watched any RHOM before, throughout the whole episode you were wondering about one thing: Mama Elsa. I know she hasn't been doing well for a long time now, but I was hoping desperately for a Skype call or even a phone call. That woman can spill the T like no effing other, and her reaction to Marysol's dating life has always been hilarious. Plus, it would have given Marysol a little boost of confidence, because even though Mama Elsa always practices tough love, it's love nonetheless, and no one is closer than those two.
And she'd do anything to protect her daughter. I'd be terrified to see what happened if her date had tried to cross Mama E.
The non-Bravolebrity side of this week's episode, professional athlete Luke, is mostly a snore, even though I think this may mark the first time one of the potential dates said she was a virgin, and the first time one of the millionaires expressed a preference for a big butt. It truly is the 2010s on MM now. I guess it was also the first time the bartender was asked out by one of the millionaires, but that kinda seemed like a Patti setup, so I'm not sure that was legit.
Reza ended up recommending a bunch of guys who look like his boyfriend, which was pretty hilarious. But, thankfully, these scruffy, well-dressed white guys were very charming and Marysol's date, Scott, was very good looking. I was pretty damn impressed — Patti is pulling out all the stops for these celebrity millionaires. Now we just have to hope for a follow up episode where she brings Scott home to meet her mother.
Image: Bravo; Giphy (2)