Can We Please Talk About Becky's 'Glee' BF?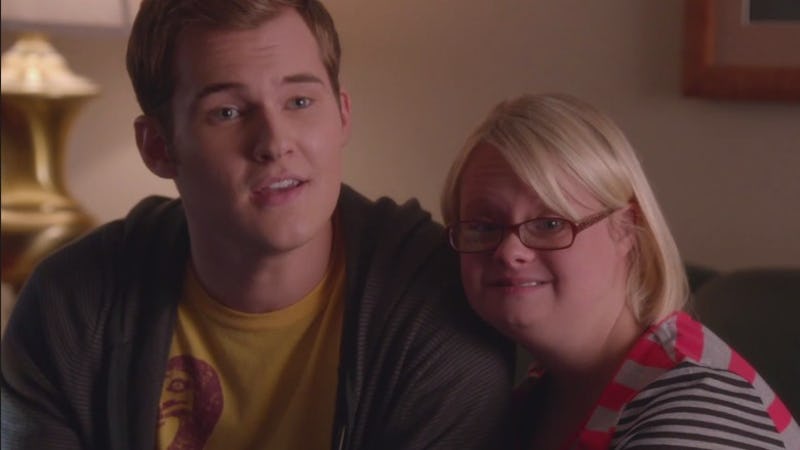 One might find it a little strange that Glee is introducing new characters during its final season — after all, isn't it the new characters that brought Glee down a few pegs during the middle seasons? While I was skeptical at first, ultimately I realized that the introduction of Becky's boyfriend on Glee , Darrell (actor Justin Prentice) — was a good addition to the cast because he exhibits the open-mindedness that the show preaches. While some of the characters were a little weary of Darrell in his first episode, as a fan of the show, I was happy to see Becky get an actual, personal storyline that involved a nice character like Darrell. So what is there to know about Prentice, the guy who plays Darrell?
First off, it isn't known how many episodes Prentice will be in of the final season of Glee. His IMDB page only lists the second week's episode "Jagged Little Tapestry," as his only Glee credit, but I've got my fingers crossed that it is just not updated properly, because we need more Darrell in our Glee lives. But in addition to Glee, what else has this 20-year-old been up to in Hollywood? Here's everything you need to know about Justin Prentice.
He Was On Malibu Country
For those that are fans of Real Housewives of Orange Country, learning that Prentice was a series regular on the (short-lived) ABC comedy is probably as good as it gets. I've never seen the show, but I know the legend of the show and the drama it created between RHOC cast members, so I fully intend on starting a campaign to bring it back to primetime.
The show itself starred Reba McEntire and Sara Rue, and was about a recently divorced mother (McEntire) who moves to Malibu to kickstart her burned out music career.
He'll Be Starring in ABC Family's Recovery Road
ABC Family's newest series Recovery Road , which is being adapted from the novel of the same name, is sure to be a tearjerker. The story follows a teen as she starts her junior year of high school in rehab for addiction. The books included stories of friendship, love, addiction, and tragedy, and Prentice will be all up in that, playing Dallas Hanson.
He's Done Drama Before
Prentice has done one episode roles in shows like Criminal Minds and NCIS, so he knows how to play the dramatic roles, which will come in handy, especially for his upcoming projects.
But He Also Has Comedy Under His Belt
But what kind of young actor would Prentice be if he didn't have at least one Nickelodeon comedy on his resume? Turns out, Prentice has guest starred in Victorious (2011) and iCarly (2011), in addition to other sitcoms like Suburgatory, The Middle, and Melissa & Joey.
Images: Fox (screenshot); Giphy (3)