7 Smirnoff Ice Flavors, Ranked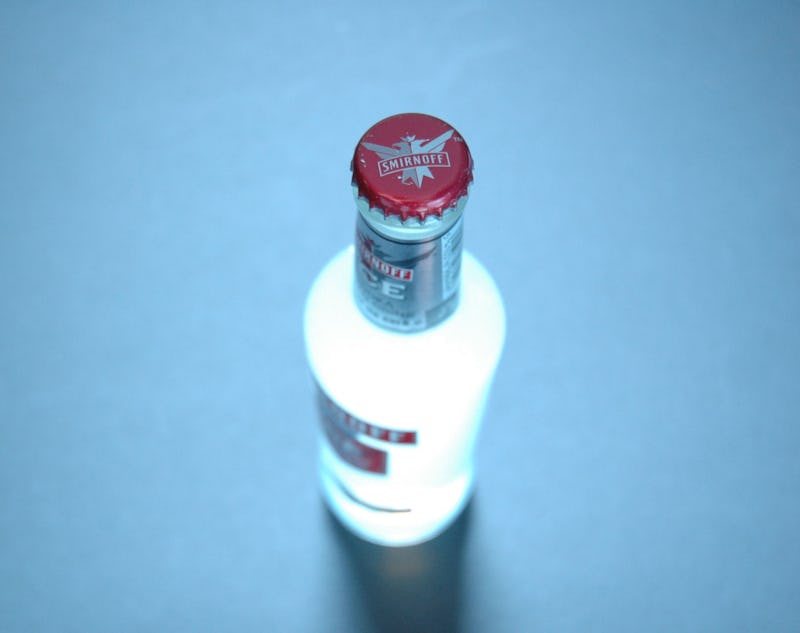 I had my first sip of Smirnoff Ice over the summer of 2000, during a period in my drinking career where I still had to mix any kind of alcohol (including beer) with Pepsi, just to get it down. I was on a party cruise, and as I screamed "Wooooo!" into the night — the sea before me, my adult life before me, my understanding of what exactly a "hangover" was still several hours in the future — I loved this little bottle of stuff that tasted like vending machine lemonade, but was somehow getting me wasted, more than anything.
I had my last Smirnoff Ice just a few months later, around the end of my first semester of college, after a dedicated program of forcing myself to like the taste of beer finally began to yield dividends. I sipped from a Smirnoff Ice at a party because it was all that was left in the fridge, and thought about how it — just like everything else I had liked before coming to college — was obviously terrible and immature and dumb, and now that I did cool stuff like hang out in coffee shops and pretend to read Infinite Jest, I was above it.
How do all these malt liquor beverages evoke things I smelled at the Disney Store circa 1992? What does this say about Smirnoff, and what does this say about me?
Created in 1999, Smirnoff Ice worked hard throughout the early oughts to cultivate a reputation as the drink of choice for both unbearable bachelorette parties and teenagers who were trying to work up the guts to tell Mark from Language Arts class how they really felt. A so-called "alco-pop," Smirnoff Ice's reign peaked sometime in the early-2000s, with sales dropping 36 percent between 2005 and 2008. The drinks have existed in the strange netherworld of forgotten-but-still-produced beverages like Tab soda ever since, except for a brief revival in 2010 as part of "icing," a game that postulated that drinking a Smirnoff Ice was so revolting and shameful, it was basically a fraternity hazing ritual in and of itself.
And yet, years after that final frat guy took a knee and chugged that last Watermelon Mimosa drink, Smirnoff Ice continues to exist (it actually remains weirdly, wildly popular in Costa Rica, where the average adult drinks about a bottle and a half of the stuff each year). In fact, Smirnoff Ice continue to expand, forever adding absurd "seasonal" flavors that sounds like they should be the names of Paltrow offspring, like "Blueberry Lemonade" and "Strawberry Acai."
What the hell does a "strawberry acai flavored malt beverage" taste like? Even the concept of it is sheer absurdity! Absurdity that I decided I had to get in on. I would get every flavor of Smirnoff Ice, and create the definitive flavor ranking, both as a tribute to the girl I had been, and as a resource for those who want to know which drinks that taste like Jolly Ranchers are the best drinks that taste like Jolly Ranchers. Hey, I'm an adult, I know how to handle my booze and sugar responsibly now. And they couldn't possibly be as bad or as good as I remembered them being. What could go wrong?
There are allegedly 15 different flavors of Smirnoff Ice, but I had a hard time finding almost any of them in my neighborhood, which I would like to note is chock full of resources for very serious drinkers. Initially, I went to three different liquor stores (two of which were, mysteriously, playing Katy Perry's "Roar") and left empty-handed, before hitting five different delis, and finally coming upon a spot that stocked a mere seven of the flavors. I swept the seven bottles up, tried to ignore the visible pity of the guy who sold them to me, and hit three other delis on my way home, none of which offered up such exotic Smirnoff Ices as "Triple Black" and "Cranberry Lime Splash." But trust me, it turns out that seven bottles of Smirnoff Ice is more than enough no matter who you are, or what you're trying to learn, or how tough you think you are in the face of malt beverages.
I returned home, and laid all the Smirnoffs out before me. It was like bros icing bros, only I was the bro icing and the bro being iced. I am the bro and the bro is me. It's like a loop.
"What is that stuff? It looks disgusting," said my boyfriend, who had clearly never attended an after party for a high school production of Guys and Dolls. "It looks like poison, like the the chemical you'd take to become an X-Man."
"Uh, you're born an X-Man, you don't take a chemical to become it, duh," I tell him, swigging. "Also, this is Smirnoff Ice." He walks out of the room. It is 4 p.m.I plan to taste these all in a row, by taking a single sip, swishing it around in my mouth, and then spitting it out, like people do at a fancy wine tasting. Instead, by 5:15, I am simultaneously trying to dance to Charli XCX and lie down on the floor. Truly, is there any reaction more befitting of the ice?
7. Green Apple
Waft: I couldn't smell this at all, which made the taste all the more disturbing a surprise.
Flavor Notes: When we eat a food allegedly flavored to taste like a second, different food, even though we know that that second food has never been anywhere near the first food, it brings up a lot of confusing questions. Sometimes things get way existential.
That's what happened with Green Apple Smirnoff Ice, which, after several sips, caused me to wonder if I had ever actually tasted an apple in my life. I mean, I ate an apple an hour before drinking this beverage, but the taste of Green Apple Smirnoff Ice made me question everything I knew about how apples taste, and apples, and taste in general, and also, maybe, the nature of reality. After about 10 sips, I still couldn't describe the drink. Did it taste like an apple peel reconstructed by a 3-D printer? Or like it had been created by someone who had never eaten an apple, but had someone else describe what an apple tasted like to them? I never quite got a handle on it.
6. Watermelon Mimosa
Waft: A Ring-Pop melted into your My Little Pony's tail and there's nothing you can do about it, NOTHING! Oh, don't trying turning those tears on for my benefit, young lady. Well, if you took better care of your toys, maybe we'd buy you more!
Flavor Notes: If Jolly Ranchers created a very low-quality perfume, and then you got some of that perfume in your mouth by accident, this is what it would taste like. Not recommended in any situation, unless you needed to get a Bratz doll drunk in a hurry. Also, why was this drink reminding me of the fruity-candy-and-scented-plastic-doll smells of my childhood? What is wrong with me?
5. Grape
Waft: A piece of grape gum that got stuck in your hair at summer camp (you had to go to the nurse's office to get it out, it was really embarrassing).Flavor Notes: Pitched midway between Grape Fanta and grape cough syrup, this was not my style, but it could be yours, if your life has been about struggling to find an acceptable way to sip on grape cough syrup at a party without getting concerned looks.
Also, I am beginning to feel unnerved by all the pre-pubescent memories these drinks are invoking — I know they're designed for people who are inexperienced drinkers, but, like, they shouldn't remind you of when you were equally inexperienced at riding a bike or having your period, right?
4. Screwdriver
Waft: 50% stale Sunkist, 50% low-grade frozen O.J.Flavor Notes: One of the greatest pleasures of becoming a more sophisticated drinker is learning that there are beverages in the world that you can combine besides O.J. and bottom-shelf vodka, and then never having to drink a screwdriver again. But, that said, this at least tastes more like orange soda that's been left out in the sun all day, rather than some toxic beverage you concocted in your rec room using non-pulp orange juice and a vodka that had a drawing of an eagle on the bottle. I have to at least give it that.
3. Raspberry
Waft: Popsicles melted onto a car's leather interior, but, like, in a nice way.Flavor Notes: This tasted about 90% Popsicle juice and 10% "berry of some sort," but there was something appealing (and yet also off-putting) about its sticky sweetness. It seemed like a beverage designed to be served at some kind of event that I don't get invited to, like a Katy Perry cosplay night. Not for me, but I understood its place in the world.
2. Peach Bellini
Waft: Like the perfume from a Little Mermaid-themed make up kit that I had as a kid (I did try to drink the perfume once, but was startled to find that it just tasted like rubbing alcohol).Flavor Notes: Not that much worse than an actual bottom-of-the-barrel restaurant bellini, honestly. After a few sips, I realized I had a handle on the taste, and was just drinking it because I appreciated its "little girl shampoo" scent and taste. How do all these malt liquor beverages evoke things I smelled at the Disney Store circa 1992? What does this say about Smirnoff, and what does this say about me?
1. Original
Waft: Like that canned lemonade you'll buy at a gas station when they're sold out of everything but that and Mountain Dew: Code Red.Flavor Notes: Just as I had remembered, this also tasted like canned lemonade, a not-unpleasant combination of fizz and sweet-sour chemicals. With this, too, I realized after a few sips, I was simply drinking it because it felt enjoyable going down. It also reminded me of the foibles of late adolescence. Is this Smirnoff Ice's game? To engage all the most forgotten corners of your childhood memory, and then somehow rope them into getting you blitzed? Is Smirnoff Ice the bridge between our innocent, Little Pony-lovin' child selves and the horrible, barfin'-on-a-party-cruise young person who we will soon become? The more I thought about it, the less I wanted to think about it. I ended up pouring the rest of the bottle down the sink, because I didn't want to dig through these unnerving thoughts about childhood and drinking and all the rites of passage that lead us to adulthood. And also because all these tiny sips had accidentally gotten me totally wasted — which is, perhaps, the kindest thing anyone can say about Smirnoff Ice.Images: Oli/Flickr; Smirnoff , Giphy (8)