Obama, Modi Announce Nuclear Deal Breakthrough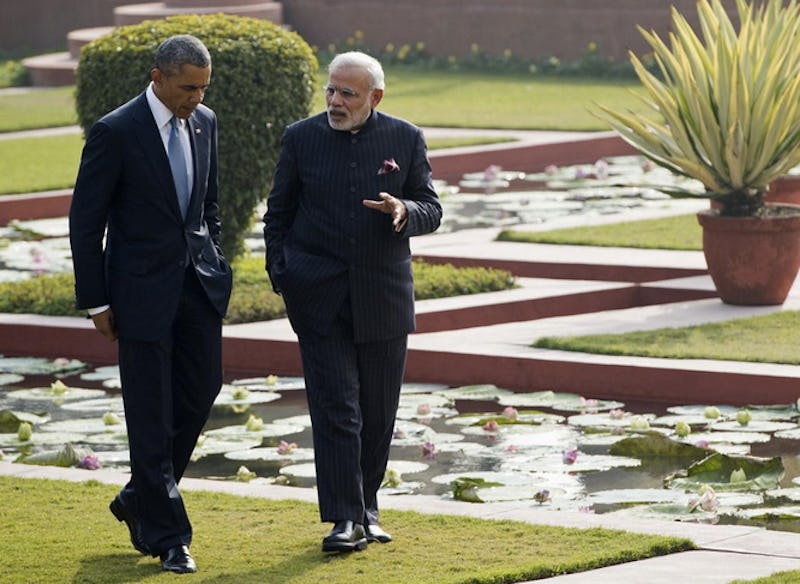 While President Obama might not have much luck garnering cooperation in his own country with a GOP-led Congress, he's certainly having a better time abroad. Epitomizing productivity when it comes to international travel and politics, President Obama has announced that he and Indian Prime Minister Narendra Modi have reached a breakthrough nuclear deal that has the potential to further strengthen the countries' relationship, as well as provide a new way forward in terms of nuclear energy and defense contracting. Following a stalled nuclear agreement between the two countries that came to a screeching halt in 2008, the two men declared "a breakthrough understanding" in American investment in nuclear energy development, which will allow U.S. companies to set up reactors in India and move the trade agreement to its next, implementable phase.
At a joint news conference, President Obama noted, "This is an important step that shows how we can work together to elevate our relationship," and Modi added that new deals reached by the two men would "help upgrade [Indian] domestic defense industry and expand the manufacturing sector in India." This sudden cozying up of Modi to Obama and the apparently warm interactions between the two politicians is a marked departure from previous interactions, as only last year, Modi was denied entry to the United States. But now that Modi has taken the reigns of power in one of the largest countries in the world, the rapport has changed drastically, and it seems that Obama and the Prime Minister are thick as thieves.
Speaking with magazine India Today, Obama said, "Forging deeper ties between our two nations has been a key part of my foreign policy since I took office. (It) can be one of the defining partnerships of the 21st century." And this partnership comes as pressure mounts from countries like China, which has begun to monopolize the economic landscape in developing Asia. In a reference to the Asian super power, the leaders emphasized the "importance of safeguarding maritime security and ensuring freedom of navigation and overflight throughout the region, especially in the South China Sea." As such, it seems to be in the best interests of both the United States and India to cooperate as "natural partners," and nuclear energy appears to be at the center of this new collaboration. Said Obama, "Civil nuclear cooperation is a step to elevate our relationship," and now, as Modi pointed out, "Six years after the bilateral agreement, [India and the U.S.] are now moving towards commercial cooperation."
On Monday, Obama will become the first American president to take part in India's Republic Day parade, a traditional display of India's military prowess that has long been viewed as rather anti-American in sentiment. But relations since the Cold War have clearly thawed between the two nations, and Obama and Modi not only discussed moving forward with nuclear plans, but also in terms of climate change and other key international issues.
Referring to the recent climate talks in Paris, Obama stressed the importance of India's role in the international fight against global warming, saying "India's voice is very important on this issue. Perhaps no country could potentially be more affected by the impacts of climate change and no country is going to be more important in moving forward a strong agreement than India." The two countries will work together in order to help one another become more environmentally friendly, and Modi outlined cooperative plans to address the climate issue. "We are also launching new joint projects to improve air quality in Indian cities," Modi declared. "The U.S. will share more data and develop tools to help India assess and adapt to the impact of climate change and help vulnerable communities become more resilient."
Also on the table for discussion is continued economic cooperation and a social security agreement seen as crucial for the many hundreds of thousands of Indian nationals employed in the United States. The chemistry between the two leaders certainly bodes well for both countries, and according to local reports, many of the Indian people were excited to receive the American leader for his short visit. Of course, not all citizens were particularly pleased with Obama's visit, as one communist protest in New Delhi saw demonstrators burning a likeness of Obama, chanting "Barack Obama, Hands Off India."
But despite public opinion of the president, it seems that the political relationship between the United States and India is stronger than ever, presenting new possibilities for cooperation in the future.